Texas top state for law enforcement deaths in line of duty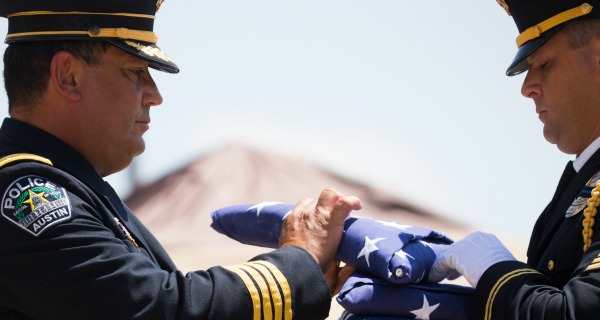 After the July 2016 ambush shootings of five Dallas police officers, there was much discussion about the dangers of police work and if (or how) the shootings, which also wounded nine officers and two civilians, might damage police-community relations.
Amid the talk, the Texas Standard, a weekday public-radio program that airs around Texas, drew a claim to U.S. history from Charley Wilkison of the Combined Law Enforcement Associations of Texas (CLEAT), a law enforcement advocacy and lobbying group.
Laura Rice, interviewing Wilkison, said: "I wondered if there's been sort of a heightened sense of fear since Dallas or if officers are also kind of feeling an outpouring of support from communities."
Wilkison, CLEAT's executive director, replied: "I think there's a heightened sense of reality because the fear part, of course officers are trained to deal with that. But Texas has lost the most -- and I say that every time you guys invite me on -- Texas has lost the most law enforcement officers in the line of duty of any state in America. So that's absolutely something they (police officers) are aware of coming into the job, coming into the profession."
We wondered if Texas truly is No. 1 by this unfortunate indicator.
By phone when we inquired, Wilkison told us his statement was based on figures from the Texas Commission on Law Enforcement (TCOLE). He also texted a photo of an ad CLEAT posted to the May 2016 edition of American Police Beat which stated that 1,959 Texas officers had been killed in the line of duty.
To our inquiry, the commission's Ken Mobley, said in an email that the names of "1,955 law enforcement officers are on the Texas Peace Officer Memorial. These are the individuals who were approved by the commission as per TCOLE rules of eligibility, some (individuals) dating back to the early 1800s."
Wilkison's figure turned out to be higher than other counts we found of law enforcement deaths for Texas though two other analyses support the notion that Texas leads in officer deaths.
As of Sept. 7, 2016, when we looked, the Officer Down Memorial Page (ODMP) -- which was cited by Wilkison and others as a data source and is curated by a nonprofit that says it's dedicated to honoring America's fallen law enforcement heroes -- listed Texas' count at 1,866 officer deaths (plus 12 deaths of K9 dogs) across 27 cause-of-death categories:
SOURCE: Web page, "Texas Line of Duty Deaths," Officer Down Memorial Page, (accessed Sept. 7, 2016)
The group's Texas tally, which considered deaths as far back as 1837 (before statehood), folded in 1,096 deaths by gunfire including the 1930 death of Uvalde Chief of Police John F. Connor and the July 2016 deaths in Dallas. Another 61 Texas deaths, from 1858 through 2007, were attributed to accidental gunfire.
Among other populous states, per the group, California and New York had lost 1,569 and 1,568 officers, respectively, in the line of duty; Illinois had sustained 1,070 such deaths; and Florida had tallied 757 line-of-duty deaths.
Seeking other counts, a web search led us to the National Law Enforcement Officers Memorial Fund (NLEOMF), which says it's dedicated to honoring and remembering the service and sacrifice of U.S. law enforcement officers and that as of March 24, 2016, Texas had sustained 1,682 law enforcement deaths--compared to 1,571 in California, 1,375 in New York and 1,013 in Illinois.
To our inquiry, a fund spokesman, Steve Groeniger, told us by phone that Wilkison got it right about Texas having the most law enforcement deaths. The fund says on its "law enforcement facts" web page: "New York City has lost more officers in the line of duty than any other department, with 705 deaths. Texas has lost 1,682 officers, more than any other state. The state with the fewest deaths is Vermont, with 23."
Groeniger also mentioned the FBI's Law Enforcement Officers Killed or Assaulted (LEOKA), collected as part of their Uniform Crime Statistics. According to emailed figures provided by Stephen Fischer of the FBI, some 457 officer deaths in Texas since 1980 led other states and accounted for nearly 10 percent of 4,736 officer deaths nationally. California followed closely behind with 436 deaths.
Our ruling
Wilkison said: "Texas has lost the most law enforcement officers in the line of duty of any state in America."
This appears to be so, both of late (since 1980) and since the 1800s.
We rate the claim True.
---
TRUE – The statement is accurate and there's nothing significant missing. Click here for more on the six PolitiFact ratings and how we select facts to check.
https://www.sharethefacts.co/share/41be9188-c0a0-4c66-8577-90f52e20b05e