Greg Abbott celebrates unconfirmed claim about Jerry Jones and national anthem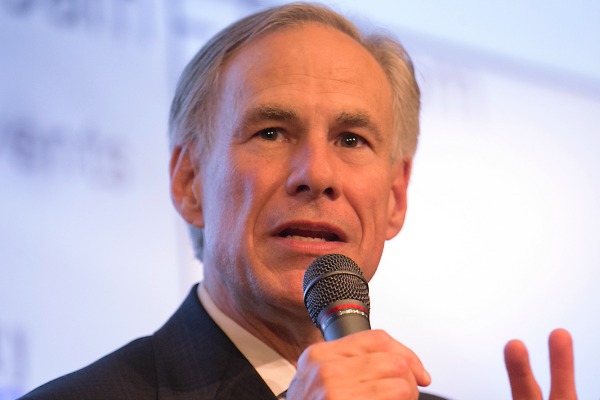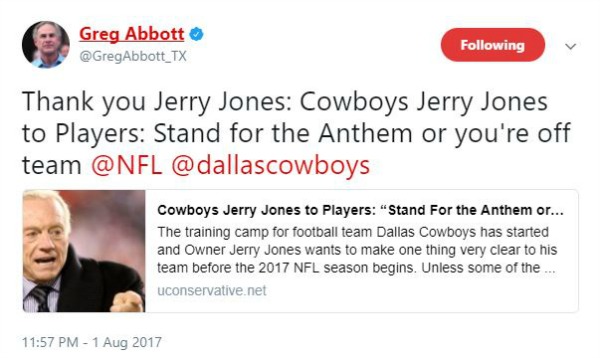 Texas Gov. Greg Abbott just celebrated what he described as an ultimatum from Dallas Cowboys owner Jerry Jones to the team's players: If you don't stand for the national anthem, you're gone.
Abbott said in a tweet posted toward midnight Aug. 1, 2017: "Thank you Jerry Jones: Cowboys Jerry Jones to Players: Stand for the Anthem or you're off team."
Abbott's tweet further pointed to a Uconservative.net web post from that day headlined: "Cowboys Jerry Jones to Players: 'Stand For the Anthem or You're Off the Team.'" Yet the site's story, we noticed, doesn't quote Jones making that statement to players other than to fold in a person's unsourced July 27, 2017, tweet quoting Jones saying so.
So, did Jones tell players to stand up or pack up?
According to a September 2016 news blog post by the Dallas Morning News, Jones at the times expressed displeasure about Colin Kaepernick, a San Francisco 49ers quarterback, not standing for the playing of the anthem. Kaepernick said he wasn't standing to protest social inequality; he ultimately kneeled for the anthem through the team's 16 regular-season games after sitting through the anthem during some pre-season games. ESPN reported in March 2017 that Kaepernick, no longer a 49er, intended to stand for the anthem in the 2017 season.
The 2016 Morning News story noted that every Cowboys player had stood for the anthem at the team's season opener that week. It didn't quote Jones telling players anything.
From the story:
"I got to give a big pat on the back to our entire team, our coaching staff, our entire organization," Jones said Tuesday morning on 105.3 The Fan's Shan and RJ show [KRLD-FM]. "We strongly, strongly support the flag. In every way, we support -- it's almost ridiculous to be saying it -- the people that for generations and generations have given it all up so we can get out here and show off in front of millions of people on television. We respect that so much. That's the real business.
"The forum of the NFL and the forum on television is a very significant thing. I'm for it being used in every way we can to support the great, great contributors in our society and that's people that have supported America, the flag, and there's no reason not to go all out right there. For anybody to use parts of that visibility to do otherwise is really disappointing."
After Abbott posted his August 2017 tweet, the Dallas newspaper both took note of the Uconservative web post and pointed out that its reporters previously found no basis to reports of Jones saying he'd fire any player who didn't stand for the anthem.
On Oct. 7, 2016, the paper reported that Jones "never made those or other alleged comments and the episode as described never happened." That post followed on Snopes.com, a venerable fact-checking website, debunking a Facebook post suggesting Jones had addressed players about standing for the anthem.
Seeking factual elaboration, we made an inquiry to Abbott's press office and also emailed a spokesman for the Dallas Cowboys. We'll update this fact-check if we field replies.
Our ruling
Abbott said that Jones told Cowboys players: "Stand for the Anthem or you're off team."
In a 2016 radio interview, Jones aired disappointment in Kaepernick not standing for the anthem. We spotted no confirmation of Jones telling Cowboys players to stand or be gone.
We rate this claim False.
---
FALSE – The statement is not accurate. Click here for more on the six PolitiFact ratings and how we select facts to check.