Labor leader says minimum-wage workers with families easily qualify for 'food stamps'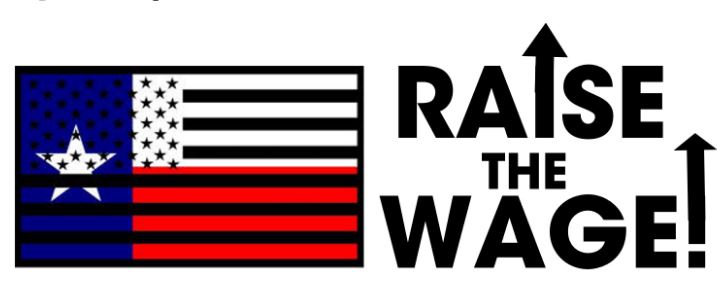 Pitching for a bump in the minimum wage, a labor leader suggested a hike could save all Texans money by elevating low-income workers who'd no longer need government help.
We don't know about that. But we flipped on the Texas Truth-O-Meter after John Patrick, president of the Texas AFL-CIO, said at a January 2017 Capitol press conference: "If you have a family, the current minimum wage easily qualifies you for food stamps."
Really?
"Food stamps" is an outdated term referring to food benefits available to income-eligible residents through the federal Supplemental Nutrition Assistance Program. Beneficiaries purchase food and groceries using electronic benefit transfer cards.
Nationally on average in 2015, about 45.8 million people in 22.5 million households monthly participated in SNAP, according to the federal government, and because benefits are available to most low-income households, participants represent a broad cross-section of the nation's poor.
A November 2016 U.S. Department of Agriculture report states that in the year, 55 percent of SNAP households with children included people with jobs. Still, the average gross income of participating households was $786 a month, the report says, which breaks out to $9,432 a year.
We asked the Texas AFL-CIO for the basis of Patrick's claim. By email, spokesman Ed Sills said a full-time minimum-wage Texas worker earns $7.25 an hour (identical to the federal minimum). Multiplied over 2,000 work hours in a year, that's an annual income of approximately $14,500.
The labor group's use of 2,000 hours in a work year contrasts with the 2,087-hour work year used by the federal government in its data assumptions. Using that figure, a single full-time worker would earn $15,130 in a year.
Sills otherwise said that according to maximum monthly income limits posted by the state, a family could easily qualify for SNAP with a single worker earning the minimum wage. He pointed out the relevant chart, posted on a Texas Health and Human Services Commission web page titled "SNAP Food Benefits."
We proceeded to crunch the figures, which mostly supported Patrick's claim, though we also noticed Patrick hadn't said if he was thinking solely of families with one full-time minimum-wage worker; Sills told us by phone that he believed so.
A twist
Then came a twist causing us to realize the commission-posted figures were out of date.
We recognized as much when Christine Mann, a commission press officer, responded to our inquiry about Patrick's claim by providing SNAP-eligibility household income thresholds lower than the thresholds on the agency's SNAP food benefits web page--which Mann told us would be updated.
Mann later provided a commission web link to the up-to-date income eligibility figures. For our part, we spotted the same income-eligibility numbers on a USDA web page that describes the figures as in effect for the fiscal year running through September 2017.
Mann's response also indicated that qualifying for SNAP is more complicated than simply grossing less than a particular threshold. "Eligibility for SNAP is based on household size, the countable amount of gross and net income for all mandatory household members, and allowed deductions" for items including shelter, utilities, child care and medical expenses, Mann wrote.
Agency confirmation
Mann otherwise told us that a single minimum-wage full-time worker in a household of two to three people would draw monthly gross income of $1,255.70. In support of Patrick's claim, that amount runs short of the up-to-date income thresholds to qualify for SNAP of $1,736 a month for a two-person household or $2,184 a month for a three-person household.
Bigger households with a single full-time minimum-wage worker would qualify too, we calculated, as would households of four or more with two full-time minimum-wage workers.
We identified one exception: A household of three with two full-time minimum-wage workers, which would have a combined gross monthly income of $2,511.40, would earn too much to qualify for SNAP at the qualifying gross-income threshold of $2,184 a month for a household of three.
We separately asked the Austin-based Center for Public Policy Priorities, which says it advocates for conditions enabling every Texan to be healthy, well-educated and financially secure, to assess Patrick's statement. By email, Oliver Bernstein described calculations like our own; he said the claim holds up.
Our ruling
Patrick said that in Texas, "if you have a family, the current minimum wage easily qualifies you for food stamps."
Our finding is that a household of two or more residents including a single full-time minimum-wage worker would clearly qualify for SNAP as would a household of four or more with two full-time minimum-wage workers. A three-person household with two such workers would gross too much to qualify.
We rate this claim Mostly True.
---
MOSTLY TRUE – The statement is accurate but needs clarification or additional information. Click here for more on the six PolitiFact ratings and how we select facts to check.
https://www.sharethefacts.co/share/dd17f5aa-fc00-402c-9b32-89ed516a11b6