Austin's Ann Hudspeth says Texas leads nation in animal deaths due to exploding M-44 traps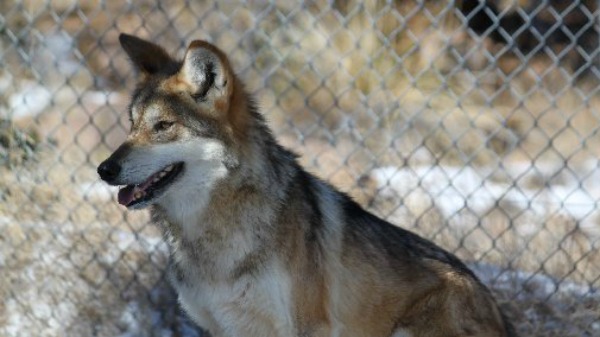 A toxic bomb that kills wild animals and sometimes even pets should be banned, an Austin resident urged in a letter to the editor of the Austin American-Statesman.
Ann Hudspeth stirred our curiosity by writing: "Fourteen states are using cyanide bombs to kill wildlife — and Texas leads the country in animal deaths by sodium cyanide M-44s."
Her April 2017 letter continued: "Thousands of coyotes, foxes, possums, raccoons and skunks meet their end this way in our state. According to figures from the Humane Society of the United States, last year seven Texas dogs were killed by these bombs." She closed her letter by advocating for a proposed national ban on sodium cyanide M-44s, pointing out legislation introduced in March 2017 by U.S. Rep. Peter DeFazio, D-Ore., to ban the use of sodium cyanide and another compound for predator control.
A 2010 U.S. Department of Agriculture leaflet, from its Animal Health and Plant Inspection Service, calls sodium cyanide M-44s, which are placed with the permission of ranchers and landowners by the agency's Wildlife Services branch, "an effective and environmentally sound wildlife damage management tool." The leaflet specifies how it works: "The spring-activated device delivers a dose of cyanide powder to targeted animals," who draw the poison into their mouths by tugging on baited capsule holders.
According to a 2012 Sacramento Bee news series, the service's roots reach to 1915, when Congress – hoping to increase beef production for World War I – allocated $125,000 to exterminate wolves, starting in Nevada. "Popular among ranchers, the effort was expanded in 1931 when President Herbert Hoover signed a law authorizing the creation of a government agency – later named the Branch of Predator and Rodent Control – 'to promulgate the best methods of eradication, suppression or bringing under control' a wide range of wildlife from mountain lions to prairie dogs," the Bee reported.
Reader cites society research
Hudspeth, describing herself as a Congressional District 10 Texas volunteer with the Humane Society of the United States, told us by email that she based the claim on a humane society "data sheet." The undated sheet, which she provided, has a chart indicating that in 2016, Texas ranked first among 14 states with 4,865 animals killed by sodium cyanide M-44s. According to the sheet, the animals felled in Texas included 4,210 coyotes, 521 gray foxes, 56 red foxes, 40 raccoons, 25 opossums, 7 dogs and 6 skunks. Oklahoma placed second, per the sheet, with 3,930 such animal deaths, with New Mexico third at 901 such deaths:
SOURCE: Document, "Wildlife Services, M-44 Data by Species and State," 2016, the Human Society of the United States, undated (received by email from Ann Hudspeth, Austin, April 28, 2017 and confirmed by email, Wendy Keefover, carnivore protection manager, Wildlife Department, the Humane Society of the United States, April 30, 2017)
We spot-checked and confirmed the society's presented totals for the top three declared states from USDA-posted data. By email, we heard back from a service spokesman, Andre Bell, that the death counts by state are annually updated.
Rates of animal deaths
We recognized, too, that Texas was by far the most populous of the states with M-44 deaths.
When we adjusted for population differences, using U.S. Census Bureau estimates, we found Oklahoma leading the 14 states with 10 such animal deaths for every 10,000 residents. By this metric, Texas ranked No. 8, with nearly 2 such deaths per 10,000 residents--higher than the rates for Nevada, Virginia, Idaho, Oregon, Utah and Colorado and lower than the rates for Oklahoma, North Dakota, Wyoming, Montana, New Mexico, West Virginia and Nebraska.
We also tried ranking the deaths by state by adjusting for each state's total area in square miles as posted by the bureau. By this sort, West Virginia had the highest rate of M-44 animal deaths per square mile--with Texas second, followed by Nebraska, North Dakota, Virginia, New Mexico and Oklahoma.
Human exposures
Hudspeth put us in touch with Wendy Keefover, a manager for the Humane Society of the United States, who guided us to news accounts of human and pet dog exposures to the sodium cyanide explosives intended to kill predators.
A 1971 Sports Illustrated story described the 1966 death of Texas surveyor Raymond Medford, 49, near Fort Stockton due to accidental sodium cyanide exposure from a predecessor predator-control device to the M-44. Keefover wrote that through a Freedom of Information Act request to the Environmental Protection Agency, the society drew reports of four other Texans exposed to sodium cyanide, none fatally, all in connection with M-44s, from 1998 into 2011.
Keefover also noted an April 20, 2017, National Geographic news story stating that according to the EPA, "an average of 30,000 M-44s, deployed by the federal government in concert with Western states and counties, are triggered each year. Baited to entice animals, they're indiscriminate in their victims," the story said. Also noted: Wildlife Services reporting that in 2016, 12,511 of 76,963 coyotes killed for livestock protection were felled with M-44s.
Most recently, Keefover noted, a March 2017 incident resulted in a boy and his dog briefly getting exposed to an M-44's contents. According to an Idaho State Journal news story noted by the fact-checkers at Snopes.com, 14-year-old Canyon Mansfield was walking with his dog when he noticed what he thought was a sprinkler head protruding 6 inches from the ground. "Like many curious teenagers would, he bent down and touched the pipe, which erupted with a loud popping noise that knocked Canyon off his feet," the story said. "A hissing sound ensued and Canyon noticed his clothing and face were covered with an orange, powdery substance," the story said, which the boy washed off in nearby snow; his dog, though, shortly died.
The story said Wildlife Services issued a statement referring to the dog's death as a regretted "unintentional lethal take."
Humane Society stands by claim
Reminded that Texas falls far short of No. 1 in animal deaths due to M-44s once the federal counts are adjusted for each state's population, a national Humane Society official, Carol Misseldine, replied by email that Hudspeth and the society intended a different emphasis.
"Texas ranks number one in total numbers of animals killed by these cyanide bombs and we stand by our numbers," Misseldine wrote.
Our ruling
Hudspeth wrote: "Texas leads the country in animal deaths by sodium cyanide M-44s."
Texas would have ranked lower if each state's tally were adjusted for population or land area, but Hudspeth's claim was only that Texas had more animal deaths than any other.
We rate her claim True.
---
TRUE – The statement is accurate and there's nothing significant missing. Click here for more on the six PolitiFact ratings and how we select facts to check.