Fact-checking the economy, Afghanistan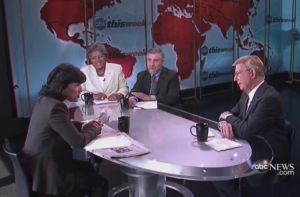 The war in Afghanistan and the economy were two of the biggest topics on This Week with Christiane Amanpour.
We checked two statements from the roundtable.
George F. Will talked about how consumers are saving instead of buying. It might be good for their personal finances, but some economists believe it hurts the economy. Will said, "During the recession, "the consumer in his native perversity has begun to save. The savings rate is now 6.2 percent."
We checked his numbers and found he was right about the savings rate, so we rated his statement True.
We also checked a statement from Paul Krugman about the war in Afghanistan. The Bush administration "pulled the troops out of Afghanistan, pulled the resources away, because they wanted to invade Iraq instead," Krugman said. Experts said Krugman was right that resources like Special Forces and intelligence were shifted to Iraq. But we looked at troop levels in Afghanistan during the invasion of Iraq, and found troop levels to be small but constant. So we rated Krugman's statement Half True.
We're working on one more fact-check; we'll post it as soon as it's complete.
Have ideas about what we should fact-check? Remember, you can always e-mail us at [email protected] or message us via Twitter, @politifact. We also have a Facebook page where you can chat with other readers.