Fact-checking is peachy: PolitiFact Georgia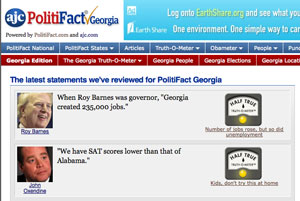 The Truth-O-Meter has arrived in Georgia.

The Atlanta Journal-Constitution has launched PolitiFact Georgia, our third state affiliate. The Georgia site will focus on the 2010 campaigns, particularly the races for governor and U.S. senator.

Like our other partner sites in Texas and Florida, PolitiFact Georgia uses the same journalistic approach and reader-friendly design as our national site. The Georgia edition is integrated with the national site and uses our Truth-O-Meter to rate the accuracy of statements by candidates, elected officials and political parties.

The AJC has assembled a great PolitiFact team led by veteran writer Jim Tharpe along with writers Willoughby Mariano and Eric Stirgus, who formerly worked the St. Petersburg Times in Clearwater.

The success of PolitiFact Texas and PolitiFact Florida has shown us that the Truth-O-Meter works as well in state and local politics as at the national level. Our expansion around the country is based on our belief that every candidate and elected official in the nation ought to face the Truth-O-Meter.

PolitiFact is a project of the Times, which is seeking news organizations in other states that want to form similar partnerships.

"Our expansion in Georgia continues the St. Petersburg Times' commitment to PolitiFact as a promising new form of journalism that harnesses the power of the Web," said Neil Brown, the Times' editor.