BP apologist in charge after 2010? Not so fast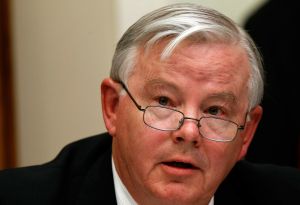 With many Republican leaders distancing themselves from Rep. Joe Barton's apology to BP, Democrats have been quick to point out that Barton isn't any old congressman. He's the ranking Republican on the House Energy and Commerce Committee that oversees the oil industry.
Imagine, some Democrats have warned, what would happen if Republicans won control of the House in mid-term elections.
We checked a claim by White House Chief of Staff Rahm Emanuel on ABC's This Week that "the ranking Republican (Barton) would have oversight into the energy industry, and if the Republicans were the majority, would have actually the gavel and the chairmanship."
Well, not so fast. While congressmen who are a minority party's ranking member on a committee often rise to the chairmanship if their party regains majority control, that's not always the true -- and looks extremely unlikely in Barton's case. We rated Emanuel's comment Half True. Read why here.