Two more fact-checks in the START treaty debate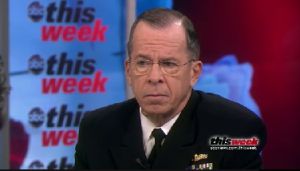 One of the most high-profile debates arising as lawmakers head into a lame-duck session is whether to ratify a new START treaty to control nuclear arms. Today,we add two more fact-checks related to the treaty, one on a statement by Adm. Mike Mullen, the chairman of the Joint Chiefs of Staff and a supporter of ratification, and the other on Sen. Jon Kyl, R-Ariz., the highest-profile Senate skeptic.
The treaty would enact modest nuclear-weapons reductions and extend verification provisions that lapsed last year. The Obama Administration and many foreign-policy professionals favor ratification of the new treaty, which would require 67 votes in the Senate. But the effort has run into problems with Senate Republicans.
We looked at a comment Mullen made in an interview on ABC's This Week with Christiane Amanpour on Nov. 21, 2010. He said that past Senate ratifications of arms control treaties have "historically ... been bipartisan."
We found one clear example of partisan opposition to a nuclear-weapons treaty -- the Comprehensive Nuclear Test-Ban Treaty -- but 13 that passed with broad, bipartisan support. So we rated Mullen's contention True.
The second new item addressed a comment by Kyl on the Nov. 28, 2010, edition of NBC's Meet the Press. Kyl said he has a major philosophical difference with President Barack Obama's administration on arms control -- namely, whether the goal should be for a world free from all nuclear weapons.

"You have questions extraneous to the treaty but within the context, which is, is this all that's standing between us today and the administration trying to negotiate even deeper, further cuts, which it's indicated that it wants to do in its march toward global zero, something that a lot of us disagree with," Kyl said.
We found several examples of Obama expressing his longstanding desire to see a world free of nuclear weapons. But we also found that Obama has also said he's not sure that goal is possible in his lifetime. He has noted that as long as other countries retain nuclear weapons, the United States will maintain a strong nuclear arsenal. On balance, we rated Kyl's statement Mostly True.
These two items join a third on START that we ran earlier this week. In that one, we analyzed a comment Kyl made on the Nov. 28, 2010, edition of NBC's Meet the Press:
"First of all, let me quote the Washington Post, which directly addressed the question that you asked. 'No calamity will befall the United States if the Senate does not act this year.' And in response to the charge that somehow we need to do this for the urgency of needing verification, the Associated Press did a fact-check on that allegation and said, 'The urgency is political. Even the administration concedes the security risk is not immediate.'"
We looked at the original published items and concluded that the way Kyl abridged them amounts to cherry-picking. He selectively quoted from the accounts, leaving viewers with a distinctly different impression than they would have had if they'd read the items in their entirety. So we rated his comment Half True.