Fact-checking Florida's U.S. Senate debate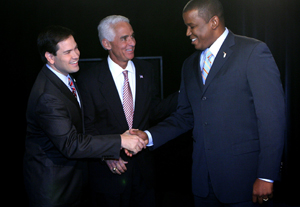 No-party Gov. Charlie Crist, Democratic U.S. Rep. Kendrick Meek and Republican Marco Rubio tossed out numbers galore in the Oct. 6, 2010, U.S. Senate debate aired on ABC stations in Florida. Fortunately, we've been checking the facts.

Of course, we think this was the best exchange of the evening:

CHARLIE CRIST: Look at the facts.

MARCO RUBIO: Not only am I willing to tell you that, but I think PolitiFact, and independent journalists that have studied the issue have said …

But we digress. Let's look at the facts, as the governor says. PolitiFact Florida has already examined a number of claims made by the candidates. Here's a wrapup:

• The debate opened with discussion about Crist's new ad attacking Rubio's stance on Social Security. Just hours earlier, we posted our review of the ad that claims Rubio wants to raise the retirement age and cut benefits. We said Half True because Rubio's talking only about those still-young workers who are at least 10 years from retirement.
• Meek repeated his claim of being the only candidate who stands against the oil companies and not allowing them to drill off the coast of Florida. We rated that one Mostly True.

• Craig Patrick of WFTV Channel 9 Eyewitness News in Orlando, which hosted the debate, noted that the Citizens for Responsibility and Ethics in Washington named what it considers to be the 12 most crooked candidates in America, and all three of candidates made that list. Sure enough, they're all there.

• Crist and Rubio went at each other over earmarks in the state budget when Rubio was speaker of the Florida House. We've looked at both $800,000 for an AstroTurf field in Miami (Half True) and a rowing institute in Central Florida (Pants on Fire).

• Meek decried personal attacks on the candidates' families, referring to the "governor's attacking my mother." That one came up back in the primary too, and here's what we found out about that investigation.

• Naturally, the federal stimulus came under fire, with Rubio saying flatly, "Congressman Meek, the stimulus is a massive failure" that failed to create jobs. We reviewed the Florida jobs created in the stimulus bill in this Truth-O-Meter item.

• Remember the Rubio claim that Crist has flip-flopped on health care? It came up again and Crist said: "I'm against it. I think we have to fix it. There are parts of it that are good. And there are parts of it that need to be changed." You can follow the governor's track record on that one here.

• Meek pushed his pro-choice credentials again, claiming the only endorsement by the pro-choice community.

And may we say, we are so looking forward to the next debate.