Fact-checking Bill O'Reilly's interview with President Barack Obama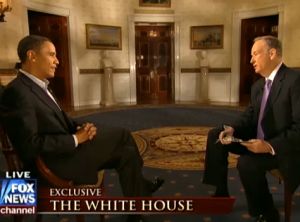 President Barack Obama marked his third year in a row of giving an interview to the network that airs the Super Bowl. This year, the network was Fox, and the interview was commentator Bill O'Reilly.
The Obama administration has made no secret that it considers Fox News to be an unfriendly news outlet, and the two men had a spirited back-and-forth. O'Reilly asked questions such as, "Do you deny that you are a man who wants to redistribute wealth?"
We started off checking two statements from Obama from his answer to the "redistribute wealth" question.
Obama said he "absolutely" denied it, and added, "I didn't raise taxes once. I lowered taxes over the last two years."
It's not true that Obama didn't raise taxes once. We've documented several tax increases, most notably taxes on cigarettes and indoor tanning. We rated that statement False.
But Obama is on firmer ground when he said he lowered taxes over the last two years. Thanks to tax cuts in the stimulus, and then to last year's tax compromise with Republicans, most Americans have seen lower taxes. So we rated that Mostly True.
At a reader's request, we checked another statement by O'Reilly. After he asked Obama, "Does it disturb you that so many people hate you?" O'Reilly said he had asked the same question of former President George W. Bush. We found that O'Reilly asked the question of each president in slightly different ways but that the inquiries were similar, so we rated that True.
We also checked O'Reilly's statement that polls show that "the majority of people" don't support the health care law. Although support for the law doesn't reach 50 percent, a broad picture of polling shows a divided public, so we rated his statement Half True.
We also checked Obama's reponse to a question about the recent ruling by a Florida judge that the health care law is unconstitutional. Obama said he disagreed with the ruling, and portrayed it as an outlier opinion. Obama said twelve judges have thrown out legal challenges to the health care law because they rejected "the notion that the health care law was unconstitutional." It turns out those 12 cases were dismissed for procedural reasons, because of standing or jurisdictional issues. The judges in those cases did not opine on the constitutionality of the law. There have been four cases so far in which judges have. In two opinions from judges appointed by Democrats, it was deemed constitutional; and in two opinions from judges appointed by Republicans, it was found to be unconstitutional. We ruled Obama's claim False.