Job-crushing, granny-threatening, budget-busting monstrosity?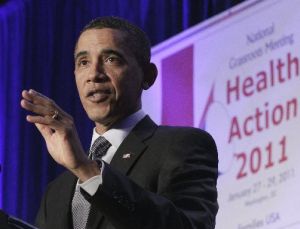 Speaking at the Families USA Health Action Conference on Friday, January 28, 2011, President Obama defended the health care law and ridiculed some of the ways he said critics have misrepresented it.

"You may have heard once or twice that this is a job-crushing, granny-threatening, budget-busting monstrosity," Obama said. "That's about how it's been portrayed by opponents. And that just doesn't match up to the reality."

It so happens PolitiFact has weighed in all three of these Republican attacks.

Most recently, we looked into the oft-repeated Republican claim that the health care law is "job-killing" -- the label was even included in the name of the repeal bill -- but we found Republican leadership greatly distorted two studies used to back it up. And we rated the claim False.

The "granny-threatening" claim goes further back in the health care debate. It first surfaced in the summer of 2009 when Betsy McCaughey, a staunch critic of the Democratic health care plan and former lieutenant governor of New York state, warned the bill "would make it mandatory -- absolutely require -- that every five years people in Medicare have a required counseling session that will tell them how to end their life sooner." In fact, the sessions are an option for elderly patients who want to learn more about living wills, health care proxies and other forms of end-of-life planning, and we gave McCaughey our lowest rating, Pants on Fire. But the claim lived on and later morphed into the now-infamous "death panel" claim by Sarah Palin, which ended up being awarded our 2009 "Lie of the Year."

Lastly, is the health care law "budget-busting"? We dealt with this issue most recently when Rep. Paul Ryan, R-Wis., claimed in his response to President Obama's State of the Union on Jan. 25, 2011, that the health care law "is accelerating our country toward bankruptcy." The government's non-partisan Congressional Budget Office analyzed the bill and concluded it was a slight deficit-reducer both in the short and long term. But Ryan contends the CBO report is based on gimmicks and double-counting. We looked into, and discounted, several of Ryan's arguments in support of those claims. But we also found that Ryan pointed to legitimate concerns about assumptions made by the CBO -- particularly whether reduced Medicare payments are sustainable -- assumptions that even the CBO and Medicare's chief actuary noted may be suspect. The fate of those cuts may largely determine whether the new health care law ends up in the red or black. For now, though, those cuts are law, so we concluded that Ryan has overplayed his hand. We rated his claim Barely True.