Campaign turns Minnesota not so nice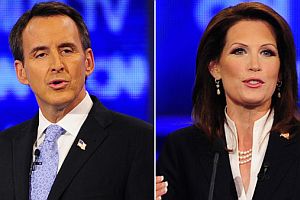 As Republican presidential candidates continue through a summer of campaigning, two candidates have taken off the gloves. Ironically, they both come from Minnesota, a state known for its homegrown courtesy, called "Minnesota nice."
In this case, Michele Bachmann and Tim Pawlenty know each other's history, and they've used that history to fuel attacks launched earlier this week. Pawlenty is a former two-term governor of the state, while Bachmann was elected to the U.S. House of Representatives in 2006.
On Sunday, Bachmann and Pawlenty issued dueling statements highlighting the other's perceived faults and failings.
Bachmann said Pawlenty wasn't conservative enough, and accused him of saying in 2006 that "The era of small government is over... the government has to be more proactive and more aggressive."
We checked whether Pawlenty made the statements Bachmann ascribed to him. We found that in 2006, he did make those comments and urged a conservative style of government that would be activist in fighting entrenched interests. Pawlenty said he was misquoted, a claim we explore in detail in our full report. Nevertheless, we rated Bachmann's statement Mostly True.
Pawlenty's campaign, meanwhile, said Bachmann talks big but doesn't accomplish much. While Pawlenty was "scoring conservative victories" as governor, Bachmann was "giving speeches and offering failed amendments," the campaign said.
We reviewed Bachmann's legislative record and found that she didn't get a single bill passed, though she did sponsor a few resolutions passed by the U.S. House of Representatives. Even her allies, though, admit her strength is not getting legislation passed. So we rated Pawlenty's statement Mostly True.