Romney campaign blames Obama for women's economic distress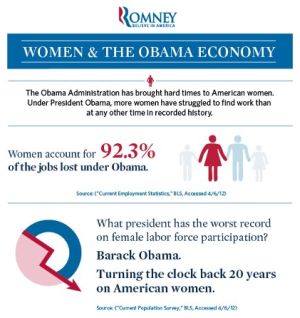 Mitt Romney's campaign is courting women voters by blaming President Barack Obama for women's economic woes.

The Romney campaign's website, tweets and talking points hit hard on this theme, and it's easy to see why. An early April 2012 Washington Post-ABC News poll found Obama leading Romney by 57 percent to 38 percent among registered women voters.

We checked two statements from the Romney campaign. The first was a claim on the campaign website that "women account for 92.3 percent of the jobs lost under Obama." We found the claim misleading and ruled it Mostly False.

The second claim, from the same Romney website document called "Women & the Obama Economy," was that Obama "has the worst record on female labor force participation." We found there was a grain of truth to the claim but not much more. Our ruling: Mostly False.