Booker latest Democrat to exaggerate gun violence statistic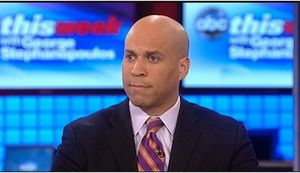 As the debate over gun control rages, at least two high-profile Democrats, most recently Newark Mayor and Senate hopeful Cory Booker, have recently offered over-the-top estimates of how many Americans have been killed by gun violence.
On March 21, Rep. Charlie Rangel, D-N.Y., said in an MSNBC interview that there are "millions of kids dying, being shot down by assault weapons." That was debunked by FactCheck.org, using federal data showing 939,782 violence-related firearm deaths over a 30-year period, including all ages (not just children) and all causes (including suicide).
Then, last Sunday, Booker made a similarly off-base claim during an appearance on ABC's This Week With George Stephanopoulos.
"There are still thousands of Americans that are being murdered every single day," Booker said.
He later sent this tweet, trying to correct his claim: "Just caught myself miss-speaking on ABC. Its hundreds being killed everyday not thousands. Sorry about that."
But it turns out that wasn't right either. After additional Twitter blowback, Booker tweeted, "Sorry again, officially it is approximately 30 people murdered every day due to gun violence."
Third time's a charm? PolitiFact finds he's close, but not exactly correct.
Booker's number -- 30 -- is solid, but his description -- "murders" -- technically isn't.
Data from the Centers for Disease Control and Prevention show that in 2010, there were 11,078 homicides in the United States caused by firearms. That works out to slightly over 30 per day.
But pay close attention to the unit of measurement: homicides. The problem is that "murders" -- Booker's word -- account for only a portion of homicides.
"Homicide" is a broad term that refers to any killing of one human by another. It includes not just murders but also lesser types of crimes (including manslaughters and negligent homicides) as well as accidental killings and legally justified killings (such as self-defense).
Because the term "murder" is much more specific than "homicide," the number of murders per day is almost certainly smaller than the 30 homicides recorded per day, though exact numbers are not available. (Booker's office did not respond to requests for comment.)
Experts expressed mixed feelings about how much the use of the word "murder" undercuts the accuracy of Booker's claim.
Mary Graw Leary, a law professor at Catholic University in Washington, D.C., noted that different states have different definitions of what types of criminal killings count as "murder."
"I have to spend the first class of homicide with my law students debunking myths about what is an unlawful killing and what is not," Leary said.
And John Kip Cornwell, a professor specializing in criminal law and procedure at Seton Hall University, said that "if this was a discussion among legal experts -- law professors, prosecutors, something like that -- usually if they mean murder in the technical sense, as differentiated from homicide, then that is usually clarified in the context. If you're talking about a news program and people use the word 'murdered' in a general conversation, they mean killed. If this was a Sunday news program, my guess would be the mayor was saying there were 30 people killed."
Before we let Booker off easy, though, we should note that he's no beginner in the fine points of law and criminology. He has spent more than six years overseeing law enforcement as mayor of a major American city, and he spent three years earning a J.D. from Yale Law School, where he also worked for a legal clinic for low-income residents.
Somewhat surprisingly, Booker had previously offered much more accurate numbers on his first attempt during a previous foray to This Week.
PolitiFact New Jersey checked a similar claim in December, not long after the mass shooting at Sandy Hook Elementary School in Newtown, Conn.
"What happened in Connecticut was a grievous tragedy, but every single day in America, every single day, people in communities like mine go to bed fearing violence," Booker said. "You see 34 people (are) murdered every single day." PolitiFact New Jersey rated that claim Mostly True.