Fact-checking reactions to gun proposal's failure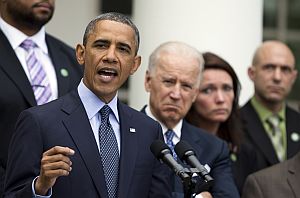 As Sandy Hook Elementary parents watched from the balcony, a bipartisan effort to expand background checks on gun sales died Wednesday on the U.S. Senate floor.
Reaction from all sides was intense. Former Arizona Rep. Gabrielle Giffords, who nearly died from a gunshot to the head in 2011, wrote an impassioned op-ed, charging that senators "gave into fear" and ignored the will of the public.
President Barack Obama, speaking in the Rose Garden, said "the gun lobby and its allies willfully lied about the bill."
"They claimed that it would create some sort of 'big brother' gun registry, even though the bill did the opposite. This legislation, in fact, outlawed any registry. Plain and simple, right there in the text," Obama said.
The NRA, for its part, issued a statement calling the failed proposal "misguided," saying it would have limited the transfers of guns between friends and families.
So which reactions were accurate? PolitiFact sorted out the truth from spin.
Wednesday's failed vote was on an amendment, offered by Republican Sen. Pat Toomey of Pennsylvania and Democratic Sen. Joe Manchin of West Virginia, that would have required background checks for private sales at gun shows and on the Internet, two areas that are currently exempt from federal law.
Giffords' column ran in the New York Times under the headline "A Senate in the Gun Lobby's Grip."
"Some of the senators who voted against the background-check amendments have met with grieving parents whose children were murdered at Sandy Hook, in Newtown," Giffords wrote. "Some of the senators who voted no have also looked into my eyes as I talked about my experience being shot in the head at point-blank range in suburban Tucson two years ago, and expressed sympathy for the 18 other people shot besides me, six of whom died.
"These senators have heard from their constituents — who polls show overwhelmingly favored expanding background checks," she continued.
PolitiFact found multiple, independent polls showing that 80 percent to 90 percent of Americans favor more criminal background checks on gun sales. We rated her claim True.
Obama said the Manchin-Toomey amendment "outlawed any (gun) registry" — and he was right.
Existing law already prohibits creation of a registry, and the new amendment doubled down on that. It specifically prohibited the seizure of records, forbid the attorney general from consolidating or centralizing records and provided for fines and imprisonment for anyone who did consolidate or centralize records. We rated Obama's statement True.
The NRA claimed in its statement that the amendment made it a crime for family and friends to sell guns to each other without a background check: "This amendment would have criminalized certain private transfers of firearms between honest citizens, requiring lifelong friends, neighbors and some family members to get federal government permission to exercise a fundamental right or face prosecution."
But the Manchin-Toomey amendment specifically excluded family transfers from the background check requirement. It expanded checks, however, to Internet and gun show sales.
So the only way private transfers among friends or neighbors could be "criminalized" is if they happened at a gun show or through an advertised sale and the seller didn't conduct a background check. That's a limited circumstance. The rating: Mostly False.
Anger and frustration showed on Obama's face as he spoke in the Rose Garden, surrounded by Newtown families, Giffords and Vice President Joe Biden. He accused the NRA of flip-flopping, saying the group "used to support expanded background checks." In fact, the NRA has acknowledged changing its position. At the time of the 1999 Columbine High School shooting in Colorado, the group ran ads in newspapers saying it was "reasonable to provide for instant checks at gun shows just like at gun stores and pawn shops." The group now says expanded checks would do nothing to reduce gun crime and would only be a burden on law-abiding gun owners. We rated Obama's claim True.
But Obama oversimplified how many background checks are covered by the current law when he said, "so 60 percent of guns are already purchased through a background check system; this would have covered a lot of the guns that are currently outside that system."
The 60 percent figure stems from a scholarly study which found that 40 percent of guns are sold without a background check. But that study is now 16 years old, and there's no new evidence to indicate if the statistic is still true. The rating: Half True.