The truth(s) behind part-time jobs and the recovery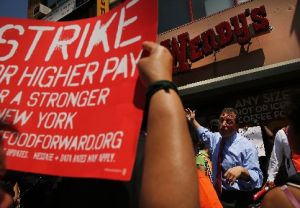 According to legend, President Harry Truman once cried out in vain for a "one-handed economist" -- an economist who wouldn't be able to undercut his own advice by saying, "On the one hand" and, "On the other hand."
At PolitiFact, we empathized with Truman's comment after reviewing two seemingly contradictory claims about the creation of part-time jobs -- and ruling both of them True.
Part-time jobs are a hot topic at the moment. Republicans say that President Barack Obama's health care law is incentivizing them by requiring businesses to provide health care to full-time workers, but letting them off the hook for part timers. "Obamacare is turning our economy into a part-time economy," House Majority Leader Eric Cantor, R-Va., said on a recent edition of Fox News Sunday.
The effects of the health care law on jobs are hard to quantify, because the key provisions, including the mandate on employers to provide health insurance, haven't taken effect yet. But economists are also concerned about the weak recovery and the possibility that companies, for reasons unrelated to Obamacare, might be favoring part-time jobs over full-time positions.
What's interesting is that the data differs wildly depending on the time frame used -- making it possible for both Republicans and Democrats to make their case with solid numbers.
That's precisely what happened with the two claims we checked.
In one item, we checked a claim made by Sen. Susan Collins, R-Maine, in a response to one of Obama's Saturday radio addresses.
"In the past, most new jobs were full time, but, this year, the overwhelming majority of new jobs are part time," Collins said. "Under this troubling trend, more workers will find their hours and their earnings reduced. Jobs will be lost. This is especially disturbing as our country is still battling high unemployment."
The other comment we checked was made by Alan Krueger, the chairman of Obama's Council of Economic Advisers, during an interview with Sara Eisen of Bloomberg television.
Eisen asked Krueger whether we're "creating a part-time economy. The news is filled with stories of small businesses and colleges cutting back worker's hours or putting a freeze on hiring."
He responded, "I think that's highly misleading. Since the Affordable Care Act passed, 90 percent of job growth has been in full-time positions." (The Affordable Care Act is the more formal name of Obama's health care law.)
Two diametrically opposed statements. Yet both turned out to be correct.
For Collins, we looked at the change in full-time and part-time employment between December 2012 and July 2013, then determined which of the two types of employment accounted for a larger share of the increase in overall employment. And she was right: 77 percent of the increase in employment over this period came from part-time jobs.
But if you take a longer view, the picture changes.
To check Krueger's claim, we looked at the same data for the period between March 2010 and July 2013. It turns out that Krueger was right -- 87 percent of the increase in employment over this period came from full-time jobs.
The moral of the story: Timing is everything.