Who got nominees faster? Obama or Bush?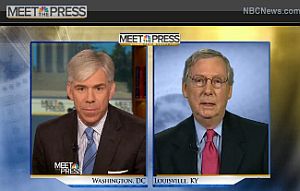 Sen. Mitch McConnell, R-Ky., appeared on NBC's Meet the Press where he argued that President Barack Obama's track record on getting his nominees confirmed has been pretty good.
"What is the problem here? ... He's getting them faster than President Bush was at the same time in his second term," McConnell said.
Actually, our analysis showed the opposite is true; McConnell apparently left a key qualifier out of his statement. We rated the statement False. Read our full report for the details.