Fact-checking Obama on the economy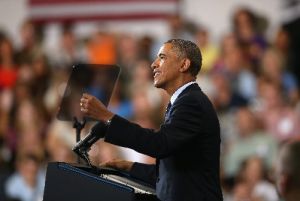 Last updated on Friday, July 26th, 2013 at 5:05 p.m.
President Barack Obama aimed to refocus the national debate and put the economy front and center with a speech at Knox College in Illinois. It was the same place he spoke as a senator in 2005 about the need for the government to help the middle class.
Here's what we've looked at from the speech:
"Our businesses have created nearly twice as many jobs in this recovery as they had at the same point in the last recovery, when there was no Obamacare."
Obama's carefully worded claim uses the most advantageous time frame to measure job growth. Other metrics show that the job recovery he has presided over has been similar to, or even weaker than, the job recovery under Bush. So we rated the claim Half True.
"Our deficits are falling at the fastest rate in 60 years."
While economists vary on how to best measure that decline, the president used an acceptable approach and his numbers are accurate. Our experts warned against reading too much into Obama's claim, though. We rated the statement True.
"The income of the top 1 percent nearly quadrupled from 1979 to 2007, but the typical family's incomes barely budged."
Obama is correct that the income of the top 1 percent has exploded. As for the typical family, he said it "barely budged." The accuracy depends on how you define "barely budged": We found median family income grew approximately 1.4 percent, and that seemed right to us. We rated his statement True.
• • •
We also noticed a few other lines from the speech that Obama that are similar to claims we've checked previously.
"We doubled wind and solar power."
Federal statistics generally back this up. Net electricity generation from wind and from solar each more than doubled between 2008 and 2011. We looked at the numbers last year when the president flubbed the line, incorrectly claiming that the nation doubled its use of all types of renewable energy. (Turns out there's more to renewable energy than just wind and solar; The increase for all types of renewables was about 25 percent.)
"The cost of health care is growing at its slowest rate in 50 years."
Growth in health care spending is indeed at its lowest level since we started keeping track in the 1960s. The president made a more accurate claim than Rep. Nancy Pelosi did in May, when she said Obamacare was bringing down health care costs. Spending is up. Growth in spending is down. And it's not yet entirely clear why, though some health economists calculate it's more than just the recent economic downturn.
"Over the past four years, for the first time since the 1990s, the number of American manufacturing jobs has actually gone up, instead of down."
Obama loves to talk about growth in manufacturing jobs, noting (accurately) this year that the country had created half a million of them in three years. Such positions had been falling since the 1990s, but have experienced a modest upswing since 2009.
"I capped (student) loan repayments at 10 percent of monthly incomes for responsible borrowers."
It's a claim similar to one touted by former President Bill Clinton at the Democratic National Convention. Obama did sign a 2010 law that lowered caps on student loan payments. The government already had in place an "income-based repayment plan" that let students cap payments at 15 percent of their income above living expenses, and forgave remaining debt if they made those payments for 25 years. Under the new law, payments dropped to 10 percent, with debt forgiven after 20 years, or half that long for some public service workers such as teachers.