Checking in on President Barack Obama's campaign promises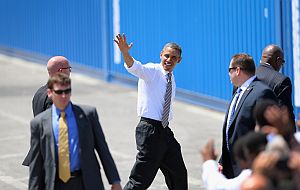 President Barack Obama has been making progress on some of the campaign promises he made during the 2012 campaign.
We took a look at three recent promises where we've seen presidential action. In all three cases, the needle on our Obameter moved from Not Yet Rated to In the Works. Read the individual updates for complete details.
• On elections: Obama promised to fix problems of voter access such as long lines on Election Day and on early voting days. He recently appointed a panel to document best practices for the local officials who run elections.
• On guns: He said he would better enforce gun laws. In addition to asking Congress for new legislation, Obama has directed his administration to increase enforcement.
• On foreign policy: Obama made a promise to get combat troops out of Afghanistan by the end of 2014. His new secretary of state and defense secretary have been talking up that goal.