Tracking Obama's promises on gay and lesbian issues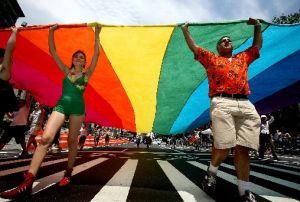 This week, 61 senators voted in favor of beginning debate on legislation that would prohibit employers from discriminating on the basis of an individual's actual or perceived sexual orientation or gender identity. Seven Republicans joined with 52 Democrats and two independents to move the bill forward.
While some states and localities have laws that prohibit employment discrimination based on sexual orientation or gender identity, there is no current federal law that would apply to all.
To be clear, there's still a ways to go before Obama could claim full credit for his campaign promise to get the law passed. Senators say they expect attempts to amend the bill to address concerns of religious employers, and that could become a contentious issue. Also, the bill would face an uphill battle in the U.S. House of Representatives, where the Republican leadership controls whether the bill would get a vote or not.
Still, the Senate vote is an important step toward enactment, and Obama strongly supported the measure. We moved the rating on Obama's promise from Promise Broken to In the Works.
If the measure becomes law, Obama will have kept four of five promises on gay and lesbian issues. See the promises here. You can check Obama's complete campaign promises scorecare on our Obameter page.