Mobile Truth-O-Meter, 99 cents till Tuesday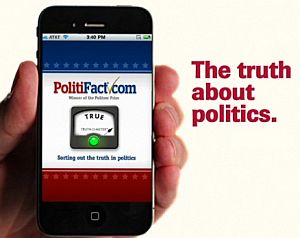 When March ends, so does your chance to save a buck on our app for your tablet or phone.
It's now just 99 cents on iTunes, Amazon and Google Play.
Last big election season, the reviews came in:
"What a great way to cut through the verbal garbage politicians and others throw at us everyday! I especially like the 'Chain Email' section. Now I can reply to whoever sends these to me with links that give THEM the 'real story.' Calm down guys, no one is really thinking seriously about taking 'in God we trust' off our money…"
"I love this app. I love the red button. I push it when I hear a lie, and it makes me laugh. I like knowing what is true and what is made up. It is so hard to tell when politicians and talk show hosts bend the truth or tell outright lies and expect people to believe them. PANTS ON FIRE!!!!"
"This should be on everyone's mobile electronic device! Informative, nonpartisan, excellent information. Very timely, with the election coming up. But good information to have as an American citizen any time!"
"If you care about politics, buy the app."
Wired magazine called PolitiFact Mobile one of its "essential tools." Computerworld named it one of six mobile apps for "election fever."
You get the same award-winning reporting and politician report cards that power our site, plus:
• The Truth Index – It's like the Dow Jones Industrial Average of truth, a daily index that shows the ups and downs of all of our Truth-O-Meter rulings.
• The Truth-O-Meter Tally – An interactive feature that allows you to compare Truth-O-Meter rulings by subject. Are there more falsehoods in claims about health care or the economy?
• The Flip-O-Meter Tally – A running tally that shows the latest count for Half Flips and Full Flops.
• An email feature — It allows you to send your favorite Truth-O-Meter items to friends and co-workers.
• A Pants on Fire button — Press the button, hear the satisfying "Pants on Fire!" siren. It's our favorite couch companion for speeches and debates.
On Tuesday, it returns to its regular price of $1.99. So grab it now! When November rolls around, you'll feel extra smart.