Highlights from the week in fact-checking, March 28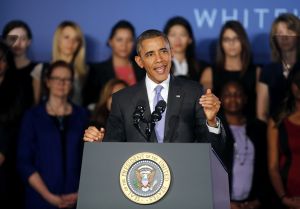 Claims about education and health care were topics this week at PolitiFact. Here's a quick recap of some of our findings; click through the links for detailed reports with complete source lists.

The statement: "Americans increasingly want (the Affordable Care Act) to be repealed." -- Sen. Marco Rubio, March 23 in a video
The ruling: Depending on which polls you consult, anywhere from about 35 to 50 percent of the nation does want the law repealed. That's not insignificant.
But we take issue with his claim that as time goes on, more voters are calling for repeal. Experts say the percentage of voters who want Obamacare repealed is staying consistent within each poll.

"If you look poll to poll, it's not clear that they're rising dramatically, but it's still a big number and something people should pay attention to," said Karlyn Bowman, who studies polling at the conservative American Enterprise Institute. "Repeal sounds radical, and we're just not a very radical kind of people. We like to take the middle ground if possible." We rated Rubio's claim Mostly False.

The statement: "Women take birth control, more than half of them, as a medication for other conditions." -- Sen. Barbara Boxer, Tuesday on MSNBC's Jansing & Co.

The ruling: Boxer's staff pointed us to a 2011 report from the Guttmacher Institute, a nonprofit that studies reproductive rights. The study focused specifically on the birth control pill, not all contraception. It found that of the more than 7,354 women surveyed, 58 percent of pill users cited at least one noncontraceptive reason for taking it. That includes managing menstrual pain, period regulation and acne. But the report found that many of the women in this category take the pill to prevent pregnancy. Just 14 percent of pill users said they only took the pill for noncontraceptive reasons. Boxer's statement was partially accurate but left out important context, so we rated it Half True.

The statement: "Our high school graduation rate is the highest on record." -- President Barack Obama, March 20 in a speech in Orlando.

The ruling: On paper, it's an accurate claim using the federal government's metric, but by the Education Department's own admission, the new measure of calculating graduation rates is not comparable to previously recorded rates. States and local school districts for years used various methods to determine the percentage of students who graduate high school. As a result, any national figure was nothing more than a rough estimate.

Still, the general sense in the education industry is that rates are on the rise and considerably higher than 20 or even 10 years ago. We rated the claim Half True.

The statement: Florida's revenue "is growing at a faster rate than almost any state in the country." -- Jeb Bush, March 21 in a speech.

The ruling: A few reports compiled with data encompassing different kinds of revenue can be confusing, but all paint the same picture: Florida revenues are down from pre-recession levels, and don't generally reflect a growth rate consistent with what Bush is claiming, either annually or in recent quarters.

One report found the state's collections for taxes and other revenue were still 7 percent lower in 2012 (almost $48 billion) compared with 2008 (almost $51.6 billion), making Florida 15th out of 19 states that had not yet rebounded to pre-recession levels.

There is one report that says 2014 general revenue is expected to grow at a rate in the top 10 of all states. That data is self-reported from the state, however, and is only an estimate.

According to experts we talked to, the Sunshine State is lagging behind the rest of the nation when it comes to getting its revenues back to pre-recession levels. We rated the statement Mostly False.