Rep. Ann Marie Buerkle uses passage of Libyan budget to shame U.S. Senate over inaction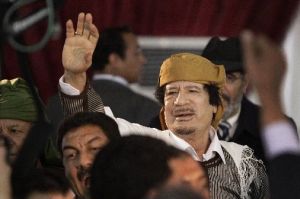 In a news release dated June 24, 2011, freshman Rep. Ann Marie Buerkle, R-N.Y., made a striking comparison.

Buerkle used the release to tout a bill she was offering -- the Just Do Your Job Act of 2011 -- which would "effectively defund" the House and Senate budget committees and leadership offices if they failed to pass a budget.

Buerkle argued that "by not presenting any plan to address the out-of-control debt and deficit, the Senate is contributing to the risk of a national financial crisis." Later, she added that "even the Libyan government, in the middle of a civil war, passed a budget on June 15, 2011."

A reader saw the Libya comparison and asked us to check it out. We considered the possibility that Buerkle inserted the line as a lark -- her staff didn't get back to us to clarify its purpose -- but even if the comparison was offered in a flip manner, its inclusion in a news release about a serious legislative issue made it fair game for the Truth-O-Meter.

We'll start by noting that the the U.S. Senate, under Democratic leadership, has not passed a budget since April 29, 2009, and that has recently become something of a Republican talking point.

For instance, on May 19, 2011, Sen. Rob Portman, R-Ohio, said that "the Democrat-led Senate has failed to pass a budget for 750 days ... Senate Democrats have neglected one of their most basic responsibilities." We rated that statement Half True, noting that the math was correct, but adding that Republicans shared some responsibility.

Earlier, we gave the same Half True rating to a similar statement by George LeMieux, a Republican Senate candidate from Florida.

We were able to corroborate the date of the Libyan budget passage through a news report.

In a June 15, 2011, dispatch filed from Rabat, Morocco, Reuters reported that "Libya's government approved a $31.4 billion budget for the rest of 2011, the official news agency said on Wednesday." The budget was approved despite a civil war between Libya's Moammar Gadhafi and rebels based in the eastern city of Benghazi, backed by U.S.-led NATO forces.

So Buerkle was right that Libya's government passed a budget on that date. But the Truth-O-Meter also takes context into account -- and the question of how accurate this comparison is turns out to be somewhat nuanced.

On the one hand, Gadhafi has been Libya's dictator for more than four decades, so one would not expect the same checks and balances that the United States government has. As the U.S. State Department describes it, "Libya's political system is in theory based on the political philosophy in Gadhafi's Green Book, which combines socialist and Islamic theories and rejects parliamentary democracy and political parties. In reality, Gadhafi exercises near-total control over major government decisions."

Samer S. Shehata, an assistant professor of Arab politics at Georgetown University, told PolitiFact that "I will certainly say what should be obvious to anyone: The Libyan regime under Gadhafi, in power since 1969, is not a legitimate government with serious 'institutions.'"

Still, one Libyan-born academic expert now working in the U.S. said that the Libyan budget process is a bit more complicated than Gadhafi and a couple of his cronies simply ordering up some spreadsheets.

Karim Mezran, an adjunct professor of Middle East Studies at Johns Hopkins University's School of Advanced International Studies, said that "despite Libya being a dictatorship, the administration of the state has always been quite serious." He said that a budget (minus defense outlays) is presented for approval by the Council of Ministers -- Gadhafi's cabinet -- and once the ministers approve it, it is sent to the General People's Congress, a legislative body that serves an intermediary between the masses and the leadership. If the General People's Congress approves it, the budget is signed into law.

"It can be a long process involving negotiation between various centers of power," Mezran said.

That said, Mezran agreed that the comparison with the U.S. budget situation isn't exactly apt.

"The comparison is inappropriate not because of the fact that Libya is a dictatorship but mainly because of the different sizes of the two countries, the complexity of the instrument, the number of interests and the complexity of the negotiations involved," Mezran said.

There's another reason the comparison is problematic: The June budget passage was less an ordinary governmental action than a way for the embattled regime to send a message to the world that it's still alive.

According to Reuters, the June budget -- a revision of a budget initially approved in January -- was "apparently aimed at showing (that the Libyan government) was functioning as normal despite air strikes and sanctions."

The dispatch said the budget approval appeared to be an attempt by Gadhafi "to show his government was still solvent" in the face of comments by Libya's former central bank governor, Farhat Bengdara, suggesting that Gadhafi's government had just $500 million left in cash at the end of February, plus 155 tons of gold bars. Bengdara defected in March.

Sanctions have led both to the seizure of some of Libya's assets held overseas and to a blockage of oil sales that cut off flows of foreign currency into Libya, Reuters reported.

So where does this leave us?

Buerkle is right about two things: the U.S. Senate hasn't passed a budget in more than two years, and Libya passed one as recently as June of this year. In addition, the Libyan budget would have had to go through some formal steps of governance.

Still, even if Buerkle intended it to be a lighthearted comparison, we feel she's wrong to imply equivalence between the two budget processes. Libya is a dictatorship, not a well-established constitutional democracy. Libya's budget is much less complicated than the U.S. budget, since Libya's gross domestic product is less than one-half of 1 percent of the GDP of United States. And the passage of the budget in June is seen as demonstrating less about Libya's normal functioning of government and more about the Gadhafi regime's need to show the world that it's withstanding the offensives of the NATO-backed rebels.

We give Buerkle credit for her facts, but demerits for her interpretation. So we rate her statement Half True.