Did Barack Obama hold 100-plus fundraisers while his jobs council never met?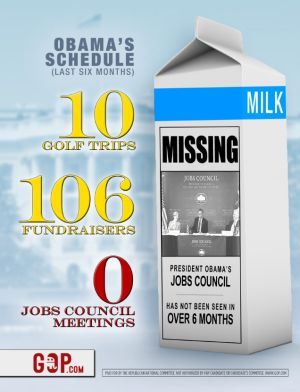 In a video and an infographic, the Republican National Committee amplified a charge first raised by Mitt Romney on the stump the day before -- that President Barack Obama has held more than 100 fundraisers in the past six months, yet his jobs council didn't meet once.

"In the last six months, he has held 100 fundraisers, and guess how many meetings he has had with his jobs council?" Romney said in a July 18, 2012, campaign event in Bowling Green, Ohio. "None. Zero. Zero in the last six months. So it makes it very clear where his priorities are."

The following day, the RNC released a graphic that provided some additional specifics. Over the last six months, the graphic said, Obama has golfed 10 times and held 106 fundraisers, but his jobs council has never met. The RNC supplemented this with a video that added a goofy soundtrack as well as audio and video of an exchange on this topic between reporters and White House press secretary Jay Carney.

Several readers asked us to check this statistic. We won't pass judgment on how Obama should spend his time, but we will check the accuracy of the numbers.

The jobs council

Let's start by explaining what the President's Council on Jobs and Competitiveness actually is. Its website explains that the panel was established "to provide nonpartisan advice to the President" on strengthening the economy and creating jobs.

The council is chaired by the chairman and CEO of General Electric, Jeffrey Immelt, and is populated by a variety of other business figures, such as former AOL chairman Steve Case, venture capitalist John Doerr, former Citigroup and Time Warner chairman Richard D. Parsons, as well as economist Laura D'Andrea Tyson and AFL-CIO president Richard Trumka.

Checking the lack of recent meetings was straightforward. The council's own web page cites four meetings of the council so far -- Feb. 24, 2011, at the White House, June 13, 2011, in Durham, N.C., October 11, 2011, in Pittsburgh, and Jan. 17, 2012, at the White House.

The Web page does add that the council has also conducted "18 listening and action sessions in communities around the country with businesses and local leaders" and that it plans to hold more in the coming months. However, the Web page doesn't appear to consider these to be "meetings," and since the most recent was just slightly over six months ago, the RNC's claim is correct.

Asked about the lack of meetings in a July 18, 2012, press briefing, Carney said "the president solicits and receives input and advice from members of his jobs council and others about economic initiatives all the time. … There's no specific reason (why they haven't met) except the president has obviously got a lot on his plate."

Golf and fundraising

For statistics on Obama's golf and fundraising activities, we turned to the RNC, which provided us with an Excel spreadsheet they had compiled internally. We then double-checked the RNC's work.

There is no official tally of the president's daily activities. There is one tally that's unofficial but widely respected -- one compiled by longtime CBS News correspondent Mark Knoller.

Knoller tweeted on June 12, 2012, that "today's six events will bring to 160 the number of fundraisers Pres Obama has done since filing for re-election with the FEC last year." He also wrote in a story on June 17, 2012, that Obama had just played his 100th round of golf since taking office.

However, because Knoller did not return an inquiry for this story, we could not match these numbers to the RNC's claim.

The RNC offered links to news accounts to back up Obama's 10 golf outings in the past six months, and they confirmed golf outings on the dates cited by the RNC count.

As for fundraising events, the RNC only provided dates and locations. However, we were able to check this list using two sources.

The White House's archive of presidential speeches and remarks offers chronological links to transcripts of the president's comments at every public appearance he makes. Many, though not all, fundraising events are included in this archive.

Meanwhile, to track events that were closed to the press -- and thus wouldn't be included in the archive of speeches and remarks -- we relied on our personal archive of White House pool reports, which are the dispatches written by journalists covering the White House several times a day and distributed to all members of the White House press corps. These pool reports will typically mention that the president is attending a fundraiser even if the event is closed to the press.

Using these two sources, we were able to confirm virtually all of the fundraisers cited by the RNC. In only three cases were we unable to verify fundraisers cited by the RNC using these sources. This doesn't mean that these three events didn't happen; we just couldn't find pool reports that specifically backed them up. However, even if the actual number of fundraisers in the last six months turned out to be 103 rather than 106, we won't quibble -- the number would be close enough for us to consider it accurate.

Our ruling

The RNC said that over the last six months, Obama has golfed 10 times and held 106 fundraisers even as his jobs council didn't meet once. The RNC's tally is on target. We rate the statement True.