Rick Santorum says after 'Obamacare,' all Americans will be dependent on the federal government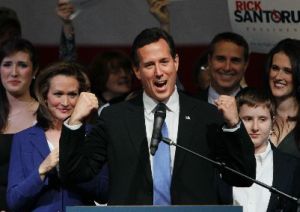 In a speech to supporters at the end of the Super Tuesday primaries on March 6, 2012, Rick Santorum offered a set of statistics designed to highlight what he sees as the growing dependence of Americans on the federal government.
"In a very short period of time, the next two years, a little less than 50 percent of the people in this country depend on some form of federal payment, some form of government benefit to help provide for them," Santorum said. "After Obamacare, it will not be less than 50 percent; it will be 100 percent."
We will take up the two parts of this statement in separate items. In this item, we'll look at whether it's correct that after President Barack Obama's health care law takes full effect, "100 percent" of Americans will "depend on some form of federal payment, some form of government benefit to help provide for them."
To analyze this claim, we will first have to review what we wrote about the first half of the claim, so that we can provide a baseline for how many Americans currently receive federal benefits.
We used a table produced by the U.S. Census Bureau that offers data for the average number of Americans who received benefits from selected government programs during a three-month period between January and March 2010.
As we noted, the table includes such non-means-tested programs as Social Security, Medicare, unemployment compensation, veterans' compensation, workers' compensation, railroad retirement and veterans' educational assistance. It also includes such means-tested programs as Medicaid, food stamps, the Women, Infants, and Children program, federal Supplemental Security Income, public or subsidized rental housing, Temporary Assistance for Needy Families, free or reduced-price school breakfasts and lunches, energy assistance and other cash assistance.
The Census Bureau found that in the first quarter of 2010, 48.5 percent of Americans lived in a household where at least one member received one or more federal cash or cash-like benefits -- close to what Santorum said. (Counting such items as amounts refunded from the Earned Income Tax Credit or agricultural subsidies would push that number higher, but we won't do so here.)
We can think of two provisions of Obama's health care law that are equivalent to the items included in the Census Bureau calculation: increases in Medicaid enrollment, and subsidies to participants in the health care "exchanges." The exchanges are marketplaces created by the law that offer insurance coverage to Americans who aren't already provided an option for affordable, employer-provided health insurance.
Before we calculate the impact of these two provisions of the law, let's set a few guidelines. We will use estimates for 2019, the latest year projected by the nonpartisan Congressional Budget Office, in order to judge the law's fullest projected impact. We'll calculate the percentage of the projected U.S. population in 2020 (the closest year we could find an estimate for) that receives one of these two federal benefits from the health law.
CBO estimates that the number of Americans added to Medicaid through the health care law by 2019, above and beyond what would have occurred without it, will be 16 million. The number of participants in the exchange by then will be 24 million. Combined, that adds up to 40 million Americans receiving one of those two benefits by 2019. When you divide that by the population by 2020, which is projected to be 341 million, that works out to be a bit under 12 percent.
In reality, this percentage could be higher or lower than 12 percent for various reasons, including the likelihood that many people in that category will already be receiving other federal benefits or will have too much income to qualify for the means-tested exchange subsidies.
If you add the 12 percentage point increase due to the health care law to the 48.5 percent of the population already determined by the Census Bureau to be receiving federal benefits, you'd get a bit over 60 percent of Americans relying on federal benefits, well short of the 100 percent Santorum cited.
In addition, no matter what, by 2019, 162 million Americans are projected to be receiving employer-based health insurance, and that means they won't be newly added to either the Medicaid rolls or the exchange subsidy population.
Even a skeptic about the health care law, Michael Tanner of the libertarian Cato Institute, thinks Santorum is off base.
The law "will likely increase these numbers, especially since subsidies can extend to families of four with incomes of $88,000 per year," he said. "But I can't see any way you get to 100 percent. Santorum may be suggesting that eventually Obamacare leads to a single-payer system. I think that's a reasonable conjecture. But it's not the law as is."
The Santorum campaign did not respond to our request for comment.
Our rating
It's likely that the new health care law will increase the number of Americans receiving benefits from the federal government, but it's highly unlikely that it will push the percentage beyond 60 percent -- far from the 100 percent Santorum claims. We rate his claim False.