Mitch McConnell says more women graduate from college than men do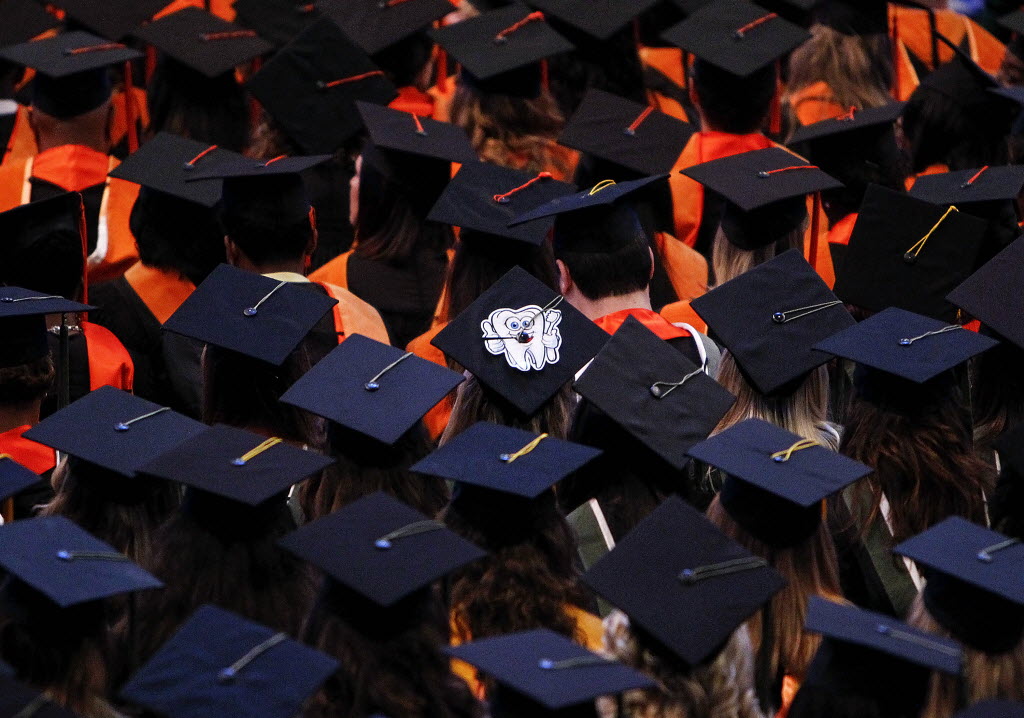 The Senate race between Senate Minority Leader Mitch McConnell, R-Ky, and Democrat Alison Lundergan Grimes, is turning out to be one of the most closely watched and expensive in recent years. Given that his opponent is portraying him as anti-woman, McConnell's recent comments on women's issues to a group of Kentucky voters were bound to attract media attention.
McConnell was speaking at Fastline Publications, which produces catalogs for farm equipment. When an audience member asked him about "the most important issues facing Kentucky women," McConnell said, "We've come a long way" and added that "most of the barriers have been lowered."
"I think virtually everything I have mentioned today applies to both genders equally," McConnell said. "We've come a long way with pay equity. There are a ton of women CEO's now running major companies, and more women are graduating from college now than men." He also said he received 50 percent of the women's vote the last time he was elected, and he cited Xerox as an example of a company with a woman CEO.
After the event, McConnell received criticism from some liberal commentators for his comments that workplace sexism and inequality between the sexes was a thing of the past.
Some of his claims are too subjective to fact-check. But we decided to look at his claim that "more women are graduating from college now than men."
According to a study by the Pew Research Center, women have outpaced men in pursuing postsecondary education in recent years, partly because of a growing acceptance of women in a wider variety of jobs, meaning that "the benefits of a college education grew more for women than men."
The Population Reference Bureau, a nonprofit organization that produces information for academic and research purposes, published a study that validated McConnell's comments. "Simply put, young women are now more likely to enroll in, and graduate from, college than young men," Kevin Pollard wrote. The graph below, which was included in Pollard's analysis, shows the percentage of U.S. adults between the ages of 25 and 29 with a bachelor's degree or higher.
Throughout the 1970s, the chart shows, men graduated from college at higher rates than women did. However, that trend reversed in the early 1990s, when women began to outpace men. And since then, this pattern for bachelor's degrees has held steady. In 2012 women earned 1,025,729 bachelor's degrees, or 57 percent of all degrees conferred that year, according to the National Center for Education Statistics, a federal office.
Women also earned a majority of master's degrees and doctoral degrees in the 2011-12 academic year. Women received 60 percent of all master's degrees, compared with 40 percent for men. In doctoral studies the margin was narrower, with 51 percent of PhDs being awarded to women and 49 percent being given to men.
Don Stewart, a spokesman for McConnell, provided PolitiFact with a wide variety of support for McConnell's claim, including an op-ed written by President Barack Obama for the 40th anniversary of Title IX, a statute that banned discrimination in educational programs on the basis of sex.
"In fact, more women as a whole now graduate from college than men," Obama said in the article. So Obama's comments square with those made by McConnell last week -- though they draw different conclusions. Obama's concludes that "there are always more barriers we can break and more progress we can make," while McConnell said "most of the barriers have been lowered."
Our ruling
McConnell said that "more women are graduating college now than men." We found that since the early 1990s, women have earned more postsecondary degrees than men -- and in the 2011-12 academic year, women earned more degrees of all types -- bachelor's, master's and doctoral -- than men did. We rate this claim True.