Barack Obama says U.S. auto industry has 'created about 500,000 new jobs' in past 5 years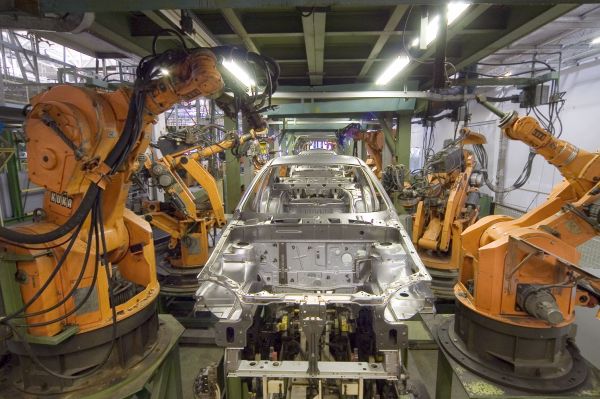 During a recent visit to an automobile assembly plant in Wayne, Mich., President Barack Obama took a bit of a victory lap when he discussed the comeback of the American automobile industry.
"Over the past five years, this industry created about 500,000 new jobs," Obama said. "Last year, American autoworkers churned out cars faster than any year since 2005. Ford has brought jobs back from Mexico, created nearly 24,000 new jobs across this country, including 1,800 new jobs right here in this plant. And after more than a century since Henry Ford introduced the moving assembly line, you're reinventing it -- one production line for gas, electric, hybrid, plug-in vehicles. That's the first in the world, right here in Wayne, Mich."
That's a lot of statistics to chew over, but we decided to look at Obama's first claim -- that "over the past five years, (the automobile) industry created about 500,000 new jobs.
We looked at this question back in 2012, when United Auto Workers president Bob King said at the Democratic National Convention that since June 2009, the auto industry "has added a quarter of a million jobs." We rated that claim True.
So has the increase in auto-related jobs really doubled since two and a half years ago? Actually, it has.
To determine job creation in the auto sector, we need to combine the figures for two separate categories of jobs. One is "motor vehicles and parts manufacturing," and the other is "motor vehicle and parts dealers."
Between December 2009 and December 2014, the number of jobs in the manufacturing category rose by 230,700 (from 653,300 to 884,000). Over the same period, the number of jobs in the dealer category rose by 272,200 (from 1,616,800 to 1,889,000).
When you put those two categories together, the total increase in jobs over the past five years is 502,900 -- almost exactly what Obama said.
It's worth noting that this comeback hasn't brought automotive-industry employment back to its pre-recession levels. The recent pre-recession peak for these two job categories -- in February 2005 -- was 3.03 million. So despite the gains over the past five years, employment in the automotive industry is still down 9 percent from where it was a decade ago.
We'll also note that PolitiFact's policy is to consider not just whether a statement is statistically accurate, but also whether the politician or party in question seems to be claiming credit or assigning blame, and if so, whether that credit or blame is deserved.
In this case, it's unclear whether Obama is taking credit for the automotive-industry job growth, but even if he is, experts have told us that Obama's leadership was crucial, along with help from some Republicans, in helping get the industry back on its feet. So we won't be downgrading the accuracy of this comment on that basis.
Our ruling
Obama said that over the past five years, the American automobile industry has "created about 500,000 new jobs."
During the period in question, the actual number of job gains in the car industry is strikingly close to what Obama said -- 502,900 -- and we don't find any significant omissions in his claim. So we rate it True.