Paul Manafort says Clinton's tax returns show income from foundation donors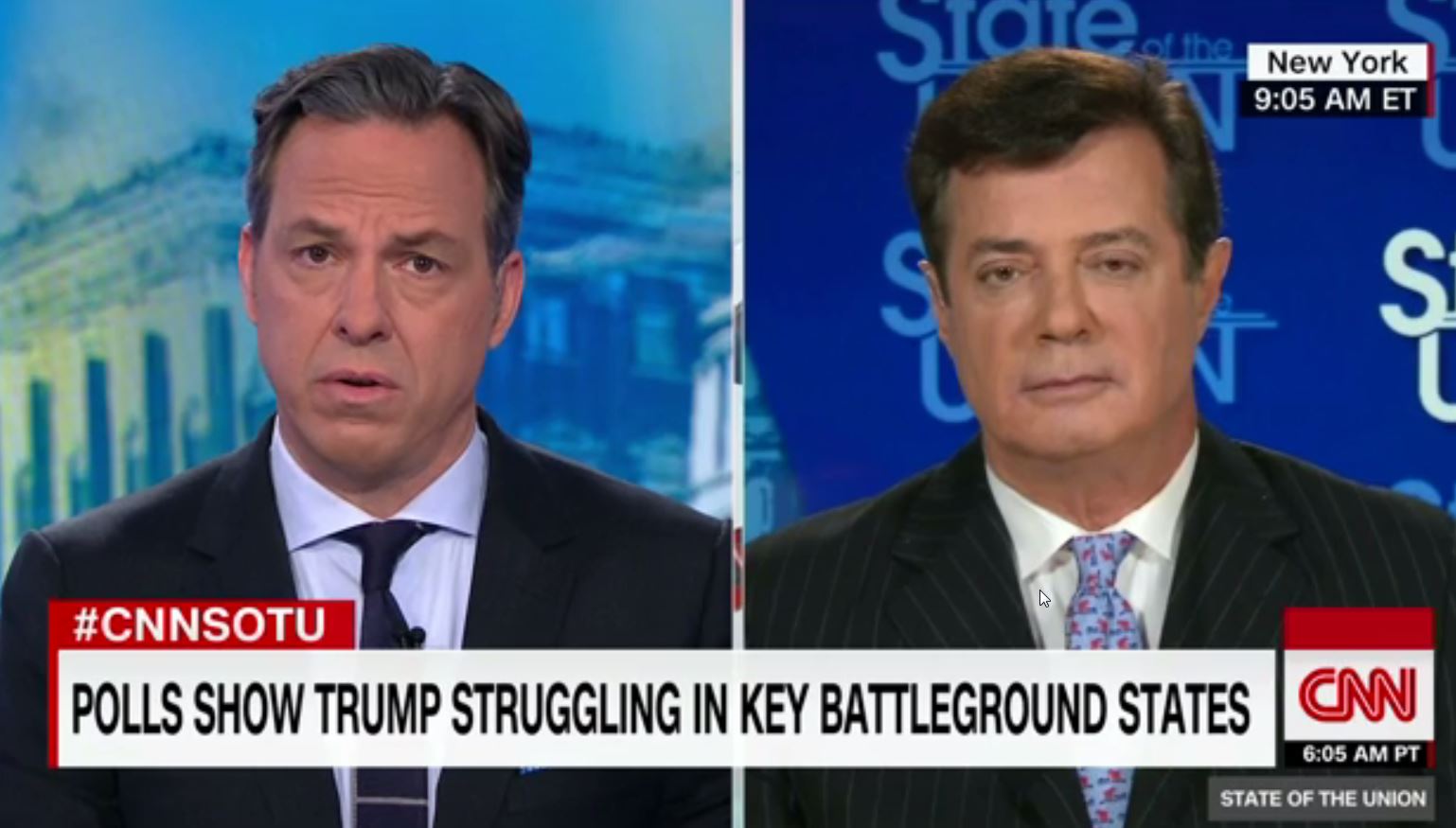 Hillary Clinton's release of her 2015 tax returns last week renewed calls for Donald Trump to do the same, but it also provided the Trump campaign fodder for attack.
CNN State of the Union host Jake Tapper asked Trump campaign chairman Paul Manafort why Trump has yet to release his tax returns, especially since his lawyers have said Trump's 2008 returns were no longer under audit, unlike more recent years. Manafort deflected by turning the tables on Clinton.
"Mr. Trump's position has been clear from the beginning: He's under audit. When the audit is completed, he'll release his returns," Manafort said. "By the way, in Mrs. Clinton's returns, you saw a lot of income coming from donors to the Clinton Foundation and people who benefitted from her State Department term as well. I haven't seen any stories on that yet."
Does the former secretary of state's tax return really show pay-the-Clintons-to-play politics?
Not exactly.
About 15 percent of Bill and Hillary Clinton's 2015 income came from two educational businesses with ties to the Clinton Foundation. It is a lot of money in raw dollars, but not a lot compared to the couple's other sources of income.
What's more, we found no evidence that the firms paying Bill Clinton for his consulting work profited from the State Department, as Manafort said.
According to their returns, the Clintons made about $10.5 million in 2015, the bulk from their speaking fees ($5.5 million) and book royalties ($3.1 million). Here's a breakdown:
Though the forms do not specify who paid the couple to speak in 2015, they do show that Bill Clinton also made about $1.6 million after expenses for consulting services. His clients were Laureate Education and GEMS Education, two international education firms that donated between $1 million and $5 million each to the Clinton Foundation.
Laureate Education, a network of more than 80 institutions based in Baltimore, has also partnered with the Clinton Global Initiative "on a number of initiatives since 2008," according to its website. It named Bill Clinton an honorary chancellor between 2010 and 2014 (his tax returns do not show income earned from that role). The Laureate network is controversial partly for the stigma of for-profit education (which has been criticized by Hillary Clinton) and partly for racking up debt while marketing and expanding aggressively.
Similarly, GEMS Education, one of the world's largest private-school operators based in Dubai, is a Clinton Global Initiative strategic partner and, along with UNESCO (United Nations Educational, Scientific and Cultural Organization), is helping train principals in Kenya, Ghana and India. The company enrolls 150,000 students in 90 K-12 schools worldwide.
Older tax returns show the Clintons received more money from the groups in other years. Bill Clinton was paid $16 million by Laureate and $5.6 million by GEMS between 2010 and 2014 for his consulting services. Politico has additionally reported that a former Clinton fundraiser who was given a special State Department post also had business ties to both firms.
But while all of this demonstrates a strong link between Laureate and GEMS and the Clintons, it doesn't prove corruption, as Manafort implies. His suggestion that they "benefited from (Clinton's) State Department tenure" is not backed by the record.
We searched www.usaspending.gov, a comprehensive database that tracks government grants and contracts, to see if either firm received not just State Department but any federal funding. Our search turned up nothing for Laureate or GEMS. (The Clinton campaign referred us to our previous reporting debunking the link between Laureate and the State Department.)
The Clintons did disclose who paid for their speeches in 2013. Hillary Clinton received between $225,000 and $400,000 per speech from Wall Street clients such as Goldman Sachs and Bank of America, while Bill Clinton's highest fee was $750,000 from a Swedish bank. Many of the firms have government interests, according to the Associated Press.
The Trump campaign did not respond to requests for comment to back up Manafort's claim.
Our ruling
Manafort said, "In Mrs. Clinton's returns, you saw a lot of income coming from donors to the Clinton Foundation and people who benefitted from her State Department term as well."
The returns for 2015 do show that two educational firms that have donated millions to the Clinton Foundation also paid about $1.6 million to Bill Clinton for consulting services. That's just 15 percent of the Clintons' total income in 2015, but "a lot" of money to most people.
But we found no evidence that either of those businesses profited from Hillary Clinton's actions at the State Department. The Trump campaign did not respond to our query with examples of other businesses donating to the foundation and then profiting from the department, and we did not find any in our search.
We rate Manafort's claim Half True.
https://www.sharethefacts.co/share/e8f29e84-e70b-486b-a199-a8cb009ac32c