Marco Rubio says two-thirds of U.S. kids can't read at grade level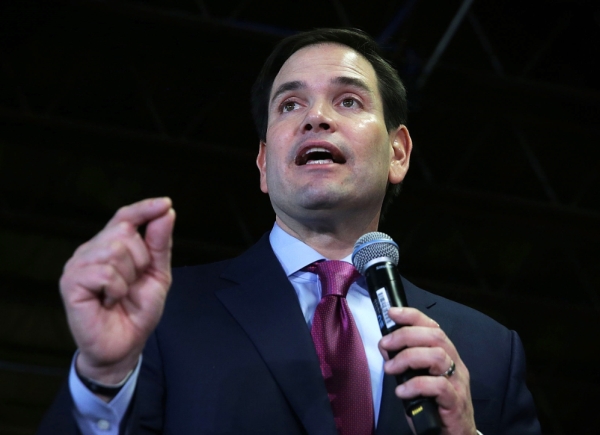 Republican presidential candidate Marco Rubio pulled out a stunning statistic about the current state of K-12 education while making the case for school choice.
"Two-thirds of our kids can't read at grade level," Rubio wrote in a recent Medium post.
We wondered whether the situation in American schools was really that bad, so we took a closer look.
Rubio's source was the National Assessment of Educational Progress, or NAEP, a closely watched, federally sponsored standardized-testing effort.
The most recent NAEP data for fourth- and eighth-grade students covers 2015. It offers four categories of achievement. From lowest to highest, they are "below basic," "basic," "proficient," and "advanced."
The two most relevant categories for this fact-check are basic and proficient, and neither level's definition mentions reading on grade level.
Basic is defined as "denoting partial mastery of prerequisite knowledge and skills that are fundamental for proficient work at each grade assessed.
Proficient is defined as "representing solid academic performance for each grade assessed" and "competency over challenging subject matter, including subject-matter knowledge, application of such knowledge to real-world situations, and analytical skills appropriate to the subject matter."
Rubio is using the proficient level as his benchmark, and the picture that produces isn't pretty.
In 2015, just 36 percent of American fourth graders were categorized as either proficient or advanced in reading. Here's the chart:
And that same year, just 34 percent of eighth graders rated as either proficient or advanced in reading. Here's the chart:
Using that metric, Rubio supports his point. But education experts advised caution.
Most important is that it's a bit of a stretch for Rubio to equate a NAEP rating of "proficient" with being "at grade level."
"There is no commonly accepted definition for what 'grade level' performance is or should be," said Christopher B. Swanson, vice president of Editorial Projects in Education, which publishes Education Week.
NAEP, he said, is developed independently of the knowledge required by any specific state, district or school.
David Bills, a professor of education at the University of Iowa, agreed. "As far as I know, no one has ever tested those labels against what kids actually need to know to do well in school," Bills said.
Indeed, after the No Child Left Behind education law was enacted under President George W. Bush, "each state had to choose a level of 'proficiency,' and on average, this came closer to the NAEP basic level," said Eric Hanushek, a senior fellow in education policy at the conservative Hoover Institution.
If this is the case, then one could instead use the "basic" level under NAEP and find that the success rates are 69 percent and 76 percent for fourth and eighth graders, respectively.
Still, despite such words of caution, experts said Rubio's decision to use the "proficient" level as his benchmark was defensible. Experts also ratified Rubio's use of the NAEP tests as his data source.
"Sure, there are lots of problems and it's not a perfect measure, but that doesn't mean it's meaningless in all contexts," said Patricia M. Cooper, an associate professor and program coordinator for early childhood education at Queens College-City University of New York.
There aren't many credible alternatives to the NAEP numbers, she said.
Cooper added that even the best-case scenario isn't that great. "Even if Rubio's off by half, that means one-third of our kids aren't reading on grade level," she said. "Would that make us feel better?"
Our ruling
Rubio said that "two-thirds of our kids can't read at grade level." The numbers from the NAEP reading test for fourth and eighth graders provide some support for his statement. However, experts said that there is no accepted definition of what being at "grade level" means under the NAEP tests. While Rubio's use of NAEP's higher "proficient" standard is a reasonable choice, experts said, it's not the only one -- many states have set standards aligned with NAEP's "basic" level instead. We rate the statement Half True.