Trump says workers making less, working harder than 20 years ago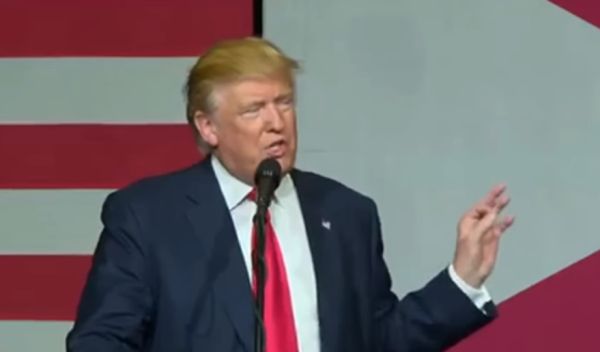 Donald Trump attracted the most attention at an Oct. 13 rally in Florida for denying allegations that he had groped multiple women and for floating a variety of conspiracy theories. But he also offered some economic statistics.
At one point, he told the crowd in West Palm Beach, "Workers in the United States are making less than they were almost 20 years ago, and yet they are working harder."
When we looked at the data, we found that it wasn't quite so simple. (The Trump campaign did not respond to an inquiry for this article.)
U.S. workers are actually making slightly more than they were 20 years ago, not less
To understand the first part of Trump's claim, we looked at statistics for median, weekly, inflation-adjusted earnings for full-time wage and salary workers age 16 and over going back just over 20 years.
The chart, using data compiled from from the U.S. Bureau of Labor Statistics, shows that between 1995 and 2015, inflation-adjusted median weekly earnings rose from $314 to $341.
The extra $27 in median weekly earnings is an increase of just under 9 percent over 20 years — not necessarily a very impressive increase, but an increase nonetheless. It's also higher today than it was in any year other than 2009 and (barely) 2010.
So on this point, Trump is incorrect.
Americans are not working longer
Next, we looked at data for the average number of hours worked annually. There is no data for how "hard" people work, so we're using time worked as the best approximation.
This chart for average annual hours worked covers 1994 to 2014, and it also undercuts Trump's statement.
For this statistic, the average number of hours worked fell from 1,822 in 1995 to 1,765 in 2014, a decline of 3 percent over 20 years. And the only years in which the number of hours worked fell below the 2014 level came in the immediate aftermath of the Great Recession, when jobs and hours were slashed.
So here too, Trump is incorrect.
Trump may not have been far off
All this said, it's important not to give in to irrational exuberance about these statistics.
Trump's statement would have been more accurate if he had tweaked the timeframe. Earnings have been largely stagnant since the turn of the millennium -- a somewhat shorter time period than what he had said..
"Pretty much all the gains were in the late 1990s," said Dean Baker, an economist with the liberal Center for Economic and Policy Research. "Median earnings are almost flat since 2001, so he would have been close to right if he'd said 15 years."
Gary Burtless, an economist with the Brookings Institution, added that "a more reasonable statement would be that real earnings were higher in some past years than in 2015, although that doesn't sound as damning as the wording used by Mr. Trump."
Also, Trump would have been closer to accurate if he'd used a different statistic: median household income.
If Trump had said instead that inflation-adjusted, median household income was lower now than it had been 15 years earlier, he would be correct — it fell by 2 percent over that span, from $57,790 to $56,516.
It's worth noting that a long-running decline in the percentage of people participating in the labor force may explain the difference in the wage data and the household income data, said Jed Kolko, chief economist with the jobs site Indeed. As more Americans move from being employed to sitting out of the labor market, these non-working Americans bring down income levels for households even as those who continue to work keep wages steady or increasing. (The retirement of Baby Boomers is one reason for the decline in the labor-force participation rate, but labor-force participation is also declining among Americans of prime working age, for unclear reasons.)
Burtless added one footnote: One reason that real wages have not increased faster than they might have is that cash compensation has been falling as a percentage of total compensation. Cash compensation has fallen from 71.4 percent of workers' total compensation in March 1995 to 68.6 percent by 2015.
Because of this, Burtless said, "many labor economists would point out that total employee compensation is a better and more comprehensive indicator of workers' pay than is the hourly wage by itself."
Our ruling
Trump said that "workers in the United States are making less than they were almost 20 years ago, and yet they are working harder."
Adhering strictly to Trump's language, he's incorrect —median, inflation-adjusted wages are higher now than they were for 18 out of the 20 previous years, and hours worked are lower now than in any previous year except for the aftermath of the Great Recession.
That said, it doesn't take too many tweaks to Trump's language to make the claim accurate, either by changing the statistic in question or changing the time frame.
We rate the statement Mostly False.
https://www.sharethefacts.co/share/1c8f3280-3382-4c62-a5e9-823d9636cb44