West Virginia uninsured rate has declined, though not as fast as Bernie Sanders said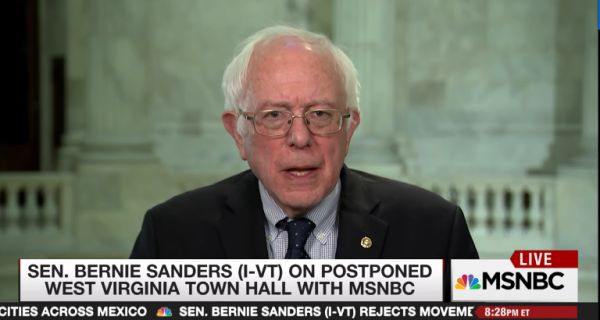 Sen. Bernie Sanders, I-Vt., had been planning to have a town hall with MSNBC's Chris Hayes and residents of McDowell County, W.Va., on Feb. 13, 2017, until the West Virginia National Guard told them they could not use a local armory for the event.
Sanders instead appeared on Hayes' show by satellite from the U.S. Capitol, still tailoring his comments to West Virginia.
Sanders: "And one of the ironies, Chris, is that one of the states that has benefited the most from Obamacare, the Affordable Care Act, is West Virginia."
Hayes: "Yes."
Sanders: "Before the Affordable Care Act, their uninsured rate for people 64 to 19 was 29 percent. Today, it is 9 percent."
Is that correct? Sanders' office pointed to one government number to support its point. Another government number we found showed a less dramatic decline, but it doesn't change the thrust of his overall point.
Let's crunch the numbers.
We'll start by noting that the age range Sanders cited make some sense. The mandatory Medicare program kicks in at age 65, and enhanced access for children to government health programs tends to produce higher insurance coverage rates for kids than for adults.
Sanders' office pointed to an article in the Charleston (W.Va.) Gazette-Mail that touted the state had the country's "biggest decline" in the uninsured rate. The article points to data from the National Health Interview Survey, conducted by the Centers for Disease Control and Prevention.
The study found that between 2013 and 2015, West Virginia's uninsured rate for persons between 18 and 64 fell from 28.8 percent to 8.9 percent. That supports Sanders' point. (We won't quibble about Sanders citing an age range that was off by one year.)
However, the same report provides an important caveat. It notes that for several states — including West Virginia — the data was "not statistically significant due to larger standard errors."
It turns out that some states in the CDC study don't have enough people sampled to provide robust data. "This would be especially important for a small, low-population state like West Virginia," said Gail Wilensky, who headed Medicare and Medicaid under President George H.W. Bush and remains a health care policy analyst..
So is there a better number? Yes, specifically, data from the Current Population Survey's Annual Social and Economic Supplement. This data set, published by the U.S. Census Bureau, asks questions every year on a battery of topics, including health insurance coverage. The database includes figures broken down by state and age category.
We looked at West Virginia's figures for the uninsured population below 65 and subtracted the uninsured population below 18.
Here's what we found.
This data backs up Sanders' most recent uninsured rate for West Virginia. But instead of 29 percent, it shows the state's uninsured rate hovered around 21 percent between 2008 and 2013.
Wilensky said she's not surprised to see such a wide difference between the two data sets, given the methodological differences. She added that the decline in West Virginia's uninsured rate is still notable and was made possible by the Medicare expansion provision of the Affordable Care Act.
"West Virginia's level of uninsurance would be on the higher side to begin with since they are a poor state," she said. "Since they took advantage of the Medicaid expansion, the big decline is not surprising."
Our ruling
Sanders said, "Before the Affordable Care Act, (West Virginia's) uninsured rate for people 64 to 19 was 29 percent. Today, it is 9 percent."
Sanders pointed to one federal measurement, though it has methodological problems when drilling down to the statistics for smaller states. A more reliable data set for West Virginia's case showed a decline from 21 percent to 9 percent. The decline was not as dramatic as he'd indicated, but it was still a significant one.
We rate the statement Mostly True.
https://www.sharethefacts.co/share/e77836ec-8c59-4d9a-835e-64204dc815d4