Introducing the Macker-Meter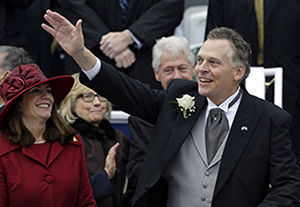 Terry McAuliffe made a number of promises during his campaign for governor last year.
PolitiFact Virginia will keep track of them.
Today, we're introducing the Macker-Meter, a service that will monitor 17 major campaign pledges by McAuliffe, who was sworn in as governor on Jan. 11.
If this sounds familiar, well, it is. The Macker-Meter will operate on the same principles of our recently completed Bob-O-Meter, which kept tabs on the campaign promises made by former Gov. Bob McDonnell. It will detail what progress, if any, McAuliffe has made on each pledge and rate whether his promise has been kept, broken, altered in compromise, stalled in legislative battle, or in the works. The ratings will be tallied on our website, creating an evolving report card on the McAuliffe administration.
We'd like to start by answering a few questions:
How did we come up with the name Macker-Meter?
Before running for governor, McAuliffe was a legendary national fundraiser for the Democratic Party whom political insiders nicknamed "The Macker."
After keeping track of 48 McDonnell promises, how come we're monitoring just 17 by McAuliffe?
McDonnell -- a 17-year veteran of elective office when he ran for governor -- put out more than a dozen nuanced policy papers during his campaign. We could not find the same level of detail from McAuliffe, a first-time elective office holder who was criticized during last year's campaign for being light on policy. In a nutshell, McAuliffe put less on the table that his predecessor.
How did we find the promises?
We analyzed a 13-page platform McAuliffe issued last May. We also sifted through the candidate's news releases and tapes of campaign speeches and debates.
Which promises will we check?
We're focusing on statements by McAuliffe's campaign -- before the closing of polls last Nov. 5 -- that pledged verifiable action. We're not bothering with things like promising to improve the tone in Richmond or to work tirelessly to attract new employers to the state. But we will be looking into things like promising to restore educational standards in public schools that were dropped during the recession and to seek universal background checks for gun purchases.
Unlike our Truth-O-Meter, which measures the accuracy of a politician's statement at a specific point in time, the ratings on promises can change with circumstance. For example, something initially rated "In the Works" could later become a "Promise Kept" or a "Promise Broken."
You can find the list of promises we'll be checking on the right-hand side of our home page, or just by clicking here.
If you think we've missed something, let us know at [email protected]
Today, we analyze the first McAuliffe promise: To sign an executive order banning lobbyist gifts to the governor and his family.