A first look at the Warner-Gillespie debate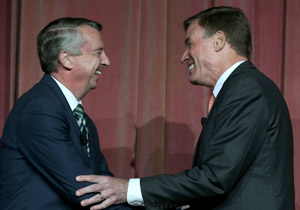 So much to fact check, so little time...
Here's PolitiFact Virginia's first take on Saturday's debate between U.S. Sen. Mark Warner, a Democrat, and GOP challenger Ed Gillespie. We'll have plenty to add in the days ahead.
Gillespie: Warner has voted with President Barack Obama "97 percent of the time."
According to statistics kept by CQ Weekly, a nonpartisan Washington news service, Warner has voted in accord with the president on 97 percent of the bills in which Obama has staked out a clear position. This dates to 2009, when both Warner and Obama took office.
There are a few things to keep in mind. First, Obama has taken a position only 28 percent of the bills Warner has voted on, and more than half of those were for confirmation of presidential appointees. Also, Senate Democrats on the whole have backed the president 95.4 percent of the time during Warner's term.
Warner most notably backed the president when he voted for Obamacare in 2010. He's bucked the president by voting against regulating assault weapons and against delaying the start of automatic budget cuts in 2013.
Warner says the presidential support rating ignores his efforts to work across the aisle with Republicans, particularly trying to fashion a bipartisan plan to reduce debt. He correctly notes that several congressional watchdogs have rated him among the most conservative Senate Democrats. But his presidential support is what it is -- 97 percent -- and we've rated this claim True.
Warner: Gillespie backed a comprehensive immigration reform bill last year and is "against it now."
In a CNBC interview last year, Gillespie was keen on the so-called "Gang of Eight" bill that would bolster border security and provide a pathway to citizenship for 12 million people who entered the country illegally. He described the legislation as "good policy" that "can be perfected."
But this spring, Gillespie's campaign said he would have voted against the measure.
Gillespie, since at least 2006, has had a three-pronged approach to comprehensive immigration reform. He supports beefed up border security and a pathway to legal residency in the U.S.; he opposes citizenship for those who entered the country illegally.
The bill, as it passed the Senate last year, would create a lengthy route to citizenship -- an action Gillespie opposes. Although his rhetoric has shifted, Gillespie has not changed his conditions for supporting comprehensive reform and we've concluded there's been "No Flip" in his overall immigration stand.
Gillespie: "When Senator Warner first ran for the United States Senate, he said he supported a balanced budget amendment. After being elected to office, when there was a balanced budget amendment brought to the floor of the United States Senate, he voted against it."
Warner backed the idea of a balanced budget amendment during an unsuccessful run for the Senate in 1996. In 2011, Warner voted against a couple of balanced budget amendments in the Senate.
Warner says he changed his mind when he was governor from 2002 to 2006 and faced a recession during the early part of his term. "A balanced budget amendment for most candidates is an excuse not to give a real plan on how you're going to get to a balanced budget," Warner recently told the Richmond Times-Dispatch, taking a swipe at Gillespie's supports of an amendment. We rated Warner's acknowledged change in position a "Full Flop."
Warner: "As both a lobbyist and in his book, my opponent was a big supporter of the individual mandate, which is key to the Obamacare approach."
In 2006, a Gillespie memoir suggested a few ways to ensure uncovered adults get health insurance. One way, he wrote, would be a requirement that people attest they have coverage or have their standard income tax deduction cut in half. Gillespie also suggested creating Health Savings Accounts -- tax-free accounts where people could save towards their healthcare costs. He didn't signal whether he favored one policy over another.
Still, his book passage could easily be interpreted as advancing the idea of an individual mandate. The Democratic Party of Virginia this spring said Gillespie's book "promoted" an individual mandate and we rated the statement Mostly True.
Gillespie's lobbying firm was hired in 2007 by the Coalition to Advance Healthcare Reform, a group that supported an individual mandate. Gillespie left the firm that June, however, to advise President George W. Bush. The founder of the coalition says Gillespie helped the group organize but stated personal opposition to the mandate and never lobbied for it.
Gillespie: "In 2012, despite saying he was for the Keystone XL pipeline, there was an amendment to move it forward for approval...Sen. Warner voted against it."
The White House has delayed approving private construction of pipeline, which would help send crude oil from Canada to Gulf Coast refineries.
In 2012, Warner voted against a measure declaring that the administration's environmental sign-off on the pipeline the previous year satisfied all federal permitting and authorizations needed to start Keystone. Warner said then that even though he favored the pipeline, he thought it should be used as leverage to force Congress to pass a comprehensive energy bill that would include tax incentives for producing alternative energy.
Outside of this vote, however, Warner has largely supported Keystone. In 2013 he backed a budget resolution calling for Keystone construction and has signed several bipartisan letters urging the administration to approve the project. Warner accurately noted during the debate that he was picketed by environmentalists in Harrisonburg last year for backing the pipeline. We've previously rated a Gillespie's statement -- not repeated in the debate -- that Warner's record is "one of acting against Keystone" as Mostly False.
Warner: "The Export-Import bank doesn't cost the taxpayer a dime."
The bank is a federal agency that provides large foreign buyers with loans to purchase American products.
It's generated more than a $5 billion profit for the U.S. Treasury since 1990 but simply looking at cash flow doesn't give the full picture. In the past, the bank has had years of losses and economists think that could happen again. A May report by the Congressional Budget Office used two different accounting methods to provide a 10-year projection of its finances and that yield disparate results. By one measure, the bank was shown operating at a $14 billion surplus, but the other method shows the bank with a $2 billion loss.,
Our colleagues at PolitiFact National recently looked at an almost identical claim to Warner's, made by Rep. Vicky Hartzler, R-Mo. They rated it Half True.