U.S. Rep. Paul Ryan says Obama increased spending nearly 25 percent in two years, 84 percent when stimulus money is included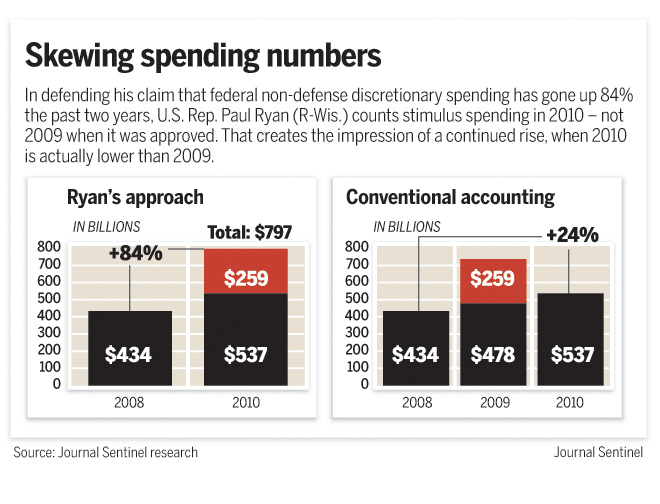 U.S. Rep. Paul Ryan's response to President Barack Obama's State of the Union speech called to mind their face-to-face -- but civil -- sparring in January 2010.

Back then, when Obama attended a House Republican caucus meeting, Ryan told the president in a televised exchange: "The spending bills that you have signed into law, the domestic discretionary spending has been increased by 84 percent."

Ryan, R-Wisconsin, is now chairman of the House Budget Committee.

Delivering the GOP response to Obama's address, Ryan first threw Obama a bone ("There's no doubt the president came into office facing a severe fiscal and economic situation."). Then he criticized Obama's stimulus plan, saying it "not only failed to deliver on his promise to create jobs, but also plunged us even deeper into debt."

We were interested in what he said next:

"The facts are clear: Since taking office, President Obama has signed into law spending increases of nearly 25 percent for domestic government agencies, an 84 percent increase when you include the failed stimulus."

NFL coaches talk about "cleaning up" mistakes before the next big game.

It appears that's what Ryan did here -- at least in part.

In the wake of the Nov. 2, 2010 election, we gave Ryan a Barely True for repeating to reporters his assertion from Baltimore about an 84 percent increase in the past two years.

Ryan was on the right track in pointing to the federal stimulus package as a huge driver in spending increases under Obama. But Ryan used fuzzy math to make the year-to-year increase appear much larger than it was.

The spending figures for non-defense discretionary spending did show a 24 percent jump -- from $434 billion in 2008 to $537 billion in 2010. Discretionary spending goes for such things as education, health and housing -- in contrast to mandatory expenditures such as Social Security and Medicare "entitlements."

To get to 84 percent, Ryan -- and other GOP leaders who have repeated the claim -- put the one-time stimulus spending in 2010, not 2009 when the measure passed.

That's what made it artificially higher, creating a rocket-like impression instead of the roller-coaster effect -- up a lot and then down some -- created by the stimulus package.

Experts said it was OK to include stimulus, if it was disclosed, and as long as it appeared as a one-time blip and was properly accounted for.

That brings us back to Ryan's revised statement.

The numbers show a 24 percent increase from 2008 to 2010. Ryan accurately rounded it up to "nearly 25 percent."

And he added the reference to stimulus package, to give a fuller picture of what was behind the numbers. But he continued to use the 84 percent. That's an inaccurate number. It is created only when the stimulus is assigned to the wrong year.

We were unable to reach Ryan spokespeople for this item.

So let's tie this up.

Ryan has added the 25 percent figure into his public assertions of spending increases under Obama. And though he adds context with the stimulus disclaimer, the 84 percent is ultimately dubious. It exists only because of the accounting trick used to produce it. Ryan argues he is trying to capture the effect of stimulus funding. A worthy goal, but his method overstates the effect.

We rate this statement, a mix of truth and exaggeration, as Half True.