Scott Walker's jobs agency gives incentives that lead to loss of jobs, rival Mary Burke says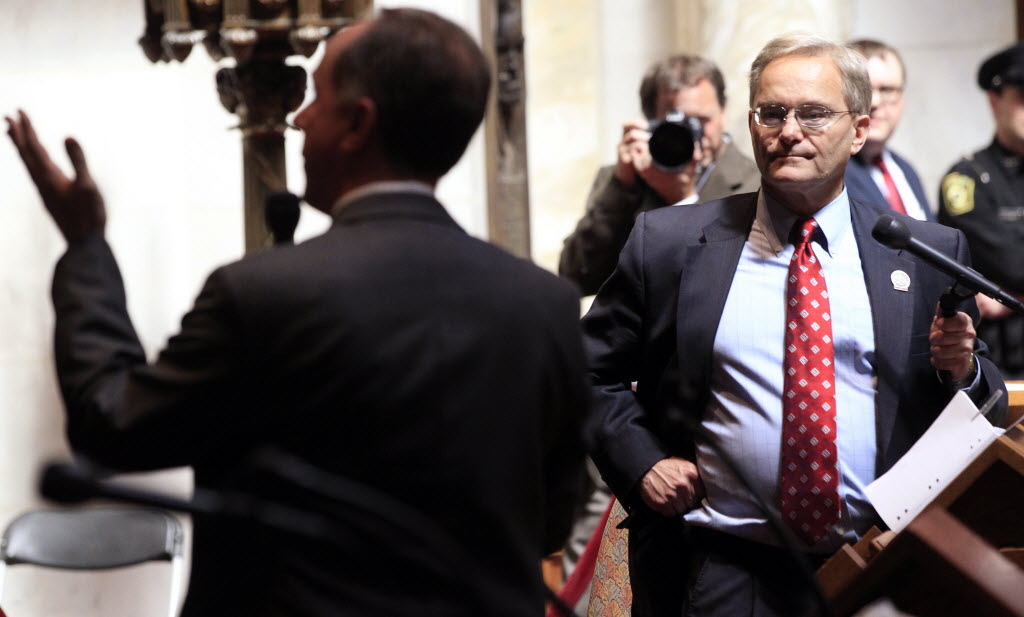 The Wisconsin Economic Development Corp., a jobs agency created by Republican Gov. Scott Walker and a GOP-controlled Legislature, has been beset by enough operational problems that it has become something of a political punching bag.
But Democrat Mary Burke took the criticism to a new level when she raised questions about whether the agency is actually costing the state jobs.
The former state Department of Commerce secretary and Trek Bicycle executive was asked in a Sept. 10, 2014 interview on La Crosse television what she would do to keep Wisconsin from losing jobs to other countries.
"It's absolutely critical," Burke said. "And, unfortunately, we have a situation not only in the state here but across the country where American manufacturers are finding it hard to compete against lower-wage countries. So, as governor, I want to fight for the interests of Wisconsin manufacturers, to level that playing field.
She continued:
"But also, we shouldn't have incentives that cause Wisconsin companies to look at actually shipping jobs elsewhere. And there was a company that, just yesterday it was just announced that under WEDC -- the Wisconsin Economic Development Corp., Gov. Walker's chief jobs agency -- that a company got $4.6 million in taxpayer money and actually reduced its jobs by 300 people. So, we have to make sure we're not having incentives that actually cause employers to ship jobs elsewhere."
So, does the WEDC offer incentives that lead companies to move jobs out of Wisconsin?
WEDC's history
WEDC was created in February 2011 to replace the Department of Commerce. Walker argued that the partially privatized agency would be able to respond more quickly to the needs of businesses looking to create jobs in the state.
Its short history has included controversy.
In November 2012, the Milwaukee Journal Sentinel reported that WEDC discovered it had failed to track in one centralized database more than $12 million in past-due loans.
In May 2013, a state audit found the agency repeatedly failed to follow basic standards in state law for ensuring the clear and proper use of millions of dollars in taxpayer money.
And in September 2014, it was revealed that a top WEDC official quit the previous month over the way the agency is run, saying another leader — and former top aide to Walker — was causing the agency "lasting harm." He revoked his resignation three days later.
Burke's claim
As for Burke's claim, her campaign spokesman insisted that Burke did not mean to say WEDC offers incentives that lead Wisconsin businesses to move jobs out of state.
But twice in her remarks Burke referred to incentives that could cause businesses to ship jobs elsewhere. So, we're basing our factcheck on what a TV viewer would have heard Burke say.
The day before Burke's interview, WKOW-TV in Madison did a blog post following up on previous news stories it had aired about WEDC assistance to Plexus Corp., a company based in Neenah in Wisconsin's Fox Valley that also has operations in Europe and Asia. The piece noted that Plexus had received $4.6 million in tax credits from WEDC despite having cut more than 300 jobs.
Those were the two figures Burke cited in the La Crosse interview and her campaign confirmed that she was referring to Plexus.
Let's explain.
Plexus builds electronics for other companies., such as ultrasound machines for GE Medical Systems and the "Freestyle" soda-dispensing machine for Coca-Cola. In May 2012, it announced plans to build a $50 million, 410,000-square-foot manufacturing facility in Neenah to replace two leased plants.
At the time, Plexus and WEDC said the agency was eligible for up to $15 million in tax credits for the plant. Walker said as many as 350 jobs could eventually be created.
WEDC provides certain portions of the tax credits based primarily on the amount of money Plexus invests in the now-completed plant, which was dedicated in August 2014, and on the number of jobs added over time. Plexus was to retain 1,792 jobs and create 350 more.
According to the latest data on WEDC's database, as of December 2013 only 1,485 jobs were retained -- 307 fewer than planned -- and no new jobs were created. About $4.6 million of the $15 million in credits that were approved had been issued. The tax credit deal runs through 2019.
In July 2014, WKOW reported that Plexus said in July 2012, a month after the $15 million in credits were announced, it was laying off 116 workers from its main facility in Neenah.
Plexus later issued a statement saying it did the Wisconsin layoffs after unexpectedly losing its largest global customer. The jobs were simply lost as a result of the lost business and were not moved elsewhere, the company said.
The affected Plexus employees received federal benefits for workers harmed by overseas trade because the competitor that picked up the contract ended up performing the work in Mexico.
A July 2014 memo from WEDC says Plexus will need to rehire for the positions that were cut before receiving any of the tax credits for adding jobs. Most of the new jobs are expected to be added in 2015 and 2016, according to the memo.
Our rating
Burke said the Wisconsin Economic Development Corp., Walker's chief jobs agency, gives financial incentives that lead "Wisconsin companies to look at shipping jobs elsewhere. ... A company got $4.6 million in taxpayer money and actually reduced its jobs by 300 people."
There is an element of truth in the statement, in that Plexus Corp.'s Wisconsin employment dropped by 300 after it received about $4.6 million in state tax credits.
Burke could criticize WEDC for giving money to a company that soon after laid off Wisconsin employees, but there is no evidence the aid led the company to move jobs elsewhere. Indeed, the aid went toward building a new plant in Wisconsin.
Our rating is Mostly False.