Secretary of State Rex Tillerson's $180 million from Exxon: a 'government service golden parachute'?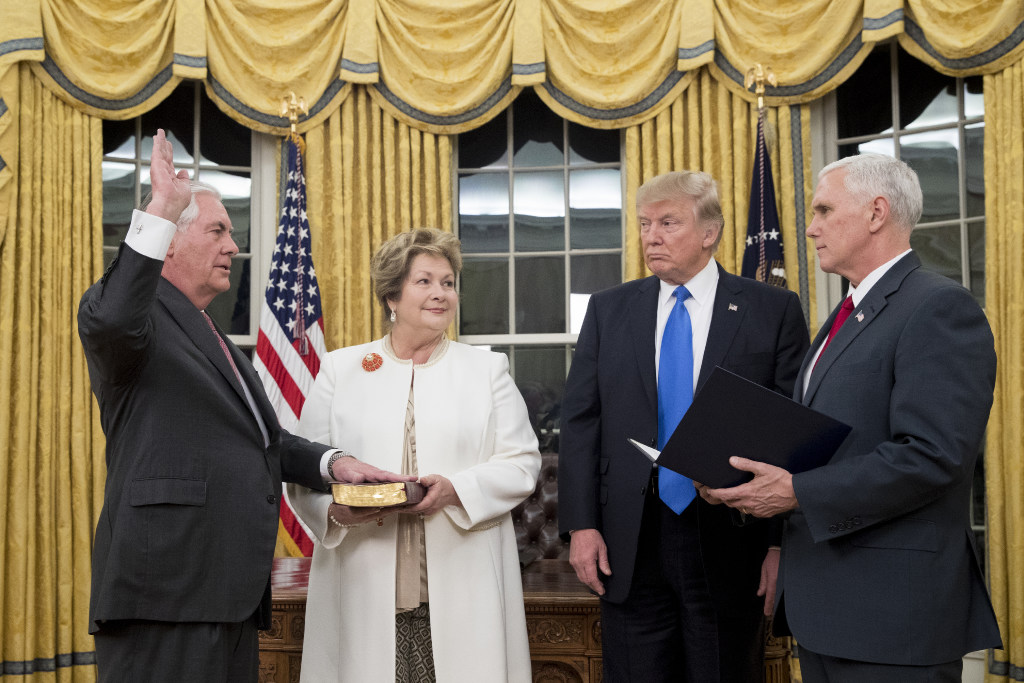 In moving from CEO of Exxon Mobil to Secretary of State, Rex Tillerson is getting $180 million from his former company.
But is the payment a "government service golden parachute" that Tillerson would not get had he taken a different job?
That's the allegation from U.S. Sen. Tammy Baldwin, who has railed against people who cash in by moving from the private sector into government jobs.
Baldwin, a Wisconsin Democrat who faces re-election in 2018, made her attack on the Senate floor on Jan. 31, 2017, the day before Tillerson was sworn in as President Donald Trump's secretary of state. Baldwin referred to President Barack Obama's administration and a bill she said was aimed at "slowing the revolving door" in Washington, then said:
"I was inspired to introduce this legislation when I saw several Obama administration appointees receive multimillion-dollar bonuses for leaving their private-sector jobs to join the government. These 'government service golden parachutes,' as they are known, demonstrate how valuable some companies believe it is to have friends in high places."
Tillerson, she continued, "received a $180 million payout from Exxon Mobil that he would have to forfeit had he taken a job elsewhere."
What we found is that Baldwin is right on the figure. But the payment is a retirement benefit that Tillerson earned after more than 40 years with the company, not extra compensation conditioned on joining the government a few months before reaching the company's mandatory retirement age.
Indeed, experts told us, he likely only risked losing the $180 million had he gone to work for an Exxon Mobil competitor.
The money -- yes
There was no government requirement, PolitiFact New York found, for Tillerson to divest from his Exxon Mobil stock. But had he kept the stock, he would have had to recuse himself of any State Department business related to the company, or take other steps to avoid a conflict of interest.
An agreement he made with Exxon Mobil -- the one that drew Baldwin's attack -- is aimed at avoiding the conflict of interest.
The Wall Street Journal, the Los Angeles Times, The Guardian and other news organizations reported on an announcement of the agreement, as well as a filing with the federal Securities and Exchange Commission that Exxon Mobil made on Jan. 4, 2017. That was a few days after Tillerson's retirement and a week before his Senate confirmation hearing.
Tillerson had been set to receive roughly $180 million in Exxon Mobil shares that would have vested over a decade following his retirement, which was expected to be in March 2017, when he turns 65.
Instead, Exxon essentially "cashed out" Tillerson. Under the agreement, the shares were transferred to an independently managed trust, which will pay Tillerson the $180 million over the same 10-year schedule. The deal amounts to about $7 million less than the compensation package that he would have received if he had not been tapped for the post, the Wall Street Journal noted.
'Golden parachute' -- no
Now let's turn to Baldwin's larger point -- that the payment is a "government service golden parachute" Tillerson would not get if "had he taken a job elsewhere."
Baldwin's office sent us information, but no one replied to our requests to speak to someone in the office. The office suggested we contact Jeff Hauser, who is executive director of the Revolving Door Project at the liberal Center for Economic and Policy Research in Washington, D.C..
Hauser argued that Exxon Mobil gave "special dispensation" to Tillerson by cashing him out on the stock that otherwise would have taken 10 years to vest. He noted that the company's policy states that executives risk losing long-term equity awards by retiring early.
But the policy also allows for the company to decide that the executive can keep the awards, which is what it did in making the $180 million agreement.
Rosanna Landis Weaver, executive compensation project manager for Oakland, Calif.-based As You Sow, a national group that advocates for shareholders, also criticized Exxon Mobil for not sticking to its usual practice of long-term vesting. She told us she expects the cash payout to the trust, rather than receiving the stock over time, will benefit Tillerson financially, though she acknowledged that's an open question.
But Baldwin's statement isn't about the impact of Tillerson's deal on Exxon Mobil stockholders and the $180 million doesn't come as a result of Tillerson taking the secretary of state job.
"It doesn't appear to be a reward specifically for going into government service, but rather a standard agreement in which he gets the payout as long as he does not work in the (oil) industry for 10 years," said Ari Goldberg, spokesman for the Washington, D.C.-based Project On Government Oversight, a nonpartisan government accountability watchdog.
A "golden parachute" typically refers to severance payments executives get after their companies are acquired or made part of a merger. Indeed, the federal tax code refers to parachute payments as compensation paid as a result of a change in control of a company. But the payment Tillerson is getting isn't something extra. It's a retirement benefit he had earned.
"Tillerson is clearly getting a large cash settlement, but this reflects payments for services earned over the prior many years, and not a cash reward or 'parachute' tied to his resignation," said executive compensation expert Kevin Murphy, a finance and business economics professor at the University of Southern California.
We'll note that Baldwin used the lesser known term "government service golden parachute." But that typically is used by groups such as the AFL-CIO union in reference to Wall Street. It refers to financial incentives Wall Street firms give to senior executives who take government jobs. The concern is whether the companies then expect favorable government treatment from their former executives.
Others refer to government-based golden parachutes provided by Wall Street banks as accelerated vesting of equity-based awards for senior executives who resign voluntarily to enter government service -- in other words, compensation that they would otherwise forfeit for failing to meet normal vesting requirements. That's more similar to Tillerson's situation.
But Murphy and another executive compensation expert Steven Balsam, told us it's highly unlikely that Tillerson would have lost out on his retirement benefits, a few months before reaching the mandatory retirement age, simply by taking another job -- unless it was with an Exxon Mobil competitor.
"This terms of his retirement/separation were agreed upon prior to his being nominated to be secretary of state. He's not getting it because he took the (secretary of state) job," said Balsam, a business professor at Temple University in Philadelphia.
Our rating
Baldwin says Tillerson got a "government service golden parachute" payment of $180 million "from Exxon Mobil that he would have to forfeit had he taken a job elsewhere."
The amount is correct and the company did opt to "cash out" Tillerson because he would be becoming secretary of state.
But on Baldwin's larger point, it's an earned retirement benefit, not newly added compensation and not something created simply because Tillerson took a government post. He would almost certainly have been in line to receive it even if he had taken a different job, as long as it wasn't with an Exxon Mobil competitor.
For a statement that has an element of truth but leaves out critical facts that would give a different impression, our rating is Mostly False.