Wisconsin Supreme Court candidate Rebecca Dallet says opponent Michael Screnock has Koch backing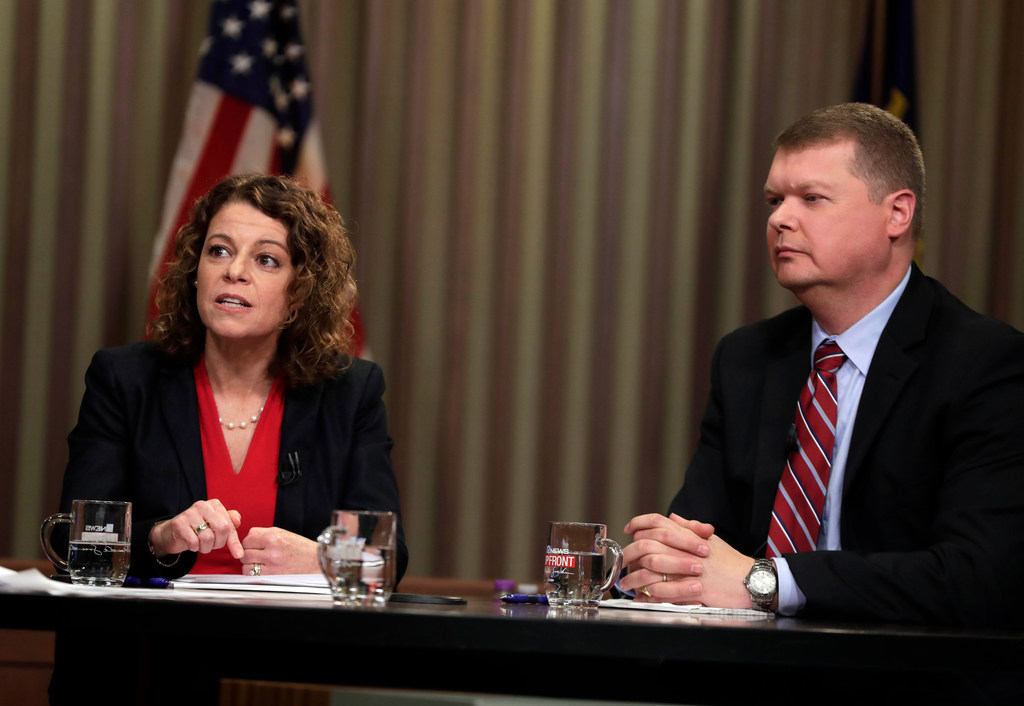 The involvement of conservative industrialists David and Charles Koch in Wisconsin politics is no secret.
In early March 2018, Concerned Veterans for America -- a group underwritten by the billionaire brothers -- said it planned to spend $1.6 million to air two ads attacking Democratic U.S. Sen. Tammy Baldwin over past problems at the Tomah Veterans Affairs Medical Center.
In 2017, Americans for Prosperity-Wisconsin, a conservative group backed by the Kochs, launched what it labeled a "seven-figure" TV ad buy against Baldwin, up for re-election in 2018.
Now, state Supreme Court candidate Rebecca Dallet, a Milwaukee County Circuit judge, claims the Koch brothers are backing her opponent, Sauk County Circuit Judge Michael Screnock.
In what is officially a nonpartisan race that will be decided by voters April 3, 2018, Screnock is backed by conservative groups, while liberal groups are supporting Dallet.
Dallet made the claim during a Feb. 2, 2018, interview on UpFront with Mike Gousha on WISN-TV, saying Screnock "is running with the hashtag Wisconsin right. He is running with the Koch brothers support, with the Walker machine support."
Of those three elements, the most politically inflammatory one is the Koch brothers -- often used by the left to tag someone as out of step with voters.
Is Dallet right about the Koch connection?
The claim
When asked to provide backup for the claim, the Dallet campaign pointed to a Jan. 23, 2018, Associated Press article in the Chicago Tribune, which described two Screnock campaign advisers as having "deeply partisan" backgrounds:
Sean Lansing is a former Republican operative who also previously worked for the Koch brothers group Americans for Prosperity in both Wisconsin and Virginia. And Luke Hilgemann is the former state director of Americans for Prosperity in Wisconsin and CEO of Americans for Prosperity nationwide.
Hilgemann and Lansing recently purchased the Champion Group LLC, a political consulting group, from Keith Gilkes, a longtime adviser to Gov. Scott Walker.
"Big-money special interests have spent over $1.3 million to try and buy a loyal Justice on Wisconsin's Supreme Court," said Dallet campaign manager Jessica Lovejoy. "And Judge Screnock's team is full of Koch brothers operatives who boast resumes full of shady Koch brothers organizations."
But that wasn't Dallet's claim.
Lansing noted he and Hilgemann once worked for Americans for Prosperity, but said "we no longer have any affiliation with the organization."
Indeed, in the campaign world, it is not unusual for operatives to move between campaigns and interest groups.
So, that alone is not enough to back the claim.
Indeed, there is no evidence of the most direct form of support from either of the Koch brothers -- a campaign contribution or endorsement.
Looking further
Of course, there are other ways to "support" a campaign or candidate, such as running TV or radio ads in support of a candidate, or in opposition to an opponent.
Does any of that apply here?
Scot Ross, executive director of the liberal advocacy group One Wisconsin Now, argued that Americans for Prosperity-Wisconsin is essentially "the field operation for turning out Republican voters in elections. They have a long track record of doing this and are not shy about advertising it."
He cited a series of tweets the group sent that noted its get-out-the-vote efforts for the February 2018 primary -- a contest in which the Supreme Court race was the only statewide one on the ballot.
On Feb. 17, 2018, the group tweeted: "The Spring Primary election is only THREE days away and our activists in Racine are working hard to get out the vote before Tuesday!"
The same day it tweeted: "Our Green Bay office is ready for our Get out the Vote #DayofAction today! Make sure you make a plan + head to the polls on Feb. 20th!"
Efforts to reach Eric Bott, director of the Wisconsin branch of Americans for Prosperity via telephone and email, were unsuccessful.
The get-out-the-vote effort represents support in a broad sense, in that the Koch-backed group wanted to get conservative voters to the polls, which would have benefited Screnock.
Is there anything more concrete?
The Wisconsin Democracy Campaign, a nonprofit organization that tracks money in Wisconsin state politics and advocates for campaign finance reform, said as of March 27, 2018, the two candidates combined had raised more than $1.2 million since the beginning of the year.
Campaign finance reports filed by the candidates show the state GOP and longtime Republican donors backing Screnock, while unions and traditional Democratic contributors supported Dallet.
The Democracy Campaign reported that Screnock's latest reports showed his two largest contributors as the Republican Party of Wisconsin (about $293,450) and Diane Hendricks of Beloit, chairwoman of ABC Supply ($20,000).
Dallet's latest campaign reports showed her two largest contributors were the Wisconsin Education Association Council political action committee ($18,000) and Madison Teachers Inc. PAC ($18,000).
Meanwhile, the Democracy Campaign also reported that during the race, a group called the Wisconsin Alliance for Reform purchased about $63,600 in advertising on Milwaukee and La Crosse television and radio stations during the last two weeks before the Feb. 20, 2018, primary. The primary race featured Dallet, Screnock and Madison lawyer Tim Burns.
The Democracy Campaign says the group has used a Madison post office box and a Milwaukee phone number as its only contact information:
The Alliance's website was initially registered by Lorri Pickens, a former director at Americans for Prosperity, which is funded by billionaire brothers Charles and David Koch to spend money on Republican and conservative candidates for state and federal offices around the country.
So, that provides some additional evidence, albeit several steps removed from the Koch brothers themselves.
Our rating
Dallet says her Supreme Court rival Michael Screnock "is running with the Koch brothers support."
But while Screnock's views would clearly match more closely with theirs than the views of Dallet, there is no evidence the billionaire brothers have given money directly to Screnock's campaign or made statements supportive of it.
The primary group they support -- Americans for Prosperity, a group that backs Republicans -- has been active in the race, through get out the vote efforts, not ad buys. In addition, another group that may be tied to the Koch brothers did some ad buys in the primary.
We rate Dallet's claim Half True.