Stand up for the facts!
Our only agenda is to publish the truth so you can be an informed participant in democracy.
We need your help.
I would like to contribute
"In my years in the State Legislature, I have never voted for a tax increase."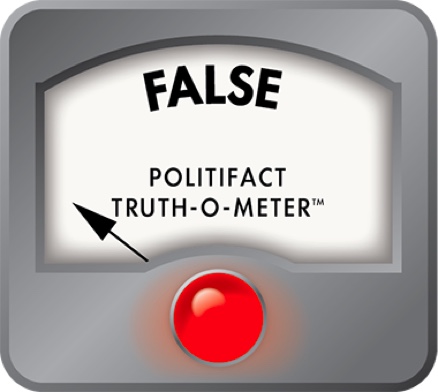 U.S. Senate hopeful Joe Kyrillos claims he "never voted for a tax increase" as a state legislator
After two decades as a state senator, Joe Kyrillos has been involved in politics long enough to know one should never say "never."

But that's just what Kyrillos, a Republican candidate for U.S. Senate, did in this April 17 statement on his campaign website: "In my years in the State Legislature, I have never voted for a tax increase."

That's a bold claim, but as PolitiFact New Jersey found, also an inaccurate one.

Kyrillos, who represents part of Monmouth County, voted in December 1997 to double the tax rates on cigarettes and tobacco products. In more recent years, Kyrillos also has supported some measures labeled by his own Republican colleagues as "tax increases."

First, we'll talk about that tax increase on smokers.

About a month after then-Gov. Christine Whitman won re-election, the Republican-controlled Legislature on Dec. 18, 1997 approved Assembly bill A-2157. That legislation doubled the cigarette tax from 40 cents to 80 cents per pack, and the tobacco products wholesale tax from 24 percent to 48 percent of the wholesale price.

According to the minutes of that day's proceedings, Kyrillos was one of 33 senators to vote for the bill. The next day, Whitman signed the bill into law.
Also, in 1998, Kyrillos was a co-sponsor of a bill to increase the gas tax, but since the measure never made it to the Senate floor, Kyrillos didn't get a chance to vote on it.
That's good enough to prove Kyrillos' claim is wrong, but let's also look at his votes on what his own Republican colleagues have referred to as "tax increases."

Over the last several years, the Democrat-led Legislature has approved numerous tax and fee increases -- a subject that Republican legislators frequently criticize. In October, we fact-checked a claim by Senate Minority Leader Tom Kean Jr. that Democrats had increased taxes more than 115 times.

Calling them all "tax increases," a Senate Republican spokesman sent us a list of tax increases, fee hikes and tax policy changes between fiscal years 2003 and 2010.

Kyrillos voted against most of those bills, but not all of them. Here are a couple of examples where -- by his own party's measure -- Kyrillos supported tax increases:

In January 2008, Kyrillos supported a bill that increased fees and penalties related to handling explosives. In June 2009, Kyrillos voted for legislation that, in part, allowed certain municipalities to impose a tax on car rentals.

It's worth noting that Kyrillos has rejected certain major tax increases in recent years.

For example, when the Legislature agreed in July 2006 to increase the sales tax to 7 percent and expand it to various transactions, Kyrillos said no. Kyrillos also rejected a measure in June 2009 to temporarily increase certain state income tax rates.

In response to our findings, Kyrillos spokeswoman Meaghan Cronin pointed to the senator's record of opposing "broad-based tax increases, such as increases in income, sales and business taxes."

Cronin cited four of Kyrillos' specific votes against new or increased taxes. Those measures included the sales tax increase in 2006; a hotel tax in 2003; a business tax increase in 2002; and a tax against health insurers in 2005.

"Most recently, Senator Kyrillos supported Governor Chris Christie's local 2 percent property tax and spending cap," Cronin said in an e-mail, referring to a July 2010 vote in favor of the cap.

Our ruling

In an April 17 message on his campaign website, Kyrillos offered this biographical note: "In my years in the State Legislature, I have never voted for a tax increase."

Kyrillos has voted against certain major tax hikes -- such as increasing sales and income taxes -- but the senator is wrong to claim he "never voted for a tax increase."

In December 1997, Kyrillos voted to double the tax rates on cigarettes and tobacco products. More recently, Kyrillos has supported some measures labeled by his own Republican colleagues as "tax increases."

We rate the statement False.
To comment on this ruling, go to NJ.com.
Joe Kyrillos's U.S. Senate campaign website, Never Voted for a Tax Increase, April 17, 2012

The Star-Ledger, Legislature approves cigarette tax hike approves cigarette tax hike, Dec. 19, 1997

The Star-Ledger, Governor comfortable asking smokers to cough up 'user fee', Dec. 20, 1997

Assembly Bill A-2157, Increases cigarette tax by $0.40 per pack; increases tobacco products tax to 48%; annually dedicates $155 million to Health Care Subsidy Fund and $50 million for school facilities, signed into law on Dec. 19, 1997

Phone and e-mail interviews with Thomas O'Malley, supervising librarian of the law section at the New Jersey State Library, April 20 and 25, 2012

Senate Journal, Minutes of Dec. 18, 1997 session

PolitiFact New Jersey, Tom Kean Jr. says Democratic tax hikes chased jobs out of New Jersey, Oct. 16, 2011

E-mail interview with John Gorman, spokesman for the New Jersey Senate Republicans, Oct. 11-14, 2011

New Jersey Legislature, Bill Search, accessed April 23-25, 2012

New Jersey Department of the Treasury, Division of Taxation 1998 Annual Report, accessed April 23, 2012

E-mail interviews with Chapin Fay and Meaghan Cronin, representatives of state Sen. Joseph Kyrillos, April 24, 2012
Browse the Truth-O-Meter
More by Bill Wichert
Support independent fact-checking.
Become a member!
In a world of wild talk and fake news, help us stand up for the facts.