Get PolitiFact in your inbox.
Says U.S. Senate Democrats "have gone without any budget at all" for more than 1,000 days.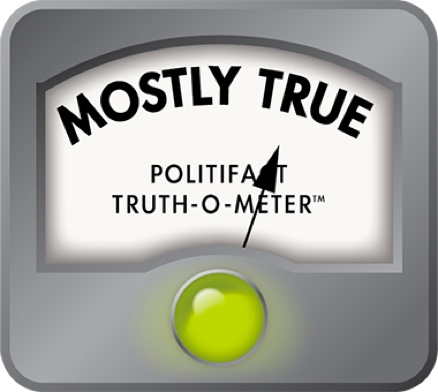 Democrat-controlled U.S. Senate has gone nearly three years without a budget, GOP Rep. Paul Ryan says
The day before President Barack Obama delivered his State of the Union address, House Budget Chairman Paul Ryan took shots at him and other Democrats over federal budget matters.

In a Jan. 23, 2012 news release, the Wisconsin Republican repeated one of his favorite complaints.

"Tomorrow marks the 1,000th day Senate Democrats have gone without any budget at all," he said.

Let's see what Ryan meant by singling out Senate Democrats and claiming they've been without a budget for nearly three years. While we're at it, let's examine the implications of operating government without a formal budget.

Ryan's spokesman, Conor Sweeney, said the last time the Senate passed a budget resolution -- a necessary step in adopting the federal budget -- was on April 29, 2009.

A PolitiFact Florida item on a claim similar to Ryan's confirmed the date.

That means it was 1,000 days from when the Senate adopted the fiscal 2010 budget to Jan. 24, 2012, the date Ryan referred to in his news release.

Of course, since the 2010 budget went through Sept. 30, 2010, the government actually operated without a Senate budget resolution for only 481 days as of Jan. 24, 2012, a point Sweeney acknowledged.

So, Ryan is using language that is a little loose in saying the Senate "went without a budget" for 1,000 days. But in interviews, on Twitter, in other statements and in an article he co-authored that was published the same day as  his news release, Ryan has been clear that he means 1,000 days passed without the Senate adopting a budget.

So, how has the government kept running?

Budgets vs spending

Excerpts from a June 2010 PolitiFact National item tell how the budget process is supposed to work:

The Senate and House are supposed to pass resolutions in the spring that outline the framework for future bills that address spending, taxation and other fiscal policy items. This budget represents a plan for allocating revenues and expenditures for the coming fiscal year, as well as for the next four fiscal years in more general terms. Each chamber is supposed to pass a version of the resolution, and if the two versions differ, then the chambers jointly hammer out a compromise and pass it.

If a budget resolution does not pass, the majority can adopt appropriations bills, which actually allocate money for specific purposes. But the inability to pass the budget framework can reflect poorly on the majority's organizational skills and/or the degree of partisan discord in Congress. It also increases the likelihood of a logjam of appropriations bills in the fall and winter, and decreases the chance that controversial tax bills will pass the Senate.

Neither the House of Representatives nor the Senate adopted a fiscal 2011 budget resolution, but the Republican-controlled House approved a fiscal 2012 budget resolution.

That gave Ryan more fuel for blasting the Senate Democrats for not adopting one.

The lack of budget resolutions contributed to delays in appropriations to government agencies, said Steve Ellis, a budget expert with Taxpayers for Common Sense, a nonpartisan group that analyzes federal spending.

Ellis said no spending bills were approved for fiscal 2011 until after the fiscal year started in October 2010; the remainder weren't approved until April 2011, halfway into the fiscal year. For fiscal 2012, final spending bills weren't adopted until just before Christmas 2011, nearly three months into the fiscal year, he said.

So, when it lacks a budget for direction, Congress still has the power to spend money and keep government operating, but the process can get mucked up.

Implications of no budget

Does it matter? It does to some people.

Failing to adopt a budget resolution "is not a fiscal calamity," Ellis said, noting there are other methods to set budget levels and even with delayed spending bills the government keeps operating. "But I would like the Senate and the House to do a budget resolution because that is going to get a better result than ad hoc or other mechanisms to get around it."

From Ryan's perspective, as he said in a statement in July 2011, Congress "has a moral — and legal — obligation to propose and pass budgets that tackle our generation's greatest challenge." He added that "America's job creators want certainty and confidence in the economy — which requires a credible plan to cut spending, prevent future tax hikes, and reassure our creditors that we're restoring fiscal discipline."

But neither party can claim superiority on budget resolutions.

Senate Democrats didn't pass a fiscal 2011 budget because "Republicans were threatening to hijack the budget process and waste the American people's time with pointless political votes," a spokesman for Senate Majority Leader Harry Reid told PolitiFact Florida. "Faced with this obstruction, we decided it would be a more productive use of the American people's time to move on and address other issues critical to middle-class families."

Our Florida colleagues also foundthat since 1983, the House and Senate have failed to pass a joint budget bill on four occasions.

For fiscal year 2003, the Senate, under Democratic control in 2002, failed to pass a budget resolution of any kind. On three other occasions (fiscal years 1999, 2005 and 2007), the House and Senate failed to reconcile their different bills and pass a compromise measure. In these latter three cases, the Republicans were in the majority in both chambers of Congress.

Our rating

Ryan said "Senate Democrats have gone without any budget at all" for 1,000 days.

It hasn't been quite that long since the last Senate budget resolution expired, but it has been 1,000 days -- and counting -- since the Democrat-controlled Senate adopted a budget.

We rate Ryan's claim Mostly True.
U.S. Rep. Paul Ryan, news release, Jan. 23, 2012

U.S. Rep. Paul Ryan, news release, July 8, 2011

U.S. Rep. Paul Ryan, news release, Jan. 31, 2012

U.S. Rep. Paul Ryan, news release, Jan. 24, 2012

Fox News, Paul Ryan interview, Jan. 29, 2012

Twitter, Paul Ryan tweets

Interview and email interview, U.S. Rep. Paul Ryan spokesman Conor Sweeney, Jan. 27, 29 and 31, 2012

National Review, "Senate Democrats' 1,000 days of debt and disappointment," Jan. 23, 2012

Library of Congress, 2010 Senate budget resolution, April 29, 2009

PolitiFact.com, "George Lemieux rips Sen. Bill Nelson for Senate's budget failure," May 24, 2011

PolitiFact.com, "Hoyer says GOP 'didn't have a budget' in 2002, 2004, 2006," June 14, 2010

PolitiFact.com, "Roemer faults Obama and Congress on budgets," Aug. 5, 2011

Interview and email interview, Taxpayers for Common Sense vice president Steve Ellis, Jan. 31 and Feb. 1, 2012
Browse the Truth-O-Meter
More by Tom Kertscher
Support independent fact-checking.
Become a member!
In a world of wild talk and fake news, help us stand up for the facts.