Stand up for the facts!
Our only agenda is to publish the truth so you can be an informed participant in democracy.
We need your help.
I would like to contribute
"American families work hard to earn $4,250 a month. Obama is spending $18,972 a month on each illegal immigrant child."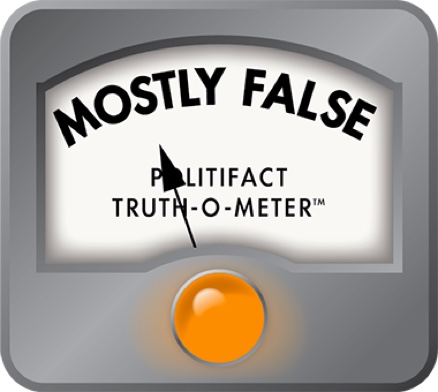 Meme compares spending on undocumented immigrants with typical U.S. family income
Is President Barack Obama lavishing almost five times as much money on undocumented immigrant children than the typical household earns in a month? A meme making the rounds on social media says that's the case.
The meme, forwarded to us by a reader, was created by ForAmerica, a conservative group founded by longtime activist L. Brent Bozell III.
The meme says: "American families work hard to earn $4,250 a month. Obama is spending $18,972 a month on each illegal immigrant child. Like if you're sick of Obama rewarding illegal immigrants."
The visual that accompanies this text contrasts an "American family" looking sadly at a small pile of dollars, while Obama grins at a much larger pile. By April 17, 2015, the meme had attracted more than 90,000 likes and had been shared more than 25,000 times.
Taken literally, that would mean that the government is giving every undocumented immigrant child $228,000 every year, which would seem to be a ridiculously large amount. It would also mean a total cost of $228 billion when applied to the estimated 1 million unauthorized immigrant children in the United States.
Such figures made us skeptical. We had previously reported that all direct federal spending on minors totaled roughly $300 billion -- for the benefit of all 75 million or so Americans under 19.
So we decided to take a closer look.
Looking at the data
We reached out to a public-relations firm representing ForAmerica, and they provided us with the data to back up their claim. The $18,972-a-month figure comes from what it cost the federal government to address a surge of tens of thousands of children from Central America for four months in 2014.
This is an important piece of context that the meme doesn't make clear.
We'll get to several problems with the meme's dollar comparisons in a moment, but first, we'll briefly summarize what the numbers refer to.
The figures were reported in a Sept. 9, 2014, Department of Health and Human Services response to a Freedom of Information Act request filed by the conservative investigative group Judicial Watch. The documents detail the contracts between the federal government and a group called Baptist Child and Family Services to take care of the children who showed up on the border.
The group agreed to provide 1,200 beds at each of two sites -- the former Lackland Air Force Base in San Antonio, Texas (for $77.9 million) and Fort Sill, in Oklahoma (for $104.2 million). The grand total of $182.1 million covered housing, medical care, and educational and recreational activities, including staff pay and benefits, food, clothing, utilities and linens, for four months, from May to September 2014.
In putting together its meme, ForAmerica divided $182.1 million by four months to get the cost per month, then divided by 2,400 to get the monthly cost per child being cared for. That's how the group arrived at the $18,972 figure cited in the meme.
Meanwhile, the family income figure is on target. As we noted in a recent fact-check, the median family income in 2013 was $51,939, which works out to $4,328 a month -- not far off from what the meme said.
What's missing from the comparison
So the meme's numbers have a basis in fact. Where the meme is more problematic is in its comparison of the two.
The most reasonable argument for making this comparison is simply to provide a context for understanding how much money was being spent to care for the unexpected influx of unaccompanied minors. We think most readers will agree that spending $18,972 to house and feed a child for a month is a significant sum, and one way to explain how big that is would be to compare it to what a typical family earns per month.
But the meme's text and visuals go well beyond that. For instance:
• The meme fails to make clear that these expenditures are for a specific and limited subset of undocumented children. The meme says the government is spending $18,972 a month on "each illegal immigrant child." Yet it doesn't clarify that this money is being spent only on children who were being housed at those facilities -- who represent a small fraction of the roughly 1 million undocumented immigrant children in the United States. Not including that qualifier is significantly misleading.
• The framing and imagery of the meme could lead readers to believe that Obama is paying undocumented immigrants directly. The dollar figures cited are not equivalent, even though both are punctuated visually by piles of dollar bills. The figure for families refers to the dollars they earn and can spend as they wish, but the figure for undocumented immigrants refers to the money paid to a contractor on their behalf. It's not money the individual immigrant can pocket.
• The meme implies that this high rate of spending is ongoing. The meme says that "Obama is spending" that amount -- present tense. But the data covers a specific period that ended in September 2014, and it's unclear how much the government is spending for that purpose now. (We have asked HHS for that information and will update this item if we receive it.)
Our ruling
The meme said that "American families work hard to earn $4,250 a month. Obama is spending $18,972 a month on each illegal immigrant child."
The numbers cited by the meme are rooted in reality, but the comparison is framed in a misleading way. The sum of money cited has been allotted to a small fraction of all undocumented immigrant children in the United States, and it isn't going into their pockets as family earnings are. It's also unclear whether this high rate of spending has continued to today.
The statement has an element of truth but ignores critical facts that would give a different impression, so we rate it Mostly False.
ForAmerica, Facebook meme, April 12, 2015
U.S. Department of Health and Human Services, FOIA response to Judicial Watch, Sept. 9, 2014
PolitiFact, "Federal spending on old and young, by the numbers," Jan. 28, 2013
PolitiFact, "Jeb Bush correct that median income has fallen in U.S. since end of recession," April 16, 2015
Email interview with Jeffrey Passel, senior demographer at the Pew Research Center, April 17, 2015
Email interview with Keith Appell, spokesman for ForAmerica, April 17, 2015
Browse the Truth-O-Meter
More by Louis Jacobson
Support independent fact-checking.
Become a member!
In a world of wild talk and fake news, help us stand up for the facts.