Stand up for the facts!
Our only agenda is to publish the truth so you can be an informed participant in democracy.
We need your help.
I would like to contribute
Says he "often" appeared on The O'Reilly Factor and "often was praised" by Bill O'Reilly.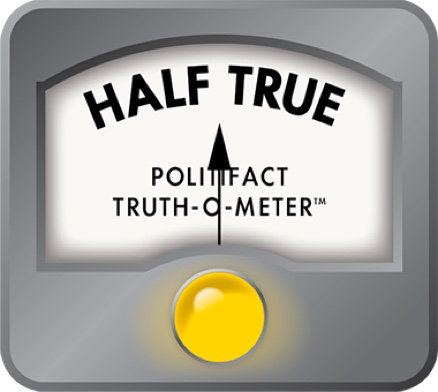 Mother Jones reporter at center of Bill O'Reilly story: O'Reilly 'often' praised me
Mother Jones writer David Corn finds himself in the crosshairs of Bill O'Reilly after Corn and Daniel Schulman wrote that O'Reilly embellished his personal experiences covering the Falklands War in Argentina.
Corn's initial story said O'Reilly claimed he reported in a "war zone" when he was not. O'Reilly disputed the story and called Corn "an irresponsible guttersnipe." We'll leave it to you to decide who to believe in that he-said, he-said.
But we were struck by something Corn said during an appearance on the Feb. 25, 2015, Rachel Maddow Show. Apparently, Corn once worked for Fox News, and he and O'Reilly were something of pals. Here's how Corn put it:
"I've watched Bill O'Reilly over the years. In fact I used to work there from 2001 to 2008, and was often on Bill's show and often was praised by Bill, not as a liar but as a good reporter. But that was then. This is now." Corn said.
That's an interesting little nugget in this media story that we thought was worth verifying.
As it turns out, when Corn was the Washington editor of The Nation, a long standing left-of-center publication, he had a contract with Fox News and played the role of arch liberal against the network's roster of conservative voices. We went to the Nexis transcript database to see how many times Corn appeared and what O'Reilly said about him.
Corn appeared on Fox News at least 60 times. Six of those appearances came on O'Reilly's The O'Reilly Factor (May 3, 2002; Nov. 18, 2002; Jan. 15, 2003; March 4, 2003; April 7, 2003; and April 20, 2007).
Six appearances over five years is hardly often, but what did O'Reilly have to say about Corn?
We found one occasion when O'Reilly explicitly praised Corn's reporting. In November 2002, a few months before the Iraq War, Corn wrote that a small socialist group called the Worker's World Party had played a key role in organizing a large anti-war demonstration. O'Reilly clearly valued journalism that revealed a tie between the protest march and a group that O'Reilly called "hardcore commies."
"All right, Mr. Corn, good reporting," O'Reilly said. "Nobody else reported that. And we appreciate it."
That was as effusive as O'Reilly ever got with Corn. The two men always sparred aggressively, transcripts show. A couple of weeks before the start of the Iraq War, Corn argued that the evidence was thin that Saddam Hussein had weapons of mass destruction and that the United States was ill prepared for the aftermath of an invasion. O'Reilly said an invasion was worth the risk, but at the end, appreciated Corn for his feistiness.
"Mr. Corn, we appreciate your point of view. Thanks for coming in, and standing up," he said.
After the war began, Corn appeared again to challenge O'Reilly's belief that papers like the New York Times slanted their headlines to make the fight look tougher for American forces than it actually was. As the segment clock ran down, O'Reilly threw it back to Corn.
"David, because we like you as a guest, give you the last word. You've got 15 seconds. Go," O'Reilly said.
On one occasion O'Reilly called Corn "a left-wing, liberal, pinko communist," a remark that Corn took in good humor. Once, O'Reilly accused Corn of intellectual dishonesty. O'Reilly also described Corn and journalist Robert Scheer in 2006 as "bomb throwers" and "very far-left individuals."
We spoke to the Mother Jones public affairs director, shared the results of our Nexis search and asked if there were any other details we should know. We did not hear back and will post an update if we do.
Our ruling
Corn said that before this current brouhaha with O'Reilly, he appeared often on O'Reilly's show and was often praised by the Fox News host.
Corn's use of the word "often" wouldn't pass the eye test of most fact-checkers. While Corn was a guest on Fox News programs many times, he had just six appearances with O'Reilly between 2001 and 2008, transcripts show.
And as for praise, O'Reilly explicitly did so once. A few other times O'Reilly expressed his satisfaction with Corn as a spokesman for a liberal perspective. But he also described him as bomb thrower and very far-left individual.
Corn's statement is partially accurate but takes things out of context.
We rate the claim Half True.
MSNBC, The Rachel Maddow Show, Feb.25, 2015
Mother Jones, Bill O'Reilly Has His Own Brian Williams Problem, Feb. 19, 2015
Fox News, Talking points memo: A response to Mother Jones, Feb. 20, 2015
Fox News, O'Reilly denounces Mother Jones story on his war reporting, Feb. 20, 2015
Media Matters, O'Reilly Lied About Suicide Of JFK Assassination Figure, Former Colleagues Say, Feb. 24, 2015
Mother Jones, CBS Has Released the Falklands Protest Footage Bill O'Reilly Asked For. It Doesn't Support His Claims., Feb. 23, 2015
Fox News, The O'Reilly Factor, May 3, 2002, via Nexis
Fox News, The O'Reilly Factor, Nov. 18, 2002, via Nexis
Fox News, The O'Reilly Factor, Jan. 15, 2003, via Nexis
Fox News, The O'Reilly Factor, March 4, 2003, via Nexis
Fox News, The O'Reilly Factor, April 7, 2003, via Nexis
Fox News, The O'Reilly Factor, April 20, 2007, via Nexis
Browse the Truth-O-Meter
More by Jon Greenberg
Support independent fact-checking.
Become a member!
In a world of wild talk and fake news, help us stand up for the facts.