Get PolitiFact in your inbox.
"I am the only candidate that has endorsed Bernie Sanders for President. In PA, I've got Bernie's back."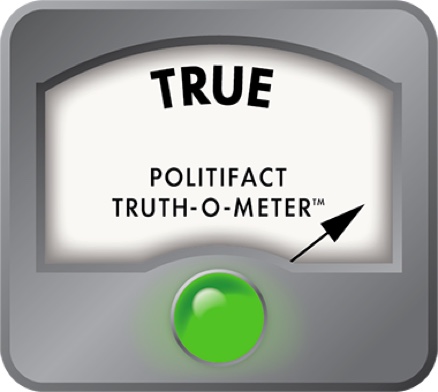 Fetterman says he's the only senate candidate backing Sanders in PA
Who's got love for Bernie? Braddock Mayor and Democratic U.S. Senate candidate John Fetterman boasts that he's the only Pennsylvania candidate to endorse Bernie Sanders so far.
In a Reddit AMA Tuesday, one user praised Fetterman and fellow Democratic senate candidate Joe Sestak, retired Navy admiral and former U.S. congressman, for campaigns resembling Sanders' grassroots feel.
"I'm a fan of yours, but also a long time supporter of Admiral Joe. I see you as two Bernies against the one corporate party machine candidate. I wish you could team up somehow," wrote the Redditor.
"We already have teamed up, as I am the only candidate that has endorsed Bernie Sanders for President," Fetterman replied. " In PA, I've got Bernie's back."                    
A Fetterman spokesperson furthered this in email, adding that his endorsement was unique not just for the state, but nationally: A January Philadelphia Inquirer article named the Braddock mayor as "the only statewide candidate nationally to endorse the Vermont senator."
Was that so? We were intrigued and decided to check it out.
Among Pennsylvania Democratic candidates for U.S. Senator, four people have declared for the April primary so far, and only Fetterman has endorsed Sanders. Katie McGinty, Gov. Tom Wolf's former chief of staff, is endorsing Hillary Clinton. Sestak has declined to throw support officially behind Sanders or Clinton. In response to our inquiry, a Sestak spokesman repeated a statement previously given to other press: "Joe just focuses on the people of Pennsylvania so that he can continue to serve them." Wire and springs manufacturer Joseph Vodvarka from Clinton, Pa., told PolitiFact Pennsylvania that he's yet to endorse anyone.
We looked for other Pennsylvania statewide candidates who endorsed Sanders and were unable to find any. So Fetterman's comments on Reddit are accurate.
His spokesperson added that there are no other statewide candidates nationally who support Sanders, but we were able to find a few.
In Sanders' home state of Vermont, for example, he has at least three such endorsers: former State Senator Matt Dunne, a gubernatorial candidate; State Senator David Zuckerman, a candidate for lieutenant governor, and State Auditor Doug Hoffer, who is running to keep his office. In Iowa, Sanders supporter Tom Fiegen is running for U.S. Senate.
Still, Sanders has a notably low number of endorsements. Only two representatives in the U.S. Congress have endorsed Sanders, according to FiveThirtyEight, and no U.S. senators or governors have.
Bertram Johnson, a political science professor at Middlebury College and expert in Vermont politics, said people endorse based on three factors: probability to win, their constituents' leanings and political connections. "Endorsers are interested in someone who can support them and has supported them in the past, who's been an insider for decades," Johnson explained. "This is obviously something that Bernie Sanders hasn't done, because he hasn't really been a Democrat until he entered this race."
"I don't know that he has a longstanding national network among politicians," he continued. "I think what he's done a good job of is using national media, like MSNBC, to cultivate support among liberal activists." Sanders' high tally of small contributions and a long list of Hollywood endorsements reflects this, Johnson said.
Our ruling
What answering questions about the Pennsylvania senate race, Fetterman said, "I am the only candidate that has endorsed Bernie Sanders for president. In PA, I've got Bernie's back." We found he is the only statewide candidate in Pennsylvania who has endorsed Sanders.
His office later claimed he was the only statewide candidate anywhere to endorse Sanders. That's an exaggeration; statewide candidates in Vermont and Iowa have also endorsed Sanders.
We're fact-checking Fetterman's original claim, however, and that statement is accurate. We rate his statement True.
News article, "U.S. Senate candidate Fetterman goes for Bernie," Newsworks, Jan. 14, 2016
Telephone interview, Joseph Vodvarka, Democratic candidate for U.S. Senate for Pennsylvania, Feb. 3, 2016
Email and telephone interview, Bertram Johnson, Associate Professor of Political Science, Feb. 2-3, 2016
News article, "Vermont's elected progressives endorse Sanders for president," VTDigger, Jun. 12, 2015
News article, "Matt Dunne endorses Bernie Sanders for president," VTDigger, Oct. 27, 2015
Reddit page, "hi, I'm John Fetterman — Mayor of Braddock, PA & candidate for U.S. Senate. ask me anything!" Reddit, Feb. 1, 2016
News data visualization, "The Endorsement Primary," FiveThirtyEight, ongoing
News article, "Tom Fiegen: Bernie Sanders' Biggest Ally and Candidate for U.S. Senate," The New York Observer, Nov. 2, 2016
Browse the Truth-O-Meter
More by Cassie Owens
Support independent fact-checking.
Become a member!
In a world of wild talk and fake news, help us stand up for the facts.