Did Kurt Cobain predict and express approval of a Donald Trump presidency? No.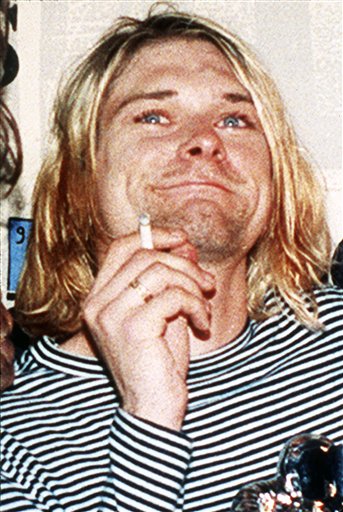 Kurt Cobain, Nirvana's late frontman, was known to push boundaries, both on and off stage, and was often outspoken about his beliefs and his personal life.
His frankness has also brought about some falsities, though, and a fake quote attributed to Cobain is circulating the internet, claiming that, in 1993, the grunge rocker predicted and approved of a Donald Trump presidency. It first was reportedly posted to a Facebook page called "Trump Train" in 2016 and has since popped up in various forms.
It resurfaced again in a post on Feb. 9. and reads: "In the end I believe my generation will surprise everyone. We already know that both political parties are playing both sides from the middle and we'll elect a true outsider when we fully mature. I wouldn't be surprised if it's not a business tycoon who can't be bought and who does what's right for the people. Someone like Donald Trump as crazy as that sounds."
The meme was flagged as part of Facebook's efforts to combat false news and misinformation on its News Feed. (Read more about our partnership with Facebook.)
The meme includes no sourcing or information about where Cobain made the prediction (besides the year 1993) and there is no record of Cobain ever saying it. The statement has also been debunked by several media outlets since it went viral.
Moreover, one of Nirvana's former managers, Danny Goldberg, dismissed that the late singer ever said the words in an opinion piece for The Nation in August 2018.
"As one of Nirvana's managers when Kurt was alive," Goldberg wrote, "I know that the quote is not only made up but it is also a grotesque perversion of Kurt's beliefs."
It's also important to note that one of Cobain's most known political beliefs was his opposition to the rich and established. Famously, when he appeared on the cover of Rolling Stone in 1992, he wore a T-shirt that read "Corporate Magazines Still Suck!"
And in one 1992 interview with Argentinian journalist Sergio Marchi, Cobain did discuss his preference to see someone "who is not a professional politician" become president. But he was equally clear on what he thought of business tycoon Ross Perot, then a third-party candidate: "The guy sucks. He's rich; I don't trust him as president."
Our ruling
A fake quote predicting a Donald Trump presidency attributed to the late Kurt Cobain has resurfaced online after circulating the internet for years.
There are no records of Cobain saying the statement, and those who were close to him emphatically reject he did – or would – say the words.
We rate it Pants on Fire!