Viral image overstates births to undocumented mothers in California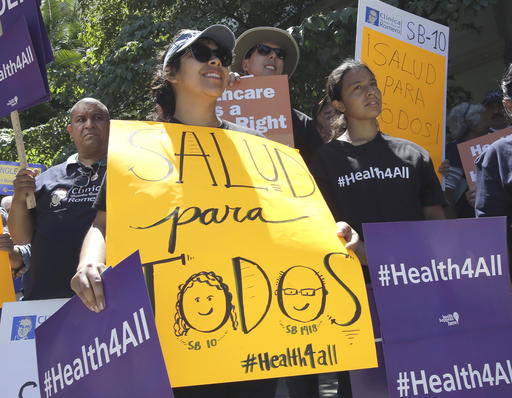 A viral image on social media -- one that's critical of illegal immigration -- has been circulating for years. The list of claims first circulated in the form of a chain email in 2006, according to Snopes.com. Six years later, we checked several of the claims ourselves.
With immigration in the headlines today, these claims are popular again.
In this article, we'll fact-check No. 4: "More than 66% of ALL births in California are to illegals on Medi-Cal."
Medi-Cal is the name of California's Medicaid program, which covers low-income residents of the state. Undocumented immigrants may be eligible for health plan options through Medi-Cal, although the benefits may be limited.
The most recent complete data we found was from 2011.
That year, the state had 502,120 total births. According to Medi-Cal, 50.4 percent of the state's births that year were paid for by Medi-Cal. That works out to 253,068 total births on Medi-Cal.
Medi-Cal also reported that 29 percent of Medi-Cal mothers in 2011 were undocumented. So that year, 73,390 undocumented mothers gave birth on Medi-Cal.
As a percentage of all births in the state, that works out to about 15 percent -- not 66 percent, as the meme says.
After we initially published this article, a spokeswoman for California's Department of Health Care Services provided statistics for 2012 and 2013. As it turns out, the percentage declined in those years -- to 13.4 percent in 2012 and 12.6 percent in 2013.
In its previous review of these claims, Snopes evaluated an earlier version of the assertion that was worded, "Over 2/3's of all births in Los Angeles County are to illegal alien Mexicans on Medi-Cal whose births were paid for by taxpayers."
So we looked at the data for Los Angeles in 2013, the most recent year we could find on the California Department of Public Health website. That doesn't support the earlier version of the claim either.
That year, about 57 percent of births to residents of Los Angeles were Hispanic. But that refers to all Hispanic births -- not just those to undocumented immigrants, who accounted for only a fraction of the total Hispanic population.
Our ruling
The meme says, "More than 66% of ALL births in California are to illegals on Medi-Cal."
That's wrong. Between 2011 and 2013, the most recent years available, between 12 percent and 15 percent of all births statewide were to undocumented immigrants using Medicaid, not 66 percent.
We rate the statement False.
UPDATE, July 5, 7:00 p.m.: This article has been updated with the most recent figures provided by California's Department of Health Care Services. The rating remains the same.