How much steel does the U.S. import from China?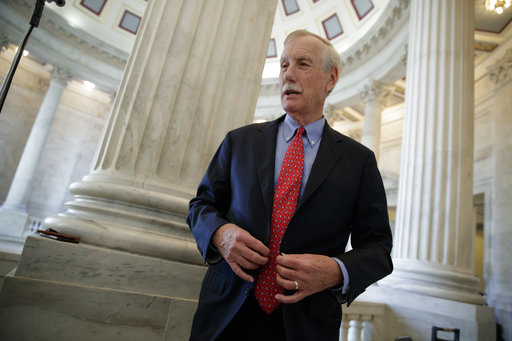 President Donald Trump said his administration would slap tariffs on steel and aluminum imports to the United States, the latest in a series of moves to reorder the country's trade arrangements along lines Trump believes are more favorable to American interests.
The Trump administration has long criticized China for flooding the U.S. market with cheap commodities, and the 25 percent tariff on steel and 10 percent tariff on aluminum Trump announced March 1 seemed calculated in part to rein in what the administration considers unfair Chinese trade practices.
But some critics, like Sen. Angus King, I-Maine, have charged that a steel tariff would do more harm to U.S. allies like Canada, and American small businesses, than it would do to China.
Following Trump's announcement, King said he heard complaints from constituents who run steel-reliant small businesses. King said one business owner reported an 8 percent increase in steel costs, and another worried about cost increases on steel imported from a nearby Canadian partner.
While Trump may have a point about unfair trade practices, King said, Beijing would hardly bear the brunt of an import tax on steel, given its relatively small U.S. market share.
"China, my understanding is, supplies 4 percent of the steel in the U.S," King said during a March 4 interview on NBC's Meet the Press.
So how much does China account for U.S. steel imports? We decided to mine for answers.
Transshipment of Chinese steel
Measuring U.S. steel imports by country is not as straightforward as it might seem.
The American steel industry has argued that China has a backdoor to U.S. markets through a practice known as transshipment, whereby countries buy Chinese steel and modify it before exporting to the United States.
Trump drew attention to this practice during March 6 remarks at the White House.
"If you talk China, I've watched where the reporters have been writing 2 percent of our steel comes from China. Well, that's not right. They transship all through other countries," Trump said. "It doesn't look good when it all comes out of China, so they send it through other countries, and it comes to us. And it's putting our steel mills out of business."
Experts we spoke to said there's no hard data on transshipment, which makes the scale of this practice difficult to gauge.
Edward Alden, a fellow at the Council on Foreign Relations, noted the Commerce Department was unable to quantify the problem in a recent investigation — known as a Section 232 report — that probed the effect of steel and aluminum imports on U.S. national security. The report said only that an "unknown portion" of Chinese steel is further processed in third-party countries before entering the United States.
"It's at least fair to say that the president is making a strong claim without solid evidence to back that claim up," he said.
Alden added that the biggest targets of Trump's steel tariff would be the European Union, Japan, Brazil, Canada, Mexico and Korea. (The White House is reportedly considering granting an exemption Canada and Mexico.)
"Except for Korea," he said, "none of the others seems to be a transshipment concern."
Gary Clyde Hufbauer, a fellow at the Peterson Institute for International Economics, said the amount of Chinese steel that enters the United States through transshipment is not enough to call into question the reliability of the Commerce Department's import data. He also pushed back on how Trump characterized transshipment.
"China sells raw and semi-finished steel to other countries, which then make more highly valued products. (But Trump's use of) the word 'transshipment' implied that the same piece of metal arrives, for example, in Veracruz and then is shipped to Houston with no transformation," Hufbauer said. "This is Trump's imagination."
So let's set the issue of transshipment to one side and focus on the steel products the Trump administration has eyed for tariffs.
According to Chad P. Bown, a senior fellow at the Peterson Institute for International Economics, the only steel imports subject to Trump's proposed tariffs are those which have been identified by the Commerce Department. The department measures U.S. steel imports in two ways: quantity and U.S. dollar value.
Under each yardstick, China's share is relatively small.
China's share of U.S. steel imports
In terms of quantity, China accounts for just over 2 percent of U.S. steel imports, according to 2017 data. That's far behind traditional U.S. allies like Canada (roughly 18 percent), the European Union (about 21 percent) and South Korea (nearly 10 percent).
Expressed another way, the United States imported 740,126 tons of steel from China last year, compared to nearly 5.7 million tons from Canada and just over 5 million tons from European Union countries.
China's share is slightly larger in terms of dollar value, but still relatively small. The United States imported just shy of $1 billion in Chinese steel in 2017, or 3.35 percent of the United States' nearly $30 billion annual steel import market, according to Commerce Department data.
An aide to King pointed us to an interview with Bown, of the Peterson Institute, from September 2017, in which Bown said 4 percent of U.S. imports of steel come from China. But its proportion of U.S. steel imports, relative to other countries, has shrunk since then.
In any case, he wasn't too far off China's 3.35 percent market share in 2017, in terms of dollar value.
Experts largely backed up his broader point about the limited impact of steel tariffs on China.
"The numbers show that the tariffs will hurt trading partners — which are allies — much more than China," said Mac Destler, a professor of public policy at the University of Maryland.
Tom Orlik, chief Asia economist at Bloomberg in Beijing, wrote that China's total exports of steel and aluminum are equal to about 0.5 percent of GDP, with most of that from steel.
"Relative to fears from Trump's campaign trail rhetoric, in which he threatened an across-the-board 45 percent tariff on all imports from China, these measures are extremely limited," Orlik wrote of Trump's proposed tariffs.
Our ruling
King said, "China, my understanding is, supplies 4 percent of the steel in the U.S."
There are different ways to measure U.S. steel imports by country. In terms of dollar value, Chinese steel made up 3.35 percent of the United States' nearly $30 billion annual steel import market in 2017. But in terms of quantity, China accounted for just over 2 percent of U.S. steel imports that year.
King's claim tracks closely to one of two measures. But in either case, King does not stray too far from the Commerce Department's 2017 data.
We rate this Mostly True.