Office that provides ID for voting in one Wisconsin burg is open 4 days in 2016, John Oliver says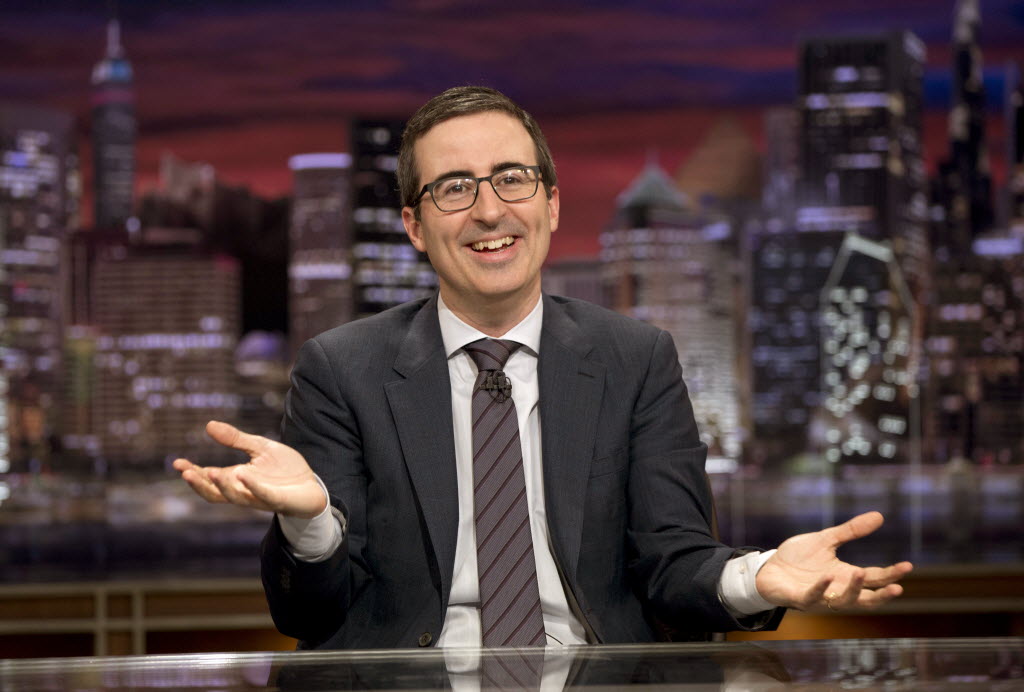 Sauk City, which prides itself on being the oldest incorporated village in Wisconsin (yeah, it's a little confusing), made HBO on Feb. 14, 2016.
The mention came on "Last Week Tonight," a Sunday show that takes a satirical look at news, politics and current events. The program is hosted by John Oliver, who used to be a correspondent for "The Daily Show with Jon Stewart" on Comedy Central.
Opening the segment by noting "we are finally in an election year," Oliver talked about voting in America -- in particular, identification requirements for voting. (The show happened to air two days before Wisconsin's primary election, when voters cast ballots for the a state Supreme Court seat and a variety of local offices.)
Several minutes later, Wisconsin and a few other states, along with Sauk City (pop. 3,410), were singled out.
"And in some parts of the country, the offices that issue IDs are hardly ever open," an incredulous Oliver said. "In 2012, a study found that in Wisconsin, Alabama and Mississippi, fewer than half of all ID-issuing offices in the state are open five days a week.
"And in Sauk City, Wisconsin," Oliver continued, "the ID office is only open on the fifth Wednesday of every month -- and only four months in 2016 even have five Wednesdays."
Oliver's Sauk City claim later got online attention from Vox and Bustle.
A graphic that flashed on the screen during Oliver's monologue carried a screenshot of a website page that listed the hours of operation for a state Division of Motor Vehicles office in Sauk City. That appeared to back up Oliver's claim.
But Oliver's claim could leave the impression that the only place Sauk City residents can get an ID for voting is at an office that's open only on fifth Wednesdays, as in four days for all of 2016.
Voter ID law
In 2011, Republican Gov. Scott Walker signed a bill that requires residents to present a photo identification in order to vote.
The law was used for the first time in the February 2012 primary election. But after that, the law was put on ice while it was challenged in court.
In 2014, the challenge reached the U.S. Supreme Court, which declined to hear it. That meant the law was put back into effect. The first time it was used again was in the primary held two days after Oliver made his claim.
Oliver's claim
Let's be clear that Wisconsin has no "voter ID." Rather, under the voter ID law, Wisconsin voters must present an existing ID.
Generally, it's one of these: drivers license; state-issued ID (often in lieu of a drivers license); a military ID card issued by a U.S. uniformed service; a U.S. passport; or an identification card issued by a federally recognized Indian tribe.
To get a drivers licensed or state-issued ID, residents are directed to the state Division of Motor Vehicles. You need to go to a DMV customer service center, fill out two forms and present documents (such as a marriage certificate) to prove your identity, as well as documents (such as a pay stub, a utility bill or a bank statement) to prove you're a Wisconsin resident.
So, if you're in Sauk City, which is about 30 miles northwest of Madison, how do you find the nearest DMV office?
We went to the DMV's online locator for DMV offices by city and chose the listing for Sauk City.
That DMV service center is inside the Sauk City Community Center. And, sure enough, as Oliver's piece stated, it's open only on the fifth Wednesday of every month, from 8:15 a.m. to 4 p.m.
The DMV doesn't list the actual dates, so we looked them up. The four fifth Wednesdays in 2016 are in, as Oliver noted, March, June, August and November.
(Oliver even offered a clever rhyme to remember when the fifth Wednesdays fall, but it's a little profane.)
A number of DMV locations relatively nearby, however, are open more often.
The one in Baraboo (home to Circus World), about 20 miles away, is open 7 a.m. to 5 p.m. Mondays and Wednesdays. The one in Reedsburg ("fastest available" Internet speeds in Wisconsin), about 30 miles away, is open the first, second and third Wednesday of each month from 8:15 a.m. to 4 p.m.
And in Madison, the nearest major city, there are three DMV facilities that are open even more during the week, plus Saturday mornings.
To be sure, Sauk City isn't the only small town where DMV hours are limited, but no DMV site is open less.
Our rating
Oliver said that in Sauk City, Wis., "the ID office" that provides identification for voting "is only open on the fifth Wednesday of every month" -- a total of four days in 2016.
He's correct that the state DMV office in Sauk City is only open on those four days in 2016, but that isn't the only place where residents can go to get a state ID that they can use for voting. Several other locations within a relatively short drive of Sauk City are open much more often.
For a statement that is accurate but needs clarification, our rating is Mostly True.