Stand up for the facts!
Misinformation isn't going away just because it's a new year. Support trusted, factual information with a tax deductible contribution to PolitiFact.
I would like to contribute
Wisconsin is "49th out of 50 states in infrastructure."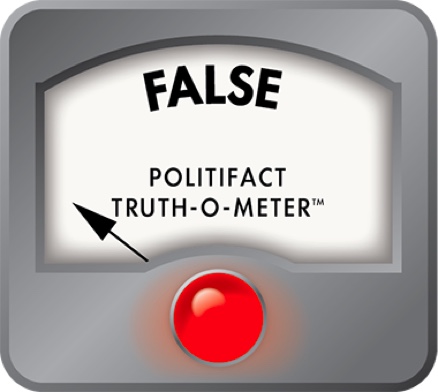 Tony Evers cherry picks an old statistic in claiming Wisconsin infrastructure near-worst
At a rally for Democrats who had won their primaries, Tony Evers lamented that various things he described as Wisconsin values "have been trashed."
"Another thing that's a Wisconsin value is infrastructure, whether it's roads or bridges," the party's gubernatorial nominee said in Madison on Aug. 16, 2018, two days after the elections.
"My God," he declared, "we are 49th out of 50 states in infrastructure."
Are Wisconsin's bones in such bad shape?
Evers made the 49th-in-infrastructure claim before he defeated seven other Democrats to win the nomination. And he has made it clear he'll criticize Republican Gov. Scott Walker on infrastructure ahead of the general election.
There's room to criticize Walker on infrastructure, particularly when it comes to roads.
But Evers went beyond just roads in making his claim. And he cherry picked a ranking that is too-narrow and not up to date.
'Infrastructure' definitions vary
Let's start by noting there is not a universal definition of infrastructure, as various rankings show.
U.S. News & World Report, in its "Best States 2017" ratings," ranked Wisconsin 39th in infrastructure  — which included an assortment of factors, such as roads, bridges, renewable energy usage, broadband access and others.
Road quality was where Wisconsin ranked 49th. That's where Evers got his statistic.
Tens of millions in tax money directed to a Milwaukee streetcar at the expense of police, schools? Mostly False.
But again, roads are only one part of infrastructure.
And there are at least three more recent rankings on infrastructure  — including the current one by U.S. News -- where Wisconsin is in the middle, or even higher:
U.S. News & World Report: In the magazine's "2018 Best States" report, released in February 2018, Wisconsin ranked 26th overall on infrastructure.
That included a ranking of 14th in energy  — for electricity price, power grid reliability and renewable energy usage;  41st in internet access — for broadband access and ultra-fast internet access; and 34th in transportation  — for road quality and bridge quality, commute time and public transit usage. (Specifically on road quality, Wisconsin ranked 44th, up a bit from 49th.)
Wisconsin is "49th in the country in internet speed." Half True.
CNBC: The business news TV network said it evaluated road and bridge quality, commute time, the availability of air travel and other factors to rank the states on infrastructure. For 2018, Wisconsin ranked 23rd.
24/7 Wall Street: The financial news website ranked the states in early August 2018 with an index using the share of bridges, roads and dams that are "in a state of disrepair or potentially hazardous," and it looked at state highway spending per person. On that measure of infrastructure, Wisconsin ranked 15th  — as in 15th worst, as this ranking was done differently.
We'll also note that the American Society of Civil Engineers rates the nation's infrastructure in 16 categories, including roads and bridges. Its most recent report, for 2017, gave the nation a grade of D+. That report says that in Wisconsin, "driving on roads in need of repair" costs each driver $637 per year and 8.7 percent of the state's bridges are rated structurally deficient. But the report doesn't give grades to the states and doesn't rank the states.
It's also worth noting, with regard to roads, that we rated Mostly False a Walker claim that he had invested $3 billion more in the state's transportation system than his predecessor did. And our rating was Mostly False when Walker said state road projects "are staying on track or getting done sooner."
Our rating
Evers says Wisconsin is "49th out of 50 states in infrastructure."
His statement relies on a too-narrow ranking that isn't current, and it ignores other rankings.
In 2017, U.S. News & World Report ranked Wisconsin 49th in road quality  — but 39th in overall infrastructure, based not only on roads but bridges, renewable energy usage, broadband access and other factors.
Moreover, the magazine's 2018 report ranks Wisconsin 26th in infrastructure. And Wisconsin is well above the bottom, though not great, in two other national rankings.
We rate Evers' statement False.
WRRD-AM, Candidates rally (49:00), Aug. 16, 2018
U.S. News & World Report, Wisconsin rankings, Feb. 27, 2018
U.S. News & World Report, Infrastructure rankings, Feb. 27, 2018
U.S. News & World Report, "Best States 2017"
American Society of Civil Engineers, "2017 Infrastructure Report Card"
Email, American Society of Civil Engineers Becky Moylan, Aug. 20, 2018
Email, US Water Alliance spokeswoman Abigail Gardner, Aug. 20, 2018
Email, American Road & Transportation Builders Association spokeswoman Eileen Houlihan, Aug. 20, 2018
CNBC, "America's Top States for Business 2018," July 10, 2018
USA Today, "Infrastructure spending: Which state is falling apart the worst?" Aug. 13, 2018
Browse the Truth-O-Meter
More by Tom Kertscher
Support independent fact-checking.
Become a member!
In a world of wild talk and fake news, help us stand up for the facts.