Get PolitiFact in your inbox.
Ask PolitiFact: Are New York's voter laws more restrictive than Georgia's?
If Your Time is short
Multiple social media posts portrayed New York's voting laws as more restrictive than Georgia's controversial new voting law. These posts correctly point out some differences between the laws but omit important context.

Georgia has been ahead of New York in some laws that provide access, such as expansive early voting and no-excuse absentee ballots.

Since 2019, New York has been moving toward passing laws that expand voter access.
Question: Are New York's voter laws more restrictive than Georgia's?
Answer: In some ways yes. In some ways no. But comparing them as they are now leaves out some important context.
When Major League Baseball pulled the All-Star Game from Georgia in response to the state's new voting law, some Republicans countered that MLB ought to look at the voting laws on its own home turf, New York, where the league is based.
"It is easier to vote in Georgia than it is in New York," Georgia Gov. Brian Kemp said, echoing a talking point that has been adopted by many politicians, pundits and others on social media.
A reader told us she saw a tweet with a similar claim and asked whether it was true. We found it deserved a closer look.
Voting laws cover policies about every aspect of casting a ballot, starting with voter registration through finalizing results, but here we focus on the policies that more directly affect voters' access to the ballot.
We read voting laws and interviewed election law experts and found that there are ways in which voting is more difficult in New York than in Georgia. But the opposite is also true, and a straight comparison of current laws leaves out important context about the trend in each state.
Recent and proposed changes in New York would further open up access, while the new law in Georgia — which has a history of voter suppression — tightens some rules in the name of security. We found the Georgia law is a mixed bag with both the potential to expand voting as well as restrict it.
"New York has a long history of a not very open democracy, but it is heading in the opposite direction," said Sean Morales-Doyle, a lawyer for New York University's Brennan Center for Justice.
Georgia's voting law has drawn national scrutiny because it is a battleground state that Democrats narrowly won. New York voting rights advocates have called for an overhaul of election laws for years, but the state hasn't drawn the same level of national attention.
The trends in voting law changes in Georgia and New York
Join PolitiFact LIVE on May 10-13 for a festival of fact-checking with Dr. Anthony Fauci! Register today >>
An election inspector looks at an absentee ballot during vote counting at State Farm Arena in Atlanta, Nov. 4, 2020. (AP)
Georgia had long lines in its 2020 primary elections, which were delayed to June because of the pandemic. But national election experts say that Georgia ran a smooth and secure general election in November. The state saw a record number of absentee ballots, and many in-person voters had to wait only a few minutes in line. Bolstered by Black voters, Democrats won the state's tight presidential contest, and forced runoffs for Georgia's two Senate seats, which they went on to win.
GOP state lawmakers then sought to rewrite the state's election laws, claiming a need to protect election security.
New York's voting laws were far behind many other states for years in terms of early voting and other accommodations to make voting easier. In November 2018, Democrats won a majority in the New York state Senate, giving the party full control of state government.
"Beginning in January 2019, the newly elected and more progressive Legislature began to modernize important provisions of the law," said Sarah Steiner, a New York election lawyer.
The state enacted laws for early voting and for automatic voter registration, although the registration provision won't start until 2023. This fall, New Yorkers will be able to vote on constitutional amendments to allow for Election Day registration and to codify no-excuse absentee ballots.
"When Black and brown voter turnout increased in 2020, NY didn't roll back those reforms," wrote Perry Grossman, a lawyer for the New York Civil Liberties Union, in a tweet challenging the New York-Georgia comparison. "In fact, the state continued to expand opportunities to vote. Is NY law perfect yet? No, but it takes time to undo retrograde laws and practices and NY's going in the right direction."
New York legislators are considering other proposals, including ones to speed up the counting of ballots, which has taken weeks or even months in some recent elections.
How Georgia makes voting easier than in New York
A line forms outside Atlanta's State Farm Arena for early voting on Oct. 12, 2020. (AP)
Georgia has offered early in-person voting for more than a decade and has more days for it than New York. Georgia's new voting law requires 17 days of early voting and mandates two Saturdays, and counties have the option to add two Sundays as well.
In 2019, New York Gov. Andrew Cuomo signed a law to allow for nine days of early in-person voting, including four weekend days.
Georgia, like the majority of states, requires no excuse for voters to obtain an absentee ballot, a practice approved by the state in 2005.
New York requires an excuse to vote absentee, but in August Cuomo signed a bill that allowed voters to get an absentee ballot due to risk or fear of illness, including COVID-19. New York voters are expected to ratify the no-excuse policy in a constitutional amendment in the fall.
Georgia started automatic voter registration in 2016, signing up voters when they got their driver's licenses. Cuomo signed an automatic voter registration law in December.
How New York makes voting easier than Georgia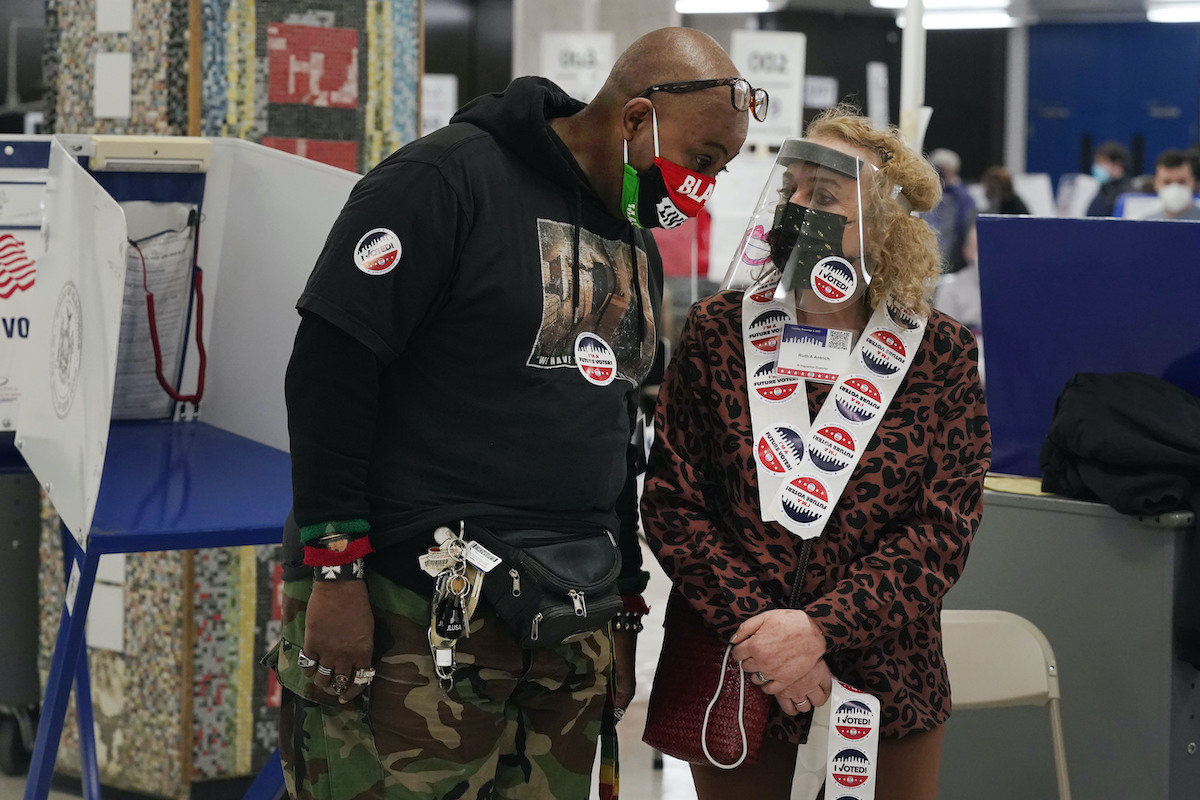 Poll workers James Litkett and Ruth Antrich chat at Frank McCourt High School in New York City on Election Day, Nov. 3, 2020. (AP)
New York has the longest Election Day polling hours in the nation — 6 a.m. to 9 p.m — said Grossman. In Georgia, the polls are open from 7 a.m. to 7 p.m. on Election Day.
New Yorkers do not need an ID to apply for an absentee ballot, said John Conklin, spokesperson for the New York State Board of Elections. To vote in person, New Yorkers don't need an ID unless they didn't provide an ID when they registered. Before 2005, there was no voter ID requirement to register to vote, but in 2005 the law was changed to ask for the registrant's driver's license number or the last four digits of their Social Security number.
Under the new Georgia law, voters applying for absentee ballots must provide their driver's license or state ID number, or a copy of another form of identification. When Georgians vote in person, they present their photo ID.
The vast majority of people in Georgia have IDs, but the requirement can be burdensome for those who lack them, which is common among minorities, said Kadeem Cooper, policy counsel for the Lawyers' Committee for Civil Rights Under Law.
Neither state currently allows voters to register and vote on the day of an election, but New Yorkers may approve that policy this fall.
Both Georgia and New York ban certain handouts to voters
Voting rights advocates have long organized efforts to give away bottles of water or food near polling sites where residents sometimes wait in line for hours to vote, including in Black-majority neighborhoods.
Food trucks wait near polling locations as lines form on Election Day, Nov. 3, 2020, in Atlanta. (AP)
Both Georgia and New York have laws banning certain food and water giveaways to voters, but New York's law is more lenient.
Georgia's new law bans people who aren't poll workers giving away water or food to voters within 150 feet of a polling place or within 25 feet of any voter standing in line.
New York's law bans giving "meat, drink, tobacco, refreshment or provision" to voters unless it has a value of less than $1 and is given without any identification of the person or group supplying it. The law has been on the books for decades, with the $1 cap being added in 1992. New York's law would allow someone to buy bottles of water or cheap snacks in bulk and hand them out anonymously to voters.
In both states, food and water giveaway violations are misdemeanors punishable by up to a $1,000 fine and a year in jail. A previous law in Georgia made it a felony to give gifts for voting; it didn't specifically mention food or water, but Secretary of State Brad Raffensperger interpreted it to include food or water.
Clay Travis, Tweet, April 5, 2021
Gov. Brian Kemp, Tweet and video, April 3, 2021
The Atlantic op-ed by lawyers at Brennan Center for Justice, New York's Worst-in-the-Country Voting System, Sept. 13, 2018
USA Today, Georgia secretary of state: My family voted for Trump. He threw us under the bus anyway. Nov. 25, 2020
Democrat and Chronicle, Democrats win majority in New York's Senate, ending GOP control, Nov. 6, 2018
New York State Senate, Early voting bill
Gov. Andrew Cuomo, Press release about automatic voter registration, Dec. 22, 2020
AP, Georgia elections chief: End no-excuse absentee voting, Dec. 23, 2020
Gov. Cuomo, Press release about election reforms, Aug. 20, 2020
New York election law, 17-140. Furnishing money or entertainment to induce attendance at polls
Atlanta Journal-Constitution, Automatic registration leads to surge of new Georgia voters, April 29, 2019
Major League Baseball, MLB statement regarding 2021 All-Star Game, April 2, 2021
Georgia Gov. Brian Kemp, Governor Kemp, Speaker Ralston Issue Statements on MLB All-Star Game, April 2, 2021
Georgia SB202, 2021
Georgia Public Radio, What Does Georgia's New Voting Law SB 202 Do? March 26, 2021
Georgia Public Radio reporter Stephen Fowler, Tweet, March 27, 2021
Georgia Public Radio, Here Are All The Lawsuits Challenging Georgia's New Voting Law, Updated April 2, 2021
Stacey Abrams, Tweet, April 2, 2021
Esosa Osa, Fair Fight Action research and policy director, Tweet, April 3, 2021
Atlanta Journal-Constitution, Sweeping changes to Georgia elections signed into law by Gov. Brian Kemp; March 25, 2021
Atlanta Journal-Constitution, Bill could shift election power to GOP officials, March 25, 2021
New York Times, What Georgia's Voting Law Really Does, April 2, 2021
Perry Grossman, Senior Staff Attorney in the Voting Rights Project at the New York Civil Liberties Union, Twitter thread, April 2, 2021
Washington Post, Georgia sports teams and major companies such as Coca-Cola and Delta Air Lines condemn new state voting law, March 31, 2021
National Conference of State Legislatures, Voting Outside the Polling Place: Absentee, All-Mail and other Voting at Home Options, Sept. 24, 2020
Fulton County, Mobile voting unit, 2020
PolitiFact, The facts about Georgia's ban on food, water giveaways to voters, March 29, 2021
Email interview, Keith Williams, General Counsel – office of the Speaker of the House, April 4, 2021
Email interview, Ari Schaffer, Georgia Secretary of State Brad Raffensperger spokesperson, April 4, 2021
Email interview, John Conklin, spokesperson for the New York State Board of Elections, April 6, 2021
Email interview, Mallory Blount, Gov. Brian P. Kemp spokesperson, April 4, 2021
Telephone interview, Matthew Weil, associate director of Bipartisan Policy Center's Democracy Project, April 5, 2021
Email interview, Sarah Steiner, New York City election lawyer, April 7, 2021
Telephone interview, Sean Morales-Doyle, \deputy director in the Democracy Program at New York University's Brennan Center for Justice, April 7, 2021
Email interview, Kadeem Cooper, policy counsel for the Lawyers' Committee for Civil Rights Under Law, April 7, 2021
Email interview, Joshua A. Douglas, University of Kentucky election law professor, April 6, 2021
Browse the Truth-O-Meter
More by Amy Sherman