Stand up for the facts!
Our only agenda is to publish the truth so you can be an informed participant in democracy.
We need your help.
I would like to contribute
If Your Time is short
Poll workers told PolitiFact that they're motivated by a desire to contribute to their communities, to get a closer look at how elections operate and to help enable their neighbors to cast ballots.

Falsehoods about voting, threats and the lingering effects of COVID-19 have made recruiting poll workers more challenging, but they are stepping up nationwide.

Election officials are looking for new ways to recruit poll workers to ensure the 2022 elections will be fully staffed. Efforts include recruiting high school students; asking private businesses to allow employees to work; and instituting a draft similar to jury duty.
There's no doubt about it: For election officials across the country, recruiting poll workers is more challenging than ever.
COVID-19 made people with health worries want to stay home. Rampant misinformation about election fraud spurred vitriol and even death threats against election workers. Long hours and paltry pay for a seasonal job have never been that enticing.
Election officials are struggling to recruit workers, but people who are taking the jobs — some for the first time — say they're doing so out of a commitment to their country and to democracy itself.
PolitiFact interviewed multiple poll workers nationwide and found they were undeterred by threats or falsehoods. Some poll workers are inspired to do this work by new laws that make it harder to vote, or by the way some politicians refuse to certify elections or spread falsehoods about voting.
Democracy in the balance motivated Robin Levin, a retired schoolteacher, to become a newly trained poll worker in Florida's Broward County.
"Democracy has been challenged, and it's all based around voting," Levin said. "Our whole democracy is voting, and when you lose voting, you have no democracy. That's my biggest fear. That is my whole reason to get more involved."
States set poll worker requirements
Polling place worker Donna Appleby holds her dog Daisy Mae as she waits for voters during the Pennsylvania primary election at the LSL Sportsman's club in Orrstown, Pa., Tuesday, May 17, 2022. (AP)
Local election offices, typically run by counties, cities or townships, have full-time employees who update voter registration files, purchase election machines and order ballots.
But they rely on temporary poll workers for Election Day, early voting and mail ballot processing.
On Election Day, poll workers open precincts before sunrise, check in voters, hand out ballots and direct voters to machines to cast their ballots. After more than 12 hours, poll workers shut down the precinct when the last voter has cast their ballots.
"Without them, it can't happen, it's a no-go, because they are the central part of in-person voting," said Armstead Jones, director of the Baltimore City Board of Elections. "We have 296 precincts and all of them have to be fully staffed in order for polling places to be effective."
A few weeks before the July 19 primary, Baltimore had filled about 1,200 positions and needed to hire up to 1,000 more.
Each state sets its own requirements for poll workers. Typically, they must be registered voters, although many states allow teenagers to serve. Some states require poll workers to live in the area, and many have rules that ensure those working represent a mix of political parties.
The pay is low; some states pay $100 a day while others offer minimum wage. Local jurisdictions can choose to pay more, and some pay in the $200 to $300 a day range. In 2020, some jurisdictions received grants to raise poll worker pay, but multiple Republican-led states have since banned outside funding.
A majority of states require poll workers to receive training before Election Day. In Broward County, the four-hour training for first-time poll workers covers 113 pages of instructions on every step of the process, from arriving at the precinct at 5:30 a.m. to packing up ballots at the end of the night.
Trainees learn about acceptable forms of voter ID. They are taught what steps to follow if voters' names or addresses have changed, or if their signatures don't match their IDs. Trainees also learn how to protect voters from interference and how to enforce a no-solicitation zone outside the precinct. They must be familiar with what rules election observers, called poll watchers, must follow inside the precincts. Poll watchers are typically observing on behalf of a particular candidate or political party.
"The poll watchers are there to simply watch, that's it," said Scherrie Brantley, who trains poll workers in Broward County. "They shouldn't interfere with the process. They shouldn't be buying you doughnuts and coffee. I tell clerks that it's your house. You run your house. A poll watcher is a guest in your house."
Why elections offices have struggled to hire temporary poll workers
A 1934 book about election administration stated that "the greatest single problem of election administration is that of securing honest and capable precinct officers, who are essential to a satisfactory election administration."
More recently, a 2005 report co-written by former President Jimmy Carter, a Democrat, and former Secretary of State James Baker, a Republican, found that poll workers were paid minimum wage for many hours and that "not surprisingly, recruitment has proven more and more difficult."
When the pandemic prompted many poll workers to quit in the spring of 2020, the shortage shined a spotlight on a problem that existed for decades.
"What happened with COVID was a longstanding problem coming home to roost," said Sylvia Albert, director of voting and elections for Common Cause. Amid a pandemic, "the vast majority of our election workers couldn't do the job, because it was not safe for them."
Power the Polls, an organization founded by civic groups and businesses, launched a 2020 campaign to get Americans to sign up to be poll workers. It set out to recruit 250,000 people and attracted around 700,000.
That campaign and others have appeared to pay off. After the election, the Election Assistance Commission surveyed states and found fewer jurisdictions reported that recruitment was "difficult."
But challenges remain.
"One thing that we've heard is that COVID definitely is still a concern," said Jane Slusser, Power the Polls' program manager.
Another major concern is security. Election officials at all levels – from temporary workers to secretaries of state — have faced threats that affect their willingness to work. According to the Brennan Center for Justice, over three-quarters of election officials believe that threats against them have increased over the past few years. One-third of them know at least one election worker who quit because they worried about their safety.
Threats to election workers were highlighted during recent hearings before a congressional committee investigating the Jan. 6 attacks. Ruby Freeman, a temporary election worker in Fulton County, testified that the FBI directed her to go into hiding. Her daughter, Shaye Moss, an elections worker, testified that she was afraid to go to the grocery store. This was after former President Donald Trump's lawyer Rudy Giuliani claimed that they had rigged the election.
Moss, who is Black, said her Facebook account was filled with "threats, wishing death upon me, telling me that I'll be in jail with my mother, and saying things like, 'Be glad it's 2020 and not 1920.'"
One year after the Justice Department launched a task force to investigate threats against election workers, prosecutors announced their first conviction in June. At least two other people have been charged.
Vicki Brown, a retired school librarian who worked at a polling site in Montana, said she thought long and hard about whether to serve as a poll worker again. Brown said she ultimately decided "nobody is going to stop me from doing what I want," and she worked the state's June primary.
How elections offices have tried to expand their pool of poll workers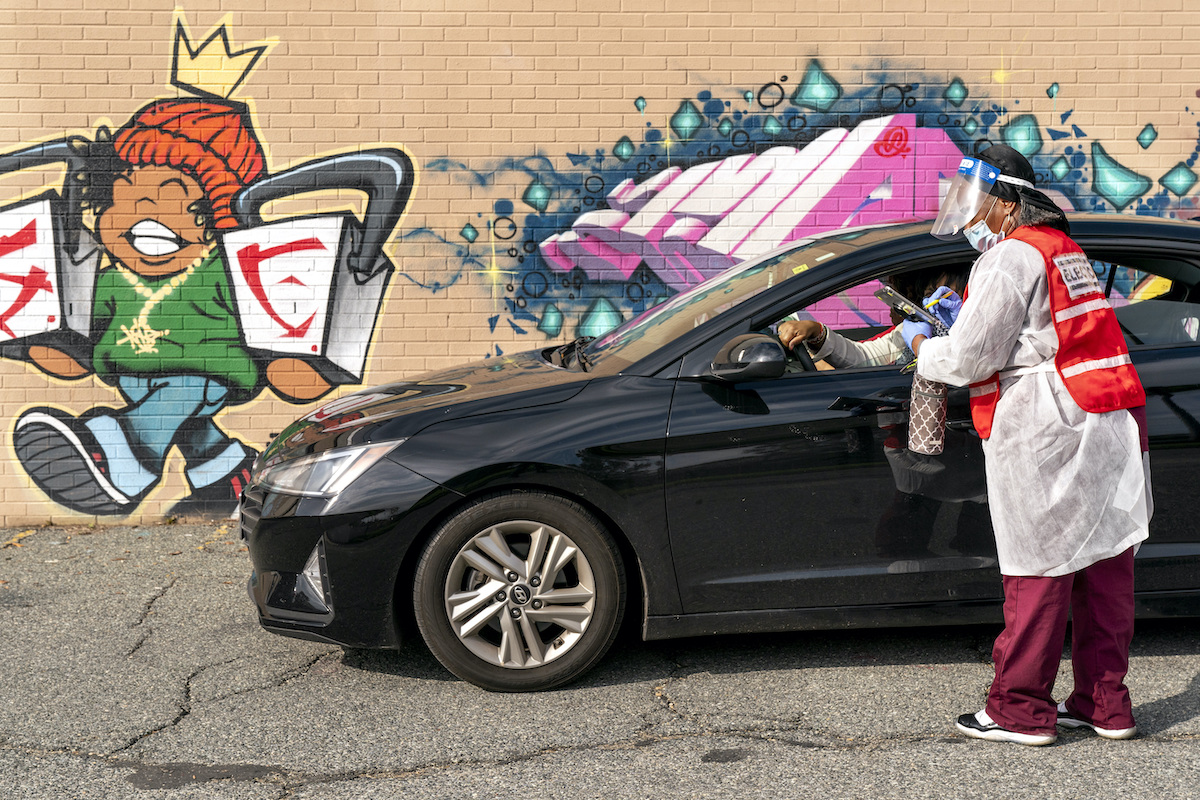 Poll worker Mildred Henson helps voters submit ballots in the curbside line, Oct. 27, 2020, at Malcolm X Opportunity Center, in Washington. "I love being a poll worker," she says, "because I love the vote, and we need to all come together and vote!"(AP)
In 2020, New Jersey sent mail-in ballots to every voter, so fewer poll workers were needed. But elections officials could see that 2021 would be more challenging. Five days before the 2021 primary last June, the New Jersey legislature passed a bill attempting to address dramatic poll worker shortages.
The law decreased the number of required workers at each precinct, called for the National Guard to serve as election workers and doubled the pay from $200 to $400.
During New Jersey's 2022 primary in June, Union County aimed to hire about 2,200 poll workers but came up about 684 workers short. Voting was carried out normally only because turnout was so low.
"We had a 7% (voter) turnout, which is abysmal," said Nicole DiRado, the county's board of elections administrator. "But had we had a greater turnout? It would have really been taxing on the poll workers that did commit and show up."
Election officials have focused some of their recent recruiting on young people, who can help in new and useful ways, especially with electronic voting and poll books. Beyond colleges, some workplaces now allow employees to receive their regular paychecks while volunteering.
For Ohio's Aug. 2 primary this year, Secretary of State Frank LaRose is reaching out to high school seniors through the "Youth at the Booth" initiative. His pitch is that students can "get a head start on civic engagement, learn firsthand how secure and accessible Ohio's elections are, put some spending money in their pocket, and add a unique experience to their college application."
Douglas County in Nebraska has taken a different approach: drafting residents to be poll workers, similar to jury duty.
For decades, the county has sent letters to registered voters requiring them to serve four elections. The draft process has worked for them. "We can't imagine administering an election without a draft," said Valerie Stoj, public relations coordinator for the Douglas County Election Commission.
For the 2022 primary, about half of the county's 1,600 poll workers were drafted, while the other half volunteered.
Much like jury duty, residents can get an excuse from serving — for example, if they are older than 70 or need to breastfeed.
Voting by mail has also reduced the need to hire poll workers.
In Weld County, Colorado, the switch to largely mail-in voting in 2013 significantly relieved the need for poll workers. Before that change, the county needed at least 500 poll workers for a general election, but now it needs around 300.
"It's essentially cut us in half of the amount of people that we have needed to recruit and hire for our election," Weld County Clerk Carly Koppes said.
Koppes said the county gets at least 80% of its needed poll workers from lists provided by Colorado political caucuses, and tries to ensure it has a balance of party representation. Because of the large number of mail-ins and because elections officials can process votes as they come in, poll workers are needed for longer periods — sometimes up to two weeks. Mail-in voting requires many steps to ensure that ballots are properly filled out, such as Colorado verifying signatures on absentee votes.
Republican Party committees have also been recruiting poll workers. The Republican National Committee has specifically recruited in battleground states such as Michigan and large urban areas that tend to vote for Democrats. The RNC said it had lined up more than 17,000 poll workers as of late June, and more than 8,000 have served in a primary election.
Democrats don't seem to have matched Republican efforts, though. The Democratic National Committee has not launched any similar poll worker recruitment effort this year. If voters express interest to the DNC in working at polls, the organization forwards their names to the state party.
Why poll workers say they step up to the plate
Poll workers nationwide told PolitiFact that they work on Election Day to give back to their communities, gain a closer look at the election process and enable their neighbors to cast ballots.
"​​It's something you do because you love your country and want to give back," said Claude Fields, a former poll worker in Michigan who served in his state Air National Guard. "Like serving in the military. I took an oath then and took one as a poll worker."
Some poll workers told PolitiFact that they were inspired to volunteer because of spreading falsehoods about stolen elections.
"While I never believed any of that, it felt wrong to just sit on the sidelines while this was going on," said Paul Bruno, a retiree in Gurnee, Illinois, who formerly worked in finance. "I've heard a lot about the process and it strikes me as pretty secure."
Raquel Padron, a retired real estate agent from Hollywood, Florida, wanted to seehow elections work herself after hearing news that something went wrong with the last election.
"I cannot talk about something that I do not know, therefore I have to be a part of the system to make sure that yes, everything is being done correctly," said Padron.
Many poll workers noted the checks and balances used at election sites, such as including assigning workers of different parties to work together.
Nancy Fahey Smith, a poll worker in Tucson, Arizona, who helped process mail ballots, said workers wore lanyards of different colors to signal whether they were Democrats, Republicans or independents, Smith said. "We were not allowed to sit next to someone of the same party while we were working."
Dwight Johnson signed up to be a first-time poll worker in Sun Prairie, Wisconsin, in November 2020 because he knew many senior citizens couldn't do it.
"We were aware that the Wisconsin elections were called 'fake,'" Johnson said. "Anytime anyone calls the integrity of the Wisconsin elections into question, I ask when they've worked in an election. Nobody that has questioned an election has worked in one, in my experience."
Poll workers generally described their interactions with voters as positive, although some encountered occasional challenges.
A poll worker in New Hampshire, Jack Gale, told us he dealt with a man who wasn't abiding by the state law that bans the placement of unattended political signs.
"He brought signs and traffic cones to prop up the signs everywhere — you can't do that," said Gale. "He conveniently showed me his gun and dropped the name of a politician. He had a 9 millimeter on his hip – there is no need for that, although it is allowed." New Hampshire does not prohibit firearms at polling locations, a policy set by each state.
But Gale said that most of his experiences have been positive: "99% of the other people are friendly. You welcome them into the polls, and they say, 'Thanks.'"
RELATED: Most states don't explicitly ban guns at polls. Some lawmakers want to change that
RELATED: Ask PolitiFact: What steps do election officials take to prevent fraud?
RELATED: All of our fact-checks about elections
Michigan Free Press, Surge in new GOP poll workers could be headed for Michigan's big cities after 2020 chaos, May 16, 2022
Georgia Public Radio, Battleground: Ballot Box | Checking in with Georgia's 'election superheroes' April 6, 2022
National Conference of State Legislatures, Election Poll Workers, June 17, 2020
U.S. Election Assistance Commission, State-by-state compendium, 2020
Omaha World Herald, Most Election Day Poll Workers Are Volunteered, Not Volunteers, Oct. 2, 1996
AP, Election Day poll workers scarce in some Nebraska counties, Sept. 26, 2000
The Cincinnati Enquirer, Need ongoing for election workers, Sept. 29, 2002
Joseph P. Harris, Election Administration in the United States, 1934
Rev.com, January 6 Committee Hearings – Day 4 6/21/22 Transcript
Justice Department, Man Pleads Guilty to Threatening Election Official, June 16, 2022
State Legislatures Magazine, Wanted: Poll Workers Able to Brave the Pandemic, Oct. 6, 2020
Billy Penn, On a sunny Election Day in Philly, worker shortage causes some stumbles as issues drive voters to the polls, May 17, 2022
AP, Colorado's top elections official seeks security protection, Dec. 8, 2021
Brennan Center for Justice. Michigan Election Inspectors: Rules and Constraints, June 23, 2022
Brennan Center for Justice, Local Election Officials Survey (March 2022), March 10, 2022
Politico, 'It's going to be an army': Tapes reveal GOP plan to contest elections, June 1, 2022
MSNBC, Colorado Secretary of State Jena Griswold interview, June 19, 2022
Broward County Supervisor of Elections, Poll worker training, June 28, 2022
Commission on Federal Election Reform, Building Confidence in U.S. Elections, 2005
U.S. Election Assistance Commission, Election Administration and Voting Survey, 2020
PolitiFact, Why some voters faced challenges voting in the 2022 Texas primary, March 4, 2022
PolitiFact, All of our fact-checks and stories about elections, 2022
Republican National Committee, Statement to PolitiFact, June 30, 2022
Democratic National Committee, Statement to PolitiFact, July 5, 2022
Telephone interview, Armstead Jones, election director at Baltimore City Board of Elections, June 15 and June 27, 2022
Telephone interview, Jane Slusser, Program Manager at Power the Polls, June 15, 2022
Telephone interview, Nicole DiRado, Union County Board of Elections Administrator, June 16, 2022
Telephone interview, Barb Byrum, Ingham County Clerk, June 15, 2022
Telephone interview, Sylvia Albert, Common Cause, Director of Voting and Elections, June 16, 2022
State of New Jersey, 219th Legislature, A5842, Passed June 3, 2021
Email interview, Frank LaRose, Ohio Secretary of State, June 15, 2022
Telephone interview, Valerie Stoj, Public Relations Coordinator, Douglas County Election Commission, June 22, 2022
Telephone interview, Carly Koppes, Weld County Clerk, June 23, 2022
Telephone interview, Anna M. Maiuri, Michigan poll worker, June 26, 2022
Telephone interview, Claude Fields, former poll worker in Michigan, June 29, 2022
Telephone interview, Paul Bruno, poll worker in Gurnee, Illinois, June 2022
Telephone interview, Nancy Fahey Smith, a poll worker in Tucson, June 2022
Telephone interview, Avery Davis-Roberts, associate director in the Democracy Program, Carter Center, June 23, 2022
Telephone interview, Jack Gale, poll worker in New Hampshire, June 2022
Telephone interview, Dwight Johnson, poll worker in Wisconsin, June 2022
Interview, Raquel Padron, newly trained poll worker in Broward County, June 29, 2022
Interview, Robin Levin, newly trained poll worker in Broward County, June 28, 2022
National Conference of State Legislatures, How States Verify Absentee Ballot Applications, March 15, 2022
William Gardner and Gordon MacDonald, Secretary of State and Attorney General of New Hampshire, Memo to New Hampshire Election Officials, October 29, 2020
Browse the Truth-O-Meter
More by Amy Sherman