Stand up for the facts!
Our only agenda is to publish the truth so you can be an informed participant in democracy.
We need your help.
I would like to contribute
On which team he's rooting for in the World Series.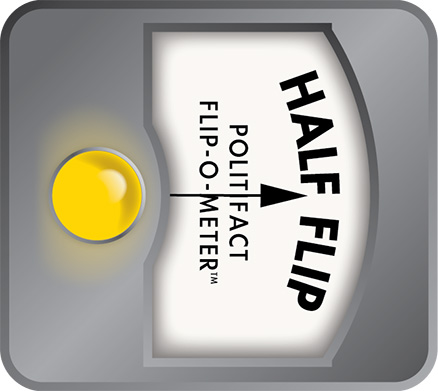 In one of most biting attacks this political season, Sen. John McCain accused Sen. Barack Obama of pandering to his audience by flip-flopping on his rooting interest in the World Series.
On Oct. 21, 2008, in Bensalem, Pa., solid Philadelphia Phillies territory, McCain told a small audience, "Now, I'm not dumb enough to get mixed up in a World Series between swing states. But I think I may have detected a little pattern with Sen. Obama. It's pretty simple really. When he's campaigning in Philadelphia, he roots for the Phillies, and when he's campaigning in Tampa Bay, he 'shows love' to the Rays."
There's nothing so ugly as a flip-flopper on sports team loyalties. So we better get to the bottom of this.
Here's the facts:
Obama in Dunedin, Fla., on Sept. 24, prior to the postseason: "Congrats for the Rays. But I'm a White Sox fan, and we'll see you in the playoffs."
Obama in Philadelphia, on Oct. 11, after the upstart Rays took out his White Sox in the first round of the American League playoffs: "I am a White Sox fan. But since the White Sox are out of it, I'll root for the Phillies now."
Obama in Tampa, Fla., on Oct. 20. Fresh off their ALCS win over the Boston Red Sox, a small group of the Rays attend Obama's rally and rookie pitcher David Price introduced the nominee. Said Obama: "I've said from the beginning that I am a unity candidate, bringing people together. So when you see a White Sox fan showing love to the Rays — and the Rays showing some love back — you know we are on to something right here."
Obama also joked that he had considered getting a mohawk as a show of solidarity with the Rays (that's what hard-core Rays fans do these days). "But my political advisers said they weren't sure how that would play with swing voters," Obama said.
In the days before the Internet, it may have been possible to get away with pandering to sports enthusiasts in competing towns. No longer. Bloggers quickly pounced when Republican vice presidential candidate Sarah Palin told a New Hampshire audience that "Red Sox fans know how to turn an underdog into a victor." The previous week, Palin sought to connect with a Tampa Bay crowd using nearly the same line. "How about those Tampa Bay Rays?" Palin said. "You know what that tells me? It tells me that the people in this area know a little something about turning an underdog into a victor." Insert groan here.
But Obama's the one on the hot seat here. At no time has Obama wavered in his primary allegiance to the White Sox. Any movement on that front would be inexcusable. But his team is gone, and now whom is he pulling for?
A statement released by Obama campaign spokesman Tommy Vietor, quoted on a New York Times politics blog, sought to make things clear. "Senator Obama said he's rooting for the Phillies. Yesterday he said nice things about the members of the team who came out to support him, but that doesn't change the fact that Tampa Bay bounced his White Sox out of the playoffs."
In the complex hierarchy of determining fan loyalty, we are left to weigh whether "showing love" for the Rays equates to "rooting for" the Phillies. No, these aren't equivalent. But if you're rooting for the Phillies, you sure don't show love for the Rays at a Tampa rally.
Is it shameless pandering? Of course. But is it a flip-flop? Not quite. We call it Half Flip.
St. Petersburg Times, The Buzz , Oct. 21, 2008
New York Times, McCain Hits Obama on Baseball Loyalties , by Elisabeth Bumiller, Oct. 21, 2008
Associated Press, McCain hits Obama for varying World Series support, By Glen Johnson, Oct. 21, 2008
Browse the Truth-O-Meter
More by Robert Farley
Support independent fact-checking.
Become a member!
In a world of wild talk and fake news, help us stand up for the facts.